Pop Stop
Three weeks ago, East Weekly (東週刊) thought it had a scoop when it reported Candy Lee's (李庭) supposed moonlighting as a prostitute, but then found out it was all a set-up by Lee herself. Now, the Hong Kong gossip rag is back with another salacious story contained in a steamy VCD starring Chung Li-ti (鍾麗緹) and two of her lady friends. The three are shown in the grainy video that came free with the magazine at a popular bar kissing and fondling each other, apparently aware they were being filmed. \nThe normal reaction to this kind of news that we've come to expect is either a denial or an angry accusation, but Chung's agent surprised most when she told Hong Kong media that Chung "grew up abroad," and that given this background, her behavior wasn't, in fact, odd at all. You know, foreigners simply are like that. \nMore weird sexual candor was in the news this week when the China Times Weekly (時報週刊) dropped a bomb in its recent edition with an interview with A-hsien (阿賢), Taiwan's most famous (because he's Taiwan's only) male porn star. After gaining considerable fame last year with his Taiwan Plumber (台灣水電工) classic, he's gone on to do a naked picture book of himself and most recently has been offering his sexual services for NT$5,000 a pop. Responding to questions about his new job, A-hsien said: "If there's money to make, I might as well earn it," and "I don't do it often because I don't make that much. I have to give a cut to my pimp." \nPlay magazine, meanwhile, released the results of a reader poll it conducted to determine which artist was most likely to "do the splits" (劈腿), meaning to cheat on their significant other. Not surprisingly, Jacky Wu (吳宗憲) topped the list thanks to his latest misadventures with the girls who are referred to in local media as "cleavage girl" and "butt crack girl." \nThe two were in Wu's car when he was arrested last month for drunk driving and have since sparked a sort of underwear-no underwear fashion debate in the media. Runner up was Lin Wei-chun (林韋君), who became a household name for her tryst last year with Hsu Shao-yang (許紹洋), who, oddly, was ranked 16th in the poll. Proof of a double standard against women? Perhaps. Hsu Chun-mei (許純美), the painfully awkward would-be TV hostess placed third. \nTV host and king of the one-liner Chang Fei (張菲) made the leap into the music business last week with the release of When I Fall In Love: Collection Of Love Ballads. As the title suggests, the CD is full of old crooner stand-bys like Strangers in the Night, which, when sung in Chang's noticeable accent, are quite funny. Because Chang is a consummate joker on TV, the media hasn't quite known how to present the album. The Apple Daily, though, seized on heartthrob singer Alec Su's (蘇有朋) characterization of Chang on the album as sounding like an "old American black man." [See the review of Chang's album on Sunday]. \nSu later followed up by assuring that he meant it as a compliment. But anyway, the songs on the album are old Las Vegas casino lounge numbers, which not many African Americans sang in the first place.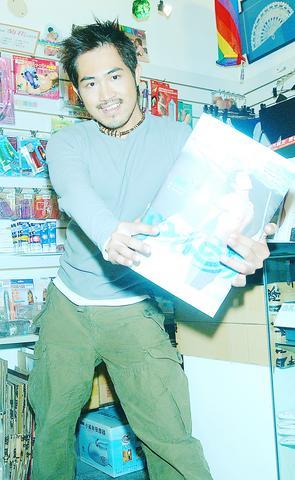 Sleep with Taiwan's only male porn star for NT$5,000 a pop.
PHOTO: TAIPEI TIMESNN
Comments will be moderated. Keep comments relevant to the article. Remarks containing abusive and obscene language, personal attacks of any kind or promotion will be removed and the user banned. Final decision will be at the discretion of the Taipei Times.