Out of Africa, by way of Europe
There were no Africans at the opening of the National History Museum's latest exhibition, begging the question, `why not?'
It's appropriate that the National History Museum's current exhibition is titled Visions d'Afrique because, despite the extensive array of items presented in the collection, a look is all that it affords. Rather than shedding light on the dark continent, it remains shrouded in mystery.
This is hardly surprising given the history museum's track record when it comes to international exhibits. A recent exhibit of Mongolian art and artifacts raised more questions than it answered and its liberal use of official government facsimiles and telegraphs certainly did little to inspire the hordes of schoolchildren that are routinely trouped through the museum. One would have thought that the historical intersection of the Republic of China and Mongolia would have made for a more interesting
exhibition.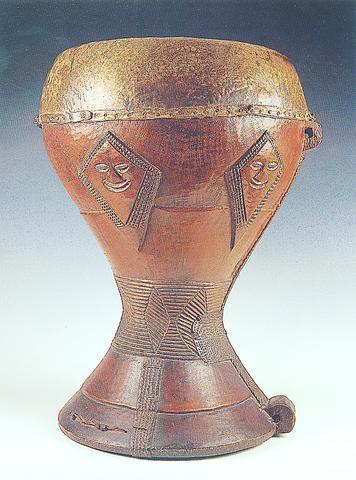 A drum decorated with ``smiley faces'' and other decorative motifs from the Democratic Republic of Congo.
ALL PHOTOS COURTESY OF MUSEUM OF HISTORY
Now, with Visions d'Afrique, the rapport between Taiwan and its diplomatic allies in Africa was noticeable by its absence. A Friday afternoon press conference regarding the African exhibit was fascinating for its total lack of Africans. Instead, the media was treated to a show of mutual appreciation between the sponsors of the exhibition, the French Institute in Taipei and a Chinese-language newspaper.
Many of the items in the exhibit come from Malawi, Burkina Faso, Liberia and Senegal -- all Taiwanese allies -- and their representative offices are near the museum, but museum officials were offering thanks to the French, Belgians, Germans and other countries.
African representatives were conspicuous by their absence. Perhaps they would have been able to shed light on the exhibits, because the museum has not. A cane from Burkina Faso is carved with figures of a man and a woman. It's identifying tag tells you simply that it's a cane with figures of a man and woman carved in it. Not exactly insightful.
There are several information plaques throughout the exhibit, which covers nearly all the first floor of the museum, but are in Chinese and French only. There is no accompanying English-language information either in the exhibit or in any of it's literary materials. What visitors are left with are hundreds of objects, wildly imagined and exquisitely crafted, which fascinate and provoke a flood of questions that go unaddressed.
Most of the work seems to have been put into the gift shop at the exhibit's end. Two rooms have been given over to African furniture, crafts, musical instruments, calendars, stickers, even African-themed temporary tattoos.
It would have been better if the museum staff put as much effort into selling the exhibition as they have at selling trinkets; they would have an enlightening show on their hands rather than a curiosity shop.
Visions d'Afrique runs now through Feb. 22 at the National Museum of History (國立歷史博物館), 49 Nanhai Rd in Taipei (北市南海路49 號).
Comments will be moderated. Keep comments relevant to the article. Remarks containing abusive and obscene language, personal attacks of any kind or promotion will be removed and the user banned. Final decision will be at the discretion of the Taipei Times.