Anti-hero chef in town to see what he can cook up
Anthony Bourdain, chef and author of the best-selling book 'Kitchen Confidential,' was in town last week on a short trip to promote his TV series and check out the local food scene in preparation for an upcoming Taiwan episode
American chef, writer, TV star and general bad boy of the kitchen, Anthony Bourdain was in town earlier this week on the Taiwan leg of what he described as a "a whirlwind, reckless careen through Asia and Australia."
Along with promoting the new season of his popular TV show, A Cook's Tour, the candid, towering 1.8m New Yorker was also here to lay groundwork and check out the possibilities for filming a Taiwan episode sometime in the, as yet, unspecified future.
"I'm spectacularly ignorant about Hong Kong, Mainland China and Taiwan," admitted Bourdain. "The trip is multi-purpose. It's a reconnaissance trip to see food, meet people and make notes so I'll be in a better position to say something reasonably intelligent when we return to make the show."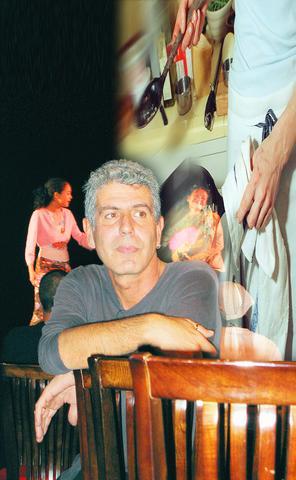 PHOTO: GAVIN PHIPPS, TAIPEI TIMES
The 22-part TV series, which begins its second season in November, follows Bourdain as he travels round the world to places such as Tokyo, Ho Chi Minh City, Phnom Penh and St. Petersburg in search of the "perfect meal."
Aired on the Knowledge Channel in Taiwan, the show, according to a spokesperson for Discovery Newtworks Asia, is one of the channel's top-10 rated programs.
The show has proven so popular, in fact, that Bourdain's book, A Cook's Tour: In Search of the Perfect Meal, originally published in 2001, is set to be translated into Chinese and published in Taiwan later this year.
Born in New York in 1956, Bourdain began his days as a dishwasher at a rundown diner in Provincetown, Massachusetts, 30 years ago. He graduated from the Culinary Institute of America in the 70s and has since spent his life in the kitchens of some of New York's grimiest and finest eateries.
Along the way Bourdain has built up a deep hatred of vegetarians, battled heroin addiction and worked as a head chef in some of New York's glitziest restaurants: All of which became the crux of his best selling book, Kitchen Confidential.
A popular figure he may have become, but Bourdain is more than happy to remain the bad boy of the kitchen by distinguishing himself from many of his peers with his no-nonsense, tell it like it is anti-hero chic.
While readily admitting that Keith Floyd is "cool," he spurns the moniker of "celebrity chef" with pride. The mere mention of celebrity chefs like Jamie Oliver leaves New York's most talked about line cook with a rather bad taste in his mouth.
"I'd rather be called a pyromaniac or a bed wetter. What kind of shit job description is `celebrity chef,'" Bourdain said in an interview with the Taipei Times. "`Professional wanker' I would wear with pride compared to the title of `celebrity chef.'"
Bourdain's visit may have been brief, but along with asking "What could be more frightening than walking into a McDonald's and looking at a Chicken McNugget? What the hell is a Chicken McNugget?" in an interview with CTI (中天電視台) he still found time to savor some of Taiwan's finest foods.
"I went to a market by the coast. Finding a local to take me to a neighborhood joint is always one of the first things I do when I get to an unfamiliar place. I want to know what people are eating and what people are selling," he said. "I knew I wasn't going to get to see the length and breadth of Taiwanese culture during this trip but what I have seen has been fantastic."
Even though this short sojourn didn't allow Bourdain enough time to wander through quite as many of Taipei's markets and visit as many of its restaurants as he would have liked, he did, in his own words "eat like a champion."
During his visit he munched his way through an "awesome" bowl of pig foot soup, "spellbinding" slow roast pork and some "really good" glutinous rice balls. And, thanks in part to large amounts of vodka and Taiwan Beer his inhibitions apropos singing in public places became a thing of the past after a rather heavy night out on the town last Friday.
"I got absolutely shit-faced drunk and ended up in a [KTV]. General policy on the show is nudity is OK, but karaoke is a no-no," he said. "I guess I've violated all of my principles now."
Hung over or not, Bourdain managed to relish the flavors and take pleasure in the exceptional quality of the food he was served at one of Taipei's most famous restaurants -- Din Tai Fung (鼎泰豐). He had nothing but high praise for the restaurant, especially when it came to the joint's "incredible" crab dumplings.
"On an item by item comparison basis a single crab dumpling there is a as good as anything any chef has made anywhere in the world. There's nothing better," Bourdain said. "It was a benchmark of food at its very, very best."
Comments will be moderated. Keep comments relevant to the article. Remarks containing abusive and obscene language, personal attacks of any kind or promotion will be removed and the user banned. Final decision will be at the discretion of the Taipei Times.