Seeing the light of day
Every year the National Palace Museum brings out some of its precious scrolls for a limited special exhibition, giving visitors a glimpse of works that they may not be able to see again for a long time
The National Place Museum's complete collection of over 10,000 scrolls of calligraphy and painting has probably never been seen in its totality and many of the most precious items are hidden away for years on end, only allowed out on special occasions to be shown in dim rooms for limited periods of time.
Treasured Paintings and Calligraphic Works is a small exhibition that makes use of only three rooms on the second floor of the museum, but is worthwhile, as the works on display -- many of them nearly a thousand years old and extremely fragile -- may not go on display again for many years to come.
The show has works by major artists from the Tang (618 to 907), Sung (960 to 1279) and Yuan (1279 to 1368) dynasties and are accompanied by detailed notes in Chinese and English that add valuable insights into what is being looked at. One of the most amazing aspects of the show is the manner in which it highlights the transmission of art works through the ages.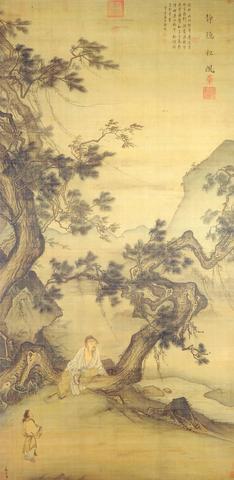 Listening to the Wind in the Pines is a work that represents the importance of man in nature, as shown in late Sung dynasty paintings.
PHOTO COURTESY OF NPM
This is most clearly visible in the Ping-an, Ho-ju and Feng-chu (平安何如奉橘帖) scroll which is a pre-Tang dynasty copy of the calligraphy of Wang Hsi-chih (王羲之, 307 to 365), regarded by many as China's greatest calligrapher. The scroll contains three examples of his work and there are detailed notes pointing out his mastery of different styles. The scroll also contains the many seals that records its transmission from one owner to another over the
centuries.
Another magnificent example of calligraphy is Essay on Calligraphy by Sun Kuo-ting, a work from around the 7th century which awes with its length -- 3,00 characters long, covering all the major styles up to that period -- which is not only a important historical document but also a work of art and endurance in itself.
The Ping-an, Ho-ju and Feng-chu scroll is a pre-Tang dynasty copy of the calligraphy of Wang Hsi-chih (307 ti 365), who is regarded by many as China's greatest calligrapher.
PHOTO COURTESY OF NPM
There are also a number of paintings, with the father and son duo Ma Yuan (馬遠) and Ma Lin (馬麟) displaying the technique and restraint that is representational of Sung painting.
Egrets on a Snowy Bank (雪灘雙鷺), uses high contrast black on white to create a winter scene which manages to be supremely simple without being dull. It has a meditative quality in which nature overwhelms man.
Solid English notes add considerably to the interest of this exhibition, making it much more that just looking at very old scrolls, though this too is part of the fascination. The scrolls will be on display until Nov. 10.
Comments will be moderated. Keep comments relevant to the article. Remarks containing abusive and obscene language, personal attacks of any kind or promotion will be removed and the user banned. Final decision will be at the discretion of the Taipei Times.