A behind-the-scenes look at the dumbing down of America
Heart throb George Clooney's maiden voyage as a movie director is an enjoyable subversion of the feel-good movie
A screenwriter's own particular brand of self-disgust is combined with the germy self-hatred of the game-show creator and host Chuck Barris in Confessions of a Dangerous Mind, this week's Charlie Kaufman screenplay. The whole is less than the sum of its parts: the dueling Kaufman and Barris takes on self-flagellation don't exactly mesh. This film, a shape-shifting apologia-biopic as weird as Adaptation, is too cold for is own good. \nGeorge Clooney, though, in his directorial debut, does show an eye, and a head, for filmmaking. There's a casual irony in the details, with Confessions of a Dangerous Mind (based on Barris' unreliable "unauthorized autobiography'' of the same name) making jokes of the lurid minutiae of the life of Barris, who in his day was accused of the destruction of television, Western civilization and the World as We Know It. \nBarris' ambition led him to create The Dating Game and The Newlywed Game shows that during the 1960s were considered the same ungodly manifestations of a sick mind that Survivor, The Bachelor and Good Morning, Miami are thought to be today. \nThe film's Barris (Sam Rockwell) does a mambo in his head between geekdom and desperation, and Rockwell does a dazzling job of conveying the seething confusion beneath his character's dazed amiability. Rockwell gets this across partly by slightly parting his lips for much of the performance, a gesture that catches Barris in transition; it is the nexus between the state of shock at what's going on around him and the moment when his talent for saying the wrong thing gets him into trouble. \nBarris finds himself attracted to Penny, a proto-hippie played by Drew Barrymore, who uses her cherubic flower-child eagerness well. Barrymore is more believable here than she has been in a movie for some time. She seems to have suddenly remembered that she could act instead of simply making herself adorable. \nThe movie focuses on how Barris' low-key scramble for \ngreatness -- Confessions of a Dangerous Mind even slips in the hero's motivation for creating the forgettable pop hit Palisades Park -- supposedly gets him recruited by the Central Intelligence Agency and one of its agents, Jim Byrd (Clooney, in a know-it-all deadpan that borders on cadaverous). \nIn one of the funniest marriages of cynicism and need since Otter used the obituaries to find dates in Animal House, the film presses Barris' claim that The Dating Game lent itself to his globe-trotting adventures as a CIA assassin. He could both chaperone the winning couple to whatever second-rate location they "won'' -- here, it's cold war wasteland instead of a Puerto Vallarta daydreamland -- and cram in some wetwork for the CIA. \nThough the prologue and epilogue -- with a bearded, gone-to-seed Barris holed up in a hotel room of mountainous disarray -- are out of Apocalypse Now, to tell this story of the 1960s gone wrong Clooney uses as a partial model The Parallax View, a minor 1970s classic about America turning sour. He has put together an impressive team, including the production designer James Bissel and the cinematographer Newton Thomas Sigel. Sigel filmed Clooney in one of the best pictures of the last decade, Three Kings. \nClooney is out to fashion a story blending politics, comedy and anger in the way Three Kings did so seamlessly. The anger and comedy surface here. As Barris' successes bubble up, and he finds himself in the midst of a CIA mission and succeeding as host of The Gong Show (imagine American Idol featuring contestants of no talent instead of, well, not much talent), these peaks rise into a moment of horror. Rockwell peaks here, too; watching the line between exploiter and exploited disappear makes him vertiginous. It's the through line that the movie carries over from the book, and it makes the movie less about spritzing and more about suffering. \nThe politics, unfortunately, get blurred, too. The slapsticky \nassassination adventures seem like something out of another film about politics and pratfalls: The President's Analyst. And when Julia Roberts shows up as a slinky double agent in hats that Diana Vreeland might have chosen, Confessions slides dangerously close to Rocky and Bullwinkle. \nThe picture misses the opportunity to make sound points, like that the makin'-whoopee honesty of Newlywed Game contestants is preferable to the fake-ideal nuclear-family sitcoms the networks force fed the country. At least The Newlywed Game couples admitted to having only one bed, instead of the chaste twin-bed absurdity sold elsewhere. Rockwell's fusion of flaky and direct is dead-solid perfect when his Barris is host of The Gong Show and slides around the stage as if he were about to break into some doo-wop soft-shoe, clapping his hands to punctuate the silliness. \nRockwell is able to give the film weight, though it lacks shape. It suffers as much from ambition as the real-life Barris did; reading the book, with Barris shuffling off from CIA hit to television hit, you wonder how he was able to squeeze in The Gong Show Movie and why the CIA itself didn't put out a contract on his life for that one. \nIt's evident that Kaufman's scripts work better when directed simply; Spike Jonze leaves his overflowing magic bag behind when he films one of them. Clooney pops off ideas the way Barris bopped on the Gong Show stage and seems determined to find metaphors for Barris' trajectory of worm-ridden victory and emptiness. Still, Confessions of a Dangerous Mind is a good piece of work more often than not, and this is one of the few times an actor turned director has chosen to subvert the feel-good genre for his maiden voyage.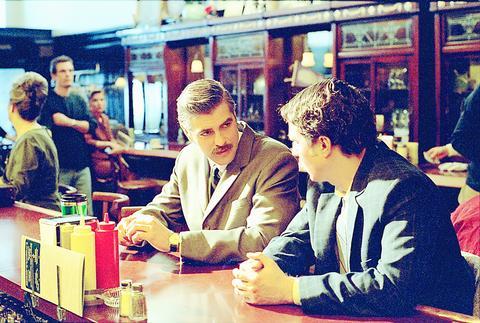 Above and right, George Clooney directs and stars in Confessions of a Dangerous Mind.
PHOTOS COURTESY OF PANDASIA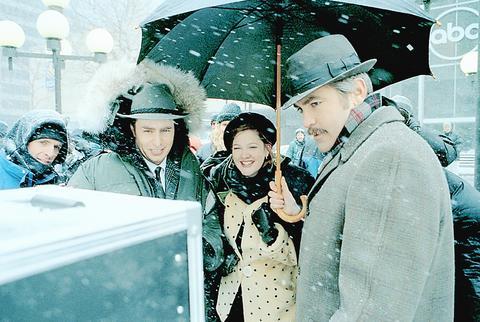 Publication Notes
Film Notes
Confessions of a Dangerous Mind
Directed by: George Clooney, Steven Johnson
Starring: Drew Barrymore (Penny), George Clooney (Jim Byrd), Julia Roberts (Patricia), Sam Rockwell (Chuck Barris) and Rutger Hauer (Keeler)
Running time: 115 minutes
Taiwan Release: today
Comments will be moderated. Keep comments relevant to the article. Remarks containing abusive and obscene language, personal attacks of any kind or promotion will be removed and the user banned. Final decision will be at the discretion of the Taipei Times.