Ancient diary brings a personal touch to early Ching Formosa
A translation and commentary on a little known work by a 17th century traveler brings Taiwan's early history alive for the modern reader
The character in Out of China, Yu Yonghe (陏永河), was a unique man, as far as Chinese literati are concerned, which makes his work, The Small Sea Travel Records (裨海紀遊), just as unique and similarly interesting. Macabe Keliher's translation of Yu's text gives us a better understanding of Taiwan's early history.
We know very little about Yu Yonghe. We do know that he was from Zhejiang province, Renhe prefecture (near Hangzhou). Scholars of the Ching dynasty could not find any further information on him, and academics today have little to add.
But from the single work that the man left behind we can deduce much. He was born before 1650 and was very familiar with the Chinese classics. His poetry was not bad, even though he never sat for imperial examinations or became an official. Yu liked to travel. Although he had a mother at home, he did not rule out traveling to far away places. He went to every corner of Fujian and even to the place considered to be the most desolate and barbaric: Taiwan.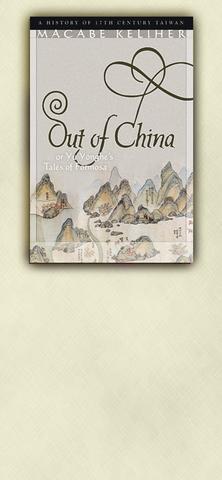 Out of China: Yu Yonghe's Tales of Formosa: A History of Seventeenth-century Taiwan BY Macabe Kelihe SMC PUBLISHING
We don't know his profession, but he was familiar with many provincial and county officials, which suggests that he had some financial means, possibly as a land owner or member of the gentry class.
Unlike other intellectuals and literati of the day, Yu had some knowledge of foreigners and was extremely interested in foreign lands. His writings on the Zheng family (偽鄭逸事), the Aborigines (番境補遺), and China's southeastern seas (海上紀略; 宇內形勢), stand as proof of this.
Chinese literati rarely traveled abroad unless they were sent on official assignment or had the misfortune to be exiled. Of course they all went to the scenic spots of historical interest, such as the Five Sacred Mountains, but one is hard pressed to find a character like Yu Yonghe who visited overseas lands and left such a vivid account. It is against this historical context that Yu is unique.
Yu was, however, constrained by the traditions and culture of the time. His knowledge of Japan, the "red haired barbarians" and other Western countries was full of hearsay and cannot be compared to the knowledge that Western explorers had of East Asia at the time. But this was China's failing and not just Yu's. The burden of responsibility and blame cannot be placed entirely on his shoulders.
The backdrop of Yu's journey to Taiwan was the explosion of the Fuzhou gunpowder stores in 1696. Early the next year, Fujian officials sent Yu to Taiwan to mine sulfur. Yu traveled down the coast to Xiamen and crossed the Taiwan Strait, stopping over in Penghu before landing in Tainan. Following the western coast of the island, Yu traveled northward to Tamsui and Peitou where he bought amorphous sulfur from local Aborigines and melted it down to make pure sulfur.
In the winter of that same year he returned to Fuzhou. Over the course of his 10-month journey he kept a diary of all that he saw and heard. It became The Small Sea Travel Records. Because Yu's mission was to collect sulfur, his book is sometimes referred to as the "Sulfur Extraction Diaries." With either name, it is an account of the author's personal experiences and one of the most vivid historical records of the period. From very early on it became the most talked about travelogue and was incorporated into many libraries and collections.
When Yu arrived in Taiwan, the Ching dynasty had already administered the island for 13 years. The Dutch had arrived 73 years earlier, and Koxinga (Zheng Cheng-kung, 鄭成功)had driven them out only 35 years before Yu arrived. With these events in the recent past, Yu not only recorded the developments of the era, but he also observed what the Dutch and the Zheng dynasty left behind, including administrative structures. He heard the tales of witnesses to events just past and observed an Aboriginal culture still relatively untouched by Han Chinese influence.
Yu's records offer an abundance of first hand information. In fact, these diaries reflect the multicultural characteristics of early Taiwan. Other primary records of the seventeenth century are limited to those of conquerors and administrators, such as the Dutch and the Ching dynasty officials. The Zhengs left very little behind in the way of records.
Although Yu traveled to Taiwan on assignment, he was not an official, and his book is the observation of a compassionate literati rather than a government report. Yu expresses the injustice done to the Aborigines, even if he cannot escape the prejudices of his time. Yet the problem of how to study the Aborigines so called "uncivilized" ways is something contemporary scholars are still grappling with, and we cannot place too high an expectation on Yu.
Yu's diaries have a sort of eclectic discussion of events past, and although Keliher follows Yu's narrative and historical commentary,?Out of China ?is not a simple translation. Keliher uses Yu's diaries as a base to construct a history of Taiwan in the seventeenth century. Here we can read of Koxinga, Shi Lang (施郎), the Ching empire and Taiwan's historical development, as well as the Dutch and the Spanish, of whom Yu knew very little.
Although The Small Sea Travel Records is fascinating for the adventure tale alone, the dangers of the island are perhaps overstated. After years of Dutch, Spanish and Zheng family repression and exploitation, Taiwan was not exactly a hostile hell. The feeling Yu gives of a horrible and savage land is perhaps a bit overdone. Keliher has been able to compensate by drawing on other source materials, making the record more historical.
The text of the original diary is not easy to wade through nor understand, but Keliher's translation and treatment of it is quite suitable. He has handled its subtly and preserved its meaning. His reorganization and value-added history has created a unique picture of seventeenth-century Taiwan. His historical insights and exploration of other source materials draws out the content of Yu's narrative, making Out of China a must read for Taiwanese wanting to know their own history or for foreigners hoping to understand it.
Tu Cheng-sheng (杜正勝) is the director of the National Palace Museum.
Comments will be moderated. Keep comments relevant to the article. Remarks containing abusive and obscene language, personal attacks of any kind or promotion will be removed and the user banned. Final decision will be at the discretion of the Taipei Times.