Nostalgia for the bad old days
In the television event of the year, director Tsao Jui-yuan is set to bring Kenneth Pai's highly regarded novel 'Crystal Boys' to TV sets nationwide
It was the early 1970s in Taipei, a time when Hsimenting had the most glamorous cabaret in town and American GIs roamed Shuancheng Street and Chungshan North Road. For men the fashion was tight-fitting boots, tight trousers and colorful turtle-neck sweaters or tight, flowery shirts. And 228 Memorial Park, then known as New Park, was the meeting place for Taipei's gay community. \nIt was here that the acclaimed novel Crystal Boys (孽子), hailed as the first novel to focus on gay culture in Chinese society, was set. Published in 1983, the book has been translated into numerous languages, including English, French, German and Japanese. (Translated into English by Howard Goldblatt, see Page 18.) \nAs author Kenneth Pai (白先勇) writes: "In our kingdom, there are only dark nights, no daylight. Once the sky turns bright, our kingdom becomes invincible ... . In our kingdom, there are no divisions between rich and poor, noble and low, old and young, strong and weak. What we have are each other's bodies that burn with desire so hot that the pain is unbearable. And each other's lonely hearts that drive us crazy ... ." \nIn 1986 Crystal Boys was made into a feature film. And now, starting tomorrow, the novel will be presented as a TV mini-series by Taiwan's Public Television Service (PTS). For many reasons, from the book's literary value to the new program's casting and production costs, the production Crystal Boys can be seen the most highly anticipated television drama in Taiwan in the last two years. \nThe series stars up-and-coming actors Wing Fan (范植偉, The Best of Times 2002) and Ma Chih-hsiang (馬志翔, Brave 20 2002); established actor To Tsong-hua (庹宗華); and revered actors such as Ko Chun-hsiung (柯俊雄), who has won several Best Actor awards at the Golden Horse awards and Asia-Pacific Film Festival, and Ting Chiang (丁強) and Wang Chueh (王玨). \nThe cast alone is enough to excite many Taiwanese movie fans, as it gathers together the best-looking group of Taiwanese actors ever to perform in a TV drama. \nAnd for purists, "Wing Fan is exactly like Lee Ching (李青) [the main character] in my book," said Kenneth Pai at a press conference on Wednesday. Handsome and a bit melancholy, Wing Fan was seen by Pai as the actor best-suited to play Lee, a sensitive, reserved boy who is both protagonist and narrator in the 400-page novel. \n"My novels have been adapted for cinema and television many times, but I especially liked the cast for this one. Many of the young actors turned in outstanding portrayals of the lost boys in my story. And more importantly, the film recruited a lot of established actors to play the father figures. They are wonderful actors. On this account, I would say the series was a success," said Pai, after watching all 20 episodes of Crystal Boys. \nPai's novel also transcends what some might regard as the stereotypical themes (in the West) of recent gay literature -- eroticism, relationships, drag queens, gyms, superior fashion sense, neurotic personalities, etc. -- both in that it touches on what was for most Taiwanese born in the 1970s the common experience of high school, as well as in its groundbreaking nature. As writer and cultural critic Nan Fang-shou (南方朔) said, "Pai's Crystal Boys was the first literature exploring gay culture in contemporary Chinese society. Pai explores it in a deep and profound manner." \nThe novel has many distinct and well-developed characters and complicated human relationships. Its physical center starts at New Park's lotus pond and extends through the bustling streets of Hsimenting and Chungshan North Road, to local gambling houses and brothels in Sanchung in Taipei County, all the way to New York and Tokyo. These characters and locations are juxtaposed with popular music from the time: The Beatles, Tom Jones and cha-cha and tango dancing. Crystal Boys is not merely about gay culture, it is about the aura of 1970s Taipei. \n"My original intention was not to make a gay work. Having read the book so many times, I'm always fascinated by the atmosphere of the 1970s. At that time, there was a special kind of the warmth among people in their relationships, be it friendship, family or romantic love. This kind of warmth seems to have been lost now. So I wanted to recollect the feelings and the aura again on screen," said Tsao Jui-yuan (曹瑞原), director of the mini-series. \nCrystal Boys begins with Lee Ching being turned out by his father due to "misbehavior" with his schoolmate in the high school laboratory. Lee then starts frequenting the park at night, looking for love and money. Coach Yang, a fat, dapper middle-aged man, plays teacher to the "young birds" like Lee in the park. He teaches them how to pick up customers, raise their price and protect themselves from the police. Teenagers like Lee and his friends are the favorites of older visitors to the park. His best friend Little Jade is the favorite of a movie studio boss, but Jade likes the Japanese-style ojisan Mr. Lin, a local businessman. Another friend, Wu Ming, is loved and fed by Mr. Chang, a sophisticated but mean-spirited middle-aged man. And Lee gets picked up by a handsome 30-something named Dragon, although the coach warns him not to. The son of a high-ranking general, Dragon has a sinister reputation. \nThe producers of Crystal Boys worked hard to capture the feel of 1970s Taiwan, creating 80 different sets for the series. They rebuilt a movie theater and changed its billboard to advertise a Bruce Lee film. They went to Hsinchu to find an old, unrenovated veteran's villages for soldiers from the mainland. And several sets were reconstructed in modern cabaret houses in order to get the old cabaret in Hsimenting just right. \n"The whole process made us realize that many of the old buildings and entertainment venues, especially the veteran's villages, are vanishing. It's really very sad," Tsao said. \nApart from that, everyone involved seemed pleased with the result. "I was very touched by the film. It captured the mood of my novel splendidly," Pai said. \nTing Chiang, who plays the kitschy but strong-hearted Coach Yang, said the series was one of the most exhilarating acting experiences he has had in a long time. "It was a rare chance for all of us to be involved in such a large and well-made production like this one," Ting said. "I am proud to have been a part of it."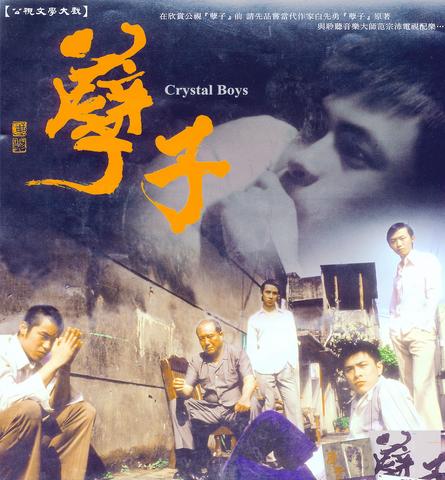 PHOTO COURTESY OF PTS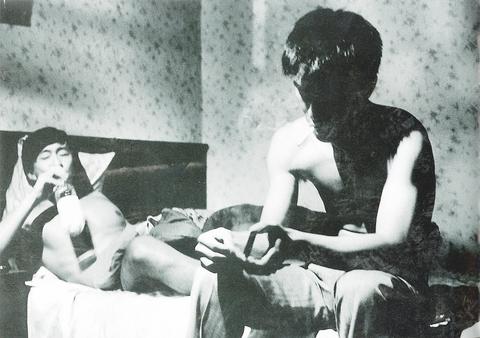 A scene from the highly-anticipated television drama based on Kenneth Pai's ground-breaking work Crystal Boys.
PHOTO COURTESY OF KUO CHENG-CHANG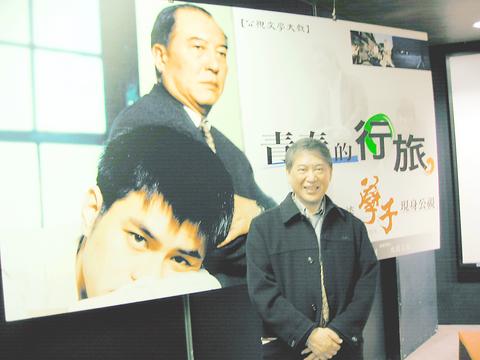 Kenneth Pai, author of Crystal Boys and one of Taiwan's foremost literary figures, stands before a poster promoting a TV mini-series based on his book.
PHOTO: YU SEN-LUN, TAIPEI TIMES
Comments will be moderated. Keep comments relevant to the article. Remarks containing abusive and obscene language, personal attacks of any kind or promotion will be removed and the user banned. Final decision will be at the discretion of the Taipei Times.