Mok and Follmanrelive past success
Christmas or not, there couldn't be a more popular program than this. From Puccini favorites to Jingle Bells, this one has it all. Hong Kong-born Warren Mok is probably Asia's most successful tenor. After spending nine years in Berlin in the 1980s with what was then West Germany's premier opera company, he returned to Asia in the 1990s and embarked on a new double career, setting up top-class opera productions, most notably in Shanghai, while continuing with his solo career at the same time. \nSince 2001 he's been artistic director of the Macao International Music Festival, and this year alone he's appeared in works as varied as Carmen, Verdi's Un Ballo in Maschera and Mahler's Song of the Earth. In Macao he even sings in the operas he himself has set up. Last October he appeared there in the leading role in La Boheme, and opposite him was the American soprano Robin Follman. Tomorrow night they will recreate that success when they appear together in their pre-Christmas extravaganza at Taipei's National Concert Hall. \nFollman has also enjoyed a successful career in Europe and the US. And she's recently issued a solo CD entitled Rare Verismo Arias, for which she was coached by the legendary veteran soprano, Renata Scotto. \nTomorrow night's program barely contains an unfamiliar bar. Many of the audience will know just about every one of the items by heart. After the overture (Verdi's La Forza del Destino -- what else?), Mok opens proceedings with the two principal tenor arias from Tosca, Follman following suit with Vissi d'arte from the same opera. Then follow the major tenor-soprano duets from Tosca, La Boheme and Butterfly, and if that doesn't please the popular classics-loving crowds there's the famous Intermezzo from Cavalleria Rusticana and Tchaikovsky's Nutcraker overture as well. \nGoodwill should by now be veritably overflowing. Just the time, then, for some Christmas cheer -- Mok lifting the roof with O Holy Night, and the two singers joining together, no doubt with the audience singing along as well, in Joy to the World, Jingle Bells and We Wish You a Merry Christmas. Why not Hark, the Herald Angels Sing as well, for which Mendelssohn wrote the music? Maybe as an encore. \nPerformance Notes: \nWarren Mok and Robin Follman Concert at the National Concert Hall, Taipei this Saturday. Tickets are NT$300 to NT$1,500 and are available from the CKS Cultural Center.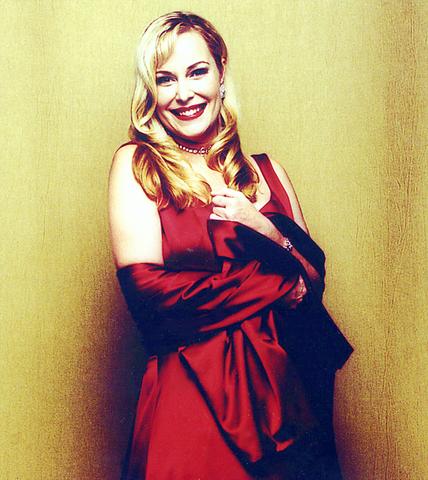 Robin Follman.
PHOTO COURTESY OF CKS CULTURAL CENTER
Comments will be moderated. Keep comments relevant to the article. Remarks containing abusive and obscene language, personal attacks of any kind or promotion will be removed and the user banned. Final decision will be at the discretion of the Taipei Times.