Progress without ruffled feathers
The resolution of a potentially explosive situation between conservationists and the Taiwan High-speed Rail Corporation shows that development and ecology can peacefully coexist
One autumn afternoon just prior to the Chinese Moon Festival (中秋節), Nita Ing (殷琪), chairperson and CEO of the Taiwan High-speed Rail Corporation (THSRC), and a small entourage pulled up to a remote location at Kuantien (官田) in Tainan County. Clad in jeans, Ing approached a small group of astonished men, none of whom had the slightest idea who the young-looking woman could be. She politely presented them with a few boxes of moon cakes, a traditional and popular gift at that time of the year, as an ice-breaking gesture and sat down on the muddy ground under the shade of a tree to chat with them.
This scene has been repeated yearly ever since the THSRC won the biggest build-operate-transfer project bid in the world against the Chunghwa High-Speed Rail Consortium, led by Liu Tai-ying (劉泰英) in 1999. The investment capital involved in building the high-speed rail from Taipei to Kaohsiung along Taiwan's west coast is estimated at more than NT$446.4 billion (US$12.7 billion) and is scheduled to be completed in October 2005.
The bidding on the high-speed railway project in 1999 made bird-watching communities increasingly nervous. Since the government decided in 1990 to set up an ad-hoc Bureau of High Speed Rail, business conglomerates in Taiwan and abroad have congealed into two competing consortiums. News reports and politicians all over the country engaged in propagandizing about how great a boon the project would be both to the growth of Taiwan's economy and the general public's travel convenience. Hardly anyone was paying attention to the project's potentially disastrous impact on the natural environment of the west coastal regions of Taiwan.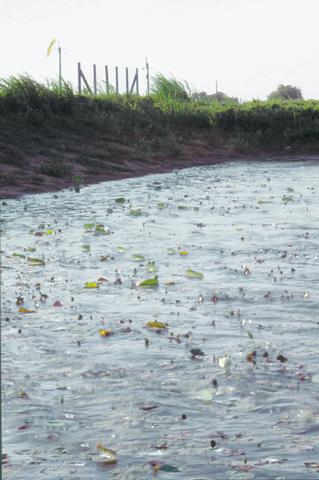 Ing, one of the most distinguished female entrepreneurs in Taiwan and perhaps in the whole of Asia, enjoys visiting the site and meeting these handful of men every year for some good reasons.
For one, the high-speed rail will traverse a huge piece of farmland, an area which happens to be the highly critical natural habitat of Taiwan's pheasant-tailed jacana (水雉). This bird was selected in 1997 by Tainan County residents to be the county symbol. This also turned out to be the home county of President Chen Shui-bien (陳水扁), elected in 2000. Some conservation experts predicted that, if no quick and effective remedial measures were taken, the railway project would deal a final blow to the very existence of this particular species of bird in Taiwan.
Perhaps the most important reason is that the high-speed rail project cannot afford delays nor confrontation from the local conservation groups. The project is too obvious of a target for environmental protection groups to easily mobilize their forces. Once the fire of ecological concern is spread, the consortium, which includes international banks and business groups, may be intimidated and back off from the project.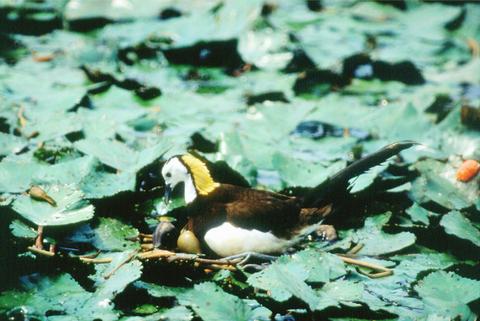 A male jacana hatches an egg in a new man-made habitat in Tainan County deigned to increase the population of the endangered species.
PHOTO COURTESY OF LEE WEN-HWA
The Bayer Group's NT$50 billion chemical plant project in Taichung County would serve as a reminder to any big company from abroad. Bayer decided at the last moment to pull its investment plan from Taiwan in 1997 due to unfavorable news coverage and persistent and fierce protests from environment groups all over Taiwan.
Since the early 1990s, local conservation groups have been urging the government and the public to undertake a joint effort to revive Taiwan's decreasing jacana population. In an ironic and embarrassing twist, the same year that the jacana was named Tainan's county bird, their number shrank to around 40 and they were facing immediate extinction, according to a field study report published in 1998.
However, the local conservationists were smart enough this time to keep a low profile on this thorny issue and tried patiently to reason with government officials. Philip Kuo (郭東輝), founding chairman of the Wild Bird Society of Tainan (台南野鳥學會創會會長), said: "Through long years of quiet discussion and negotiation, the conservation groups and a few sympathetic officials from both the central and Tainan County government levels came to an important consensus in 1997."
A jacana egg lays on a pond in this man-made paradise for wild birds.
PHOTO COURTESY OF TENG PO-LING
Draft conservation guidelines concerning the jacana were signed by all sides. A critical statement indicated that, unless another proper location could be found to replace the then major natural habitat for jacana birds, the environmental impact assessment conducted by the Council for Agricultural Planning should not be approved. The agreement was laid out to the bidders beforehand and was accepted without challenge by Ing's group in a move that surprised everybody.
After the THSRC won the bid, the parties held many friendly discussions. A crucial agreement was then reached in late 1999 to the effect that the local conservation groups could rent a 15-hectare piece of farmland. The land was located approximately 2km to the south as an initial land swap for a section deemed critical to the jacana's natural habitat and targeted for construction of the high-speed rail.
To pay for the land use -- or to put it more precisely, non-use -- yearly land rental was estimated at NT$2 million and was evenly divided among the Bureau of High Speed Rail and the THSRC. In addition, the THSRC agreed to provide another NT$2 million per year to cover the operational expenses of this new conservation site. The Tainan County government would put up some materials, such as fertilizers or small plants, worth about NT$1 million each year to back up the project. In return, the construction work on the high-speed rail would be launched without delay.
Lotus flowers attract wild birds during autumn to the conservation site.
PHOTO COURTESY OF TENG PO-LING
Lee Chien-an (李建安), head of research at the Wild Bird Federation of Taiwan, commented on the arrangement saying: "The problem of over-development in Taiwan constantly threatens the very existence of many natural species, both plants and animals. So, if we must develop a certain area ... we should think about putting up a much stronger effort towards protecting the surrounding environment of the target area, so that ecological damage can be kept in check and minimized."
So, in fact, those handful of people hanging out with Ing in Kuantien were leading staff members and volunteer workers from bird-watching societies in Chiayi, Tainan, Kaohsiung and Pintung.
They are daily scrutinizing the activities and natural habitat of the jacana birds in this area of now fallow land reserved for wild birds to feed, find shelter, breed and protect themselves from attack by wild cats and dogs or human disturbances.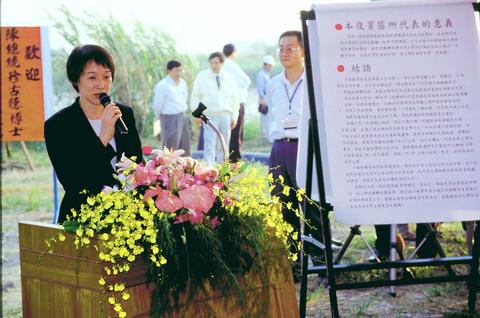 THSRC Chairperson Nita Ing speaks at the site of the jacana bird restoration area.
PHOTO COURTESY OF TENG PO-LING
According to the chair of the Pheasant-tailed Jacana Restoration Committee, Chiu Man-hsin (邱滿星), the restoration project was not initially well-received simply because no one in Taiwan has ever tried and succeeded in luring wild birds away from one place to a designated site. Although jacana birds can be found in most south Asian countries, he believes those in Taiwan are not migratory and tend to fly within a range of 10km in their daily search for food. If their habitat were destroyed, they would immediately look for new shelter. With this in mind, Chiu and a group of bird-fanciers put a tremendous effort toward turning the new fallow lands into a lotus and water-chestnut garden with a variety of other flora.
"I bet that if I looked after the gardens and ponds really well and created a natural environment similar to that the jacana had in its old natural habitat, the bird would be lured to this new friendly environment for good," Chiu said. So he relegated all the work at his construction company to his family in Kaohsiung and now works full time without pay in this bird paradise in Tainan County. From the year 2000 to March of this year, a total of 1,000 volunteers have worked to establish this man-made conservation site. They go there to help out on building or repairing bamboo fences, planting new trees, spreading fertilizer and so on. Chiu's hard work and devotion paid off quickly.
All work restoring the number of pheasant-tailed jacana in Tainan started in 2000. During the first year, four jacana birds bred at the new site. Last year, 46 new birds hatched and continue to grow to maturity. Through March of this year, the total number of jacana has surged to 150 and another 75 or more new birds are expected by the end of this year. Chiu optimistically expressed his hope that the total number of jacana in Tainan can be increased and maintained to a safer level of over 200 in the year to come.
Meanwhile, Chiu is planning to incorporate another 15-hectare farmland adjacent to the present conservation site. His plans include setting up a multi-story visitor's center and various ecology classrooms for students. He said that his new bird garden could now offer up to 100 or more bird species for bird-watchers to observe during most of the year. Once the conservation site is doubled, its variety of birds, water plants and flowers will outrank those in Kuantu Natural Park (關渡自然公園) in Taipei.
The story of severe conflict or clash between the conservationists and land developers has seemed never-ending either in Taiwan or other parts of the world. This largely repetitive process of protest and coming to blows among interest groups has become such a cliche that many people do not bother to care about it any more. Yet, this experience can serve as an ingenuous precedent, one which deserves to have people in Taiwan think about conflict resolution from a different perspective.
With a little more sense of responsibility to society and deeper mutual respect for the living creatures around us, a potentially explosive social and environmental issue can be turned into an ecological miracle, settled peacefully and to the satisfaction of all involved.
The construction of the high-speed railway has been the largest capital investment ever by the private sector in Taiwan. It is therefore understandable that Ing and her group are at great risk and under enormous working pressure. Nonetheless, Ing is willing to take time off to pay a personal visit to the concerned conservationists. Having done so, she has won their hearts and friendship, making every future negotiation easier and smoother. As Chiu later confessed: "I am really impressed and touched by Ms Ing's genuine concern about the feelings of others. Everybody seems to feel she is one of us, not the big boss on the other side of the negotiation table."
Comments will be moderated. Keep comments relevant to the article. Remarks containing abusive and obscene language, personal attacks of any kind or promotion will be removed and the user banned. Final decision will be at the discretion of the Taipei Times.