Berlin comes to life in 'Planet Alex'
Uli Shuppel has captured the German capital using innovative digital cinematography and an interwoven plot
Imagine Berlin's famous square Alexanderplatz as a planetary system. The TV tower is the sun, and the people passing by it each day are the revolving planets. Each has its own orbit and frequency. They may or may not meet -- sparking a brief flame, then ash -- and then everything goes back to the same routine. \nUli Schuppel's Planet Alex is an extraordinary fantasy about the city of Berlin and Alexanderplatz. Using flowing digital cinematography as the rhyme, electronic music as the rhythm and centering them both around a thrilling, funny love story, Planet Alex tells of all that's cool and fascinating about Berlin. \nThe story begins in the the three-story basement bowels of the Alexanderplatz subway station. Asaki (Marusha) is an avant-garde Web artist who foresees a planetary catastrophe and tries to prevent it. She has just 24 hours to get up to the tower and save the planet. Anna (Marie Zielcke) just wants to spend the weekend in the big city. She has a fear of heights, but wants desperately to find out what it feels like to "take off." Anna meets Jo (Baki Davrak), a decadent-looking drug addict at the subway. The two are quickly drawn to each other like magnets, as Jo is a constant city roamer who himself has always tried to fly away. \nKatja (Nadesha Brennicke), a successful model, has a plan thought out to get money and power at the same time. But before leaving Berlin behind, she has to untie all the emotional knots of her boyfriend Franz' death. Was being hit by the train an accident, or was it murder? \nSomeone said it was Jo who murdered Franz for his suitcase filled with cocaine. At least that's what subway security officer Walter believes. Katja seduces Walter, seeking the truth, while secretly selling Franz's cocaine on the side. As for Jo, he can't -- or doesn't want to -- know the truth; all he wants is to fly Anna to another dimension. And as the characters/planets move around the streets, pubs and hotels surrounding Alexanderplatz, there is less and less time until the catastrophe. \nDespite the somewhat incoherent happenings and unclear anecdotes within the storyline, the film is an ambitious mix of murder, fairy-tale romance, madness, comedy and urban documentary imagery. \nDirector Schuppel is known in European film circles for his music videos and experimental videos. The digital work in Planet Alex proves again his talent at incorporating new technology in film. The fluidity of his digital camerawork adds romance to the encounter between Anna and Jo befitting their fairytale lines: "She is from a different planet" and "Have you been to the stardust?" \nThe film also recruited Germany's Love Parade techno queen DJ Marusha for her first film appearance to play the role of prophet Asaki.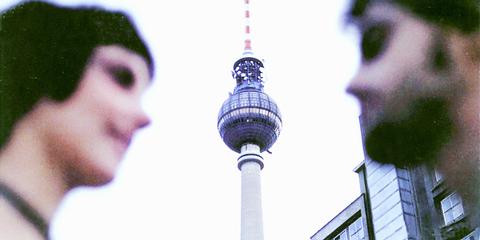 Uli Schuppel shows a quirky Berlin in Planet Alex.
PHOTO COURTESY OF GOLDEN HORSE FILM FESTIVAL
Publication Notes
Screening information
What: Planet Alex
When: Today at 5pm
Where: Carnival Theater, 52, Omei Street
Comments will be moderated. Keep comments relevant to the article. Remarks containing abusive and obscene language, personal attacks of any kind or promotion will be removed and the user banned. Final decision will be at the discretion of the Taipei Times.