Documentary explores the making of a screen legend
Marlene Dietrich catapulted to stardom in a series of steamy, seductive roles that drove audiences crazy
Having first arrived in Hollywood as a tall, slightly chubby actress with a German accent, how did Marlene Dietrich ever become a goddess of the silver screen? The four Dietrich films showing today in the Golden Horse Film Festival's special section "A Tribute to Marlene Dietrich" will provide you with the answer. \nThe 1930 film Blue Angel is seen by many as having cemented Dietrich's screen image. A reserved, disciplined school teacher steps into a smoky nightclub called Blue Angel, where he intends to catch some of his naughtier students. Here he meets a singer and dancer named Lola. \nDietrich's stardom was born out of her turn as Lola. In the now classic scene, she sings loudly and with suggestive gestures and a bossy attitude toward the teacher, showing her strong personality and genuine sex appeal. Her seductiveness not only wins over the drooling students, but also causes the teacher to forget his age and social status. The film conveys a classic theme since repeated by Hollywood countless times, that the allure of sex can destroy class boundaries and create a new dynamic between men and women. \nAnother production, Morocco, (1930) is a more romanticized film in terms of Dietrich's image. In a cabaret in Morocco, a charming singer, again played by Dietrich, meets with an American mercenary played by Gary Cooper. She playfully seduces Cooper in a tuxedo-clad act. But Cooper is a playboy, too, and what ensues is a no-strings-attached relationship. Suddenly, news comes from the battlefield that Cooper has been injured and may die from his wounds. In a decisive moment, Dietrich takes off her high heels and marches out to find the man she now realizes she loves. \nThis is another classic role for Dietrich both for having dressed in a tux to lure Copper and for having kissed a female audience member on the lips. It was a typical 1930s Hollywood romance, complete with beautiful actors and actresses, an exotic atmosphere and melodramatic plot. The film's technical elements worked in perfect harmony to give the film an atmosphere of fantasy that would help catapult Dietrich into superstardom. \nThe third film in the section, Shanghai Express, like the two before it, was made by Joseph von Sternberg. It is, briefly speaking, an oriental version of Morocco. Famous costar Shanghai Lili, played by Dietrich, is on a train from Beijing to Shanghai where she accidentally meets her old love, English army doctor Harvey (Clive Brook). Harvey is taken hostage by Chinese guerillas on the train and, in order to save him, she must throw herself into the arms of a fierce-looking guerilla leader. \nLastly, Marlene is a dense documentary about the German actress. This film was shot when Dietrich was 83, but her strong will can still be heard in her voice. In the film, Dietrich looks back at her old films, her roles during World War II and her supposedly platonic affair with Ernest Hemingway. There is also a long segment in which Dietrich argues with director, Maxmillan Schell, as Schell tries to persuade her to talk in front of the camera. Dietrich rejects him in the end, once more showing her power to drive men mad, both on and off screen.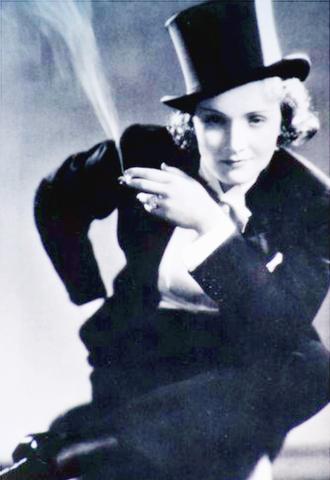 A scene in which she donned a tuxedo and kissed a woman helped catapult Marlene Dietrich to the status of screen goddess in the film Morocco.
PHOTO: GOLDEN HORSE FILM FESTIVAL
Dietrich's seductive and domineering qualities drove audiences crazy both on and off screen.
PHOTO: GOLDEN HORSE FILM FESTIVAL
Publication Notes
Blue Angel will screen today at 10:30am. The documentary about the life of the screen legend, Marlene, is set to screen at 4pm. Morocco will show at 5:50pm. And Shanghai Express is scheduled to begin at 7:40pm. All screenings are at Carnival Cinema (嘉年華), 52 Omei St., Taipei.
Comments will be moderated. Keep comments relevant to the article. Remarks containing abusive and obscene language, personal attacks of any kind or promotion will be removed and the user banned. Final decision will be at the discretion of the Taipei Times.