Movie Guide: Kiss of the Dragon 龍吻
Rated PG, directed by Chris Nahon with Jet Li (李連杰, Liu Jian), Bridget Fonda (Jessica), Tcheky Karyo (Richard), Laurence Ashley (Aja) and Burt Kwouk (Uncle Tai), running time 98 minutes.
You probably won't be going to see Kiss of the Dragon for its plot, but the fisticuffs do need some sort of structure. This is provided by Jet Li (李連杰), who in the role of a Chinese agent, is sent to France to help the Parisian police bust a Chinese heroin smuggler. He doesn't know that Richard (Tcheky Karyo), the cop in charge of the operation, is using his office as a cover for his shadow life as a crime boss. He is in fact taking over the guy's operations, and makes Li take the fall when the smuggler meets an untimely end. The rest of the movie is largely made up of Li seeking to prove his innocence, which he mostly does using his fists and feet. Jessica (Bridget Fonda) provides the female interest, but isn't given much to do, except to provide a subject for Li's search for a witness to the murder he didn't commit.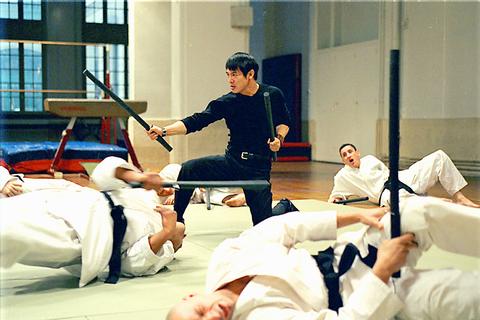 No one is left standing once Jet Li gets through with them in Kiss of the Dragon.
PHOTO COURTESY OF BUENA VISTA
Comments will be moderated. Keep comments relevant to the article. Remarks containing abusive and obscene language, personal attacks of any kind or promotion will be removed and the user banned. Final decision will be at the discretion of the Taipei Times.