Restaurants of the week
This week we visit three restaurants that offer a house specialty noodle.
Old Chen's Beef Noodle Place (老陳牛肉麵)
1, Alley 9, Lane 133, Nanking E. Rd., Sec. 4(北市南京東路4段133巷9弄1號); Tel:2547-2767. 11am to 10pm. Average meal: NT$70. Credit cards not accepted.
There are tons of beef noodle places in this area, but only this one is open throughout the afternoon xiuxi - rest period - because the customers just keep drifting in. Lin Bao-tung (林寶桐)has been running the place with his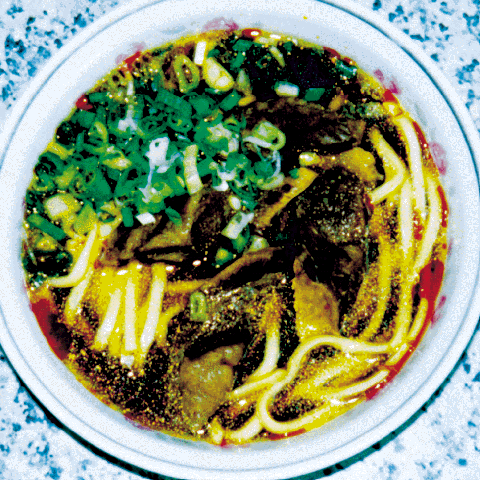 PHOTO: Juping Chang
wife and brother for 10 years and its reputation has bred loyalty among noodle-lovers, with some patrons paying taxi fare here that costs more than a bowl of the shop's noodles. The recipe has evolved over the years, ever
since it was created 15 years ago by a noodle master surnamed Chen. There are 10 kinds of Chinese medicine mixed into the soup, which takes a whole day to cook, simmering alongside a big cow bone. Lin says the Chinese medicine is used to balance the taste of the meat but customers won't be
able to detect it because the flavors blend so well. The noodles are smooth and slightly chewy and the Australian beef is so tender and delicious that it's the best part of the whole meal. Unlike some noodle soups, which are too oily and hot, especially for the summertime, Lin's beef noodle specialty seems grease-free, perhaps a side-effect of the Chinese medicine.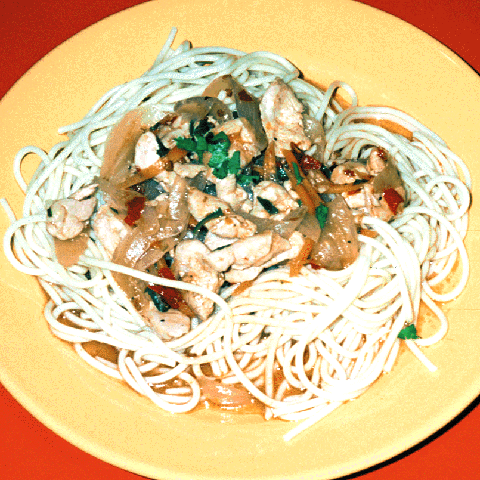 Redondo Beach Wraps (瑞當多)
53, Lane 160, Tunhua S. Rd. Sec. 1(北市敦化南路1段160巷53號); Tel:2711-3827. 11:30am to 9:30pm. Average meal: NT$135. English menu. Credit cards not accepted.
Thomas Wetherell has always enjoyed collecting recipes, in part because he likes to mix and match Chinese, Mexican and American ingredients together to create distinctive multicultural hybrids. His noodle dish is one of his most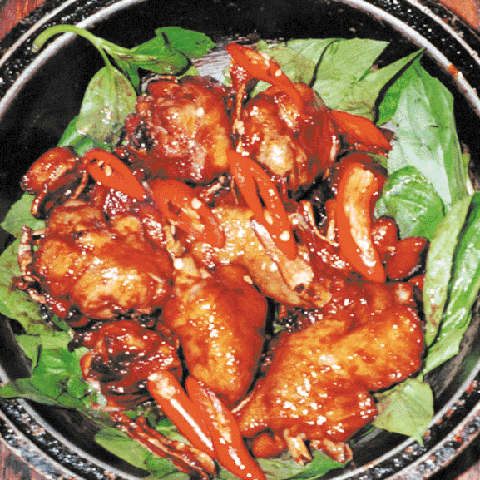 recent experiments, blending kungpao, barbecue sauce, and basil to create his take on Sichuan noodles. But try the noodles and you'll be hankering for the Sichuan chicken pasta, a dish that's proven to be popular among return
customers. Four other flavors that take you on a global ride are Acapulco beef, New Delhi chicken, Sicily Beef, and Berkeley vegetarian. Besides noodles, you can try Mexican style wraps or have a drink, while munching chips and salsa and listening to the blues, ranging from Robert Johnson to
Stevie Ray Vaughan. Complementing the menu's cosmopolitan taste is a warm, cozy atmosphere that mixes Mediterranean, Mexican and West Coast themes. Based on a color scheme of yellow, orange and green, the restaurant has an upbeat feel that makes for a great rendezvous among friends.
Old Street(舊街蚌麵)
39, Lane 81, Tunhua S. Rd., Sec. 2 (北市敦化南路2段81巷39號); Tel:2709-3688. 11:30am to 2pm; 5:30 to 10pm. Average meal: NT$250. English menu. Credit cards not accepted.
A beer house motif combined with Taiwanese food has made this restaurant chain wildly popular. The first restaurant opened with much fanfare, couldn't accommodate all of its customers, and had to quickly branch out. A total of six satellites in Taipei were soon established and they have
enjoyed steady popularity for the past five years. The house specialty is clam noodle, which hails from central Taiwan, and which wasn't famous in Taipei until Old Street introduced it. The restaurant has more than 100 Taiwanese homemade style dishes to go with the tasty noodle. Don't worry if you don't know where to start. Each outlet has a list of popular dishes, compiled monthly. Some dishes have been perennial favorites, such as Hakka mix fry (客家小炒), three cup chicken (三杯雞) and fried cruller with oyster
(油條鮮蚵). The restaurant also has a bar that serves side dishes and cold plates. For the curious, or for those with a bit of time to spare, the process of making clam noodles is carried out behind the bar. And for those in a rush, the staff is fast.
Comments will be moderated. Keep comments relevant to the article. Remarks containing abusive and obscene language, personal attacks of any kind or promotion will be removed and the user banned. Final decision will be at the discretion of the Taipei Times.