For the Record
A new book and exhibition of photographs taken after the 921 earthquake will help record the tragedy for posterity
Liang Cheng-chu, a local Puli photographer, recounts in The Quake: A Frame by Frame Record of Taiwan's September 21, 1999 Earthquake, how he clambered atop a partially collapsed building to take photographs of the destruction.
"A soldier about the same age as my son whistles me over to preach about my safety, but I must capture this tragedy for the memory of Taiwan," he writes.
It's a sentiment that captures the spirit of the book, which contains more than 400 images taken in the aftermath of the quake, and in current exhibition at the Eslite Gallery. The images were chosen from among 2,600 submitted by more than 100 professional and amateur photographers and gathered by the International Visual Arts Center (TIVAC) with the support of more than 300 local photographers.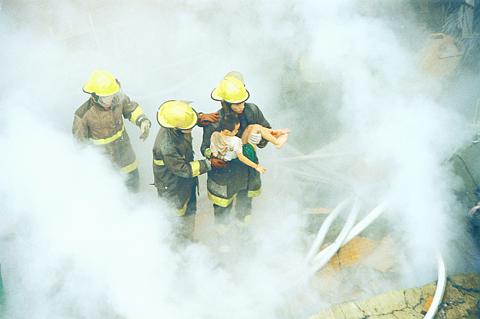 PHOTO: DAVID SMITH, COURTESY OF TIVAC
According to TIVAC official Lai Chun-sheng: "This is photographers making a contribution in the only way they can, with their cameras and hard work."
But for some of the photographers involved with the exhibition, it's more than that.
For Canadian David Smith, a Taiwan News photographer, there is something of a redemptive quality in the spirit with which photographers documented the quake and then banded together to exhibit their work.
PHOTO: LIN YUN-KO, COURTESY OF TIVAC
"There was this moment," he recounts, "When rescue workers pulled a kid from the rubble of the Sungshan Hotel and all the photographers stopped shooting and started to shout `Jiayou! Jiayou!' It made me think, we're not heartless bastards."
Smith says that shooting the aftermath of the quake often induced feelings of guilt. "I was at the lab after the first day of shooting at the Sungshan Hotel, and I had these photos that I thought were great, and then another photographer turned to me and said, `I'm not happy. A lot of people died out there today.' It made me feel guilty about the happiness I'd felt about my photographs."
There were moments of helplessness too. Smith recounts how he watched a man sweeping away at the rubble of his home. "He pointed at his house and said `My father was in there' and then he went back to sweeping. He picked up a picture frame and said to his mother, who was sitting there, `Ni yao bu yao?'"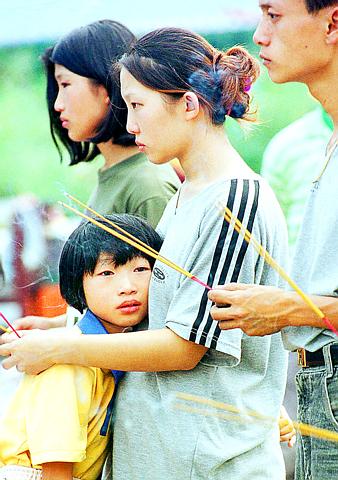 PHOTO: CHIANG YING-YING, TAIPEI TIMES
Having been faced with so much suffering and only being able to record its effects on film, for photographers and organizers, the Eslite exhibition is about giving something back.
"In one way," says Smith, "the exhibition is showing that photographers care. We get a lot of criticism. But here we're getting together to raise money. And also it's an important historical document."
Taipei Times photographer Chiang Ying-ying, whose work is also featured in the book and exhibition, agrees. "This was an opportunity to get involved with a good cause," she says. "It's an important document. I hope people who go to the exhibition and look at the photographs can experience some of the emotions that we felt, seeing people pulling together and helping each other."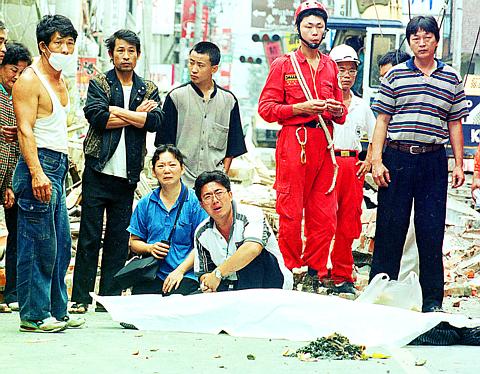 PHOTO: CHIANG YING-YING, TAIPEI TIMES
TIVAC director Suan Hooi-wah said the idea was to present the photographs as a story. "We want the story to come across not as a tragedy, but as a process of reflection. It's a project that we hope will be educational."
But if the aim is to educate, tragedy still permeates much of the exhibition. Take Chiang Ying-ying's photograph of a funeral procession in the devastated Nantou township of Kuohsing winding its way up a slope while a group of people clamber up a broken hillside nearby.
Or take Liang Cheng-chu's heartbreaking photograph of a small girl in a coffin, her mouth open as if in sleep while a cluster of medical personnel stand helplessly by. Or take Huang Lien-ming's photograph from Touliu, which shows a distraught couple slumped to the ground in front of a few burning sticks of incense, the ground around them scattered with shards of their former home and discarded boxes as they mourn for the people they've lost.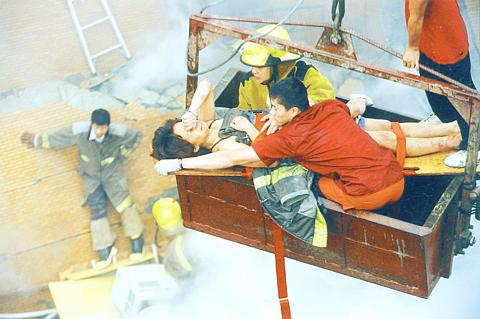 PHOTO: DAVID SMITH, COURTESY OF TIVAC
"If you look at these photographs," says Smith, "you can see they were taken by people who care and who are compassionate. Some of them really tug at your heartstrings."
And this, for the organizers like Suan, is where the education comes in. Perhaps a document of this kind can educate us little in how to prepare for earthquakes or how to deal with tragedy, but Suan hopes that people who visit the exhibition and who buy the book "will leave with a feeling of love, will leave understanding how to help people in need."
Suan says the exhibition is a timely reminder of how the quake played out in its details. As the 7.3 earthquake that struck central Taiwan in the early hours of September 21 slowly enters the bleak landscape of statistics -- over 2,400 dead, more than 100,000 homeless, NT$14 billion in losses -- the photographs that are on display at the Eslite gallery and presented in the book that is on sale at the exhibition recall not just the destruction and loss but also the massive outpouring of aid and assistance that took place almost from the moment the quake struck.
Comments will be moderated. Keep comments relevant to the article. Remarks containing abusive and obscene language, personal attacks of any kind or promotion will be removed and the user banned. Final decision will be at the discretion of the Taipei Times.