Southeast Asia gets penny-wise about energy
While governments are promoting energy-saving measures like turning up the airconditioner and wearing safari suits, economists believe it is time to lift state subsidies of fuel prices
With oil prices at historic highs this year, growing import bills and slowing economies, Southeast Asian governments are pursuing a host of energy-saving measures such as raising office temperatures, turning off night billboards and encouraging car pools and the use of alternative fuels.
The austerity measures, while moving in the right direction, are expected to prove a drop in the bucket when compared with the vast amounts spent by some of the same governments on fuel subsidies to keep the populace happy.
The Thai government, which has spent 92 billion baht (US2.2 billion) on fuel-price subsidies since last January, was forced to float petrol prices in October, and "semi-float" the more politically sensitive diesel last month.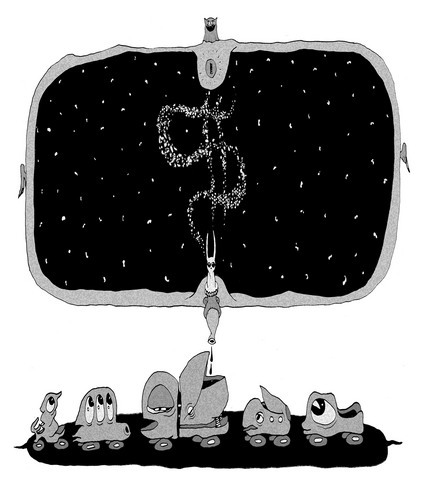 ILLUSTRATION: MOUNTAIN PEOPLE
On July 12 the government approved energy-saving measures designed to save the country US$162 million this year, including closing petrol stations between 10pm and 5am, turning off billboards after 10pm, and ordering civil servants to use gasohol in their cars.
Thailand's billionaire Prime Minister Thaksin Shinawatra has yet to follow the government's gasohol directive in his own fleet of luxury cars, according to Thai newspaper interviews with his chauffeur.
High oil prices helped hike Thailand's import bill 37 percent during the first five months of this year to US$48.8 billion, leaving the country with a trade deficit of US$6.6 billion. Thailand's economy, which grew an impressive 6 percent last year, is looking at a much slower growth rate of 4 percent this year.
The energy situation is arguably more politically threatening for Indonesian President Susilo Bambang Yudhoyono, who earlier this month postponed state visits to China, Thailand and Brunei due to a domestic fuel shortage, showing the magnitude of the issue for his political career.
Yudhoyono this month issued presidential instructions to conserve energy, which included an order for officials to up their airconditioner temperatures to 25?C, while the presidential palace reportedly upped its aircon to 28?C.
Top government officials, including Yudhoyono, have ditched their traditional business suits and ties at work for short-sleeve Batik or casual shirts, or the once-popular safari suits.
Indonesia's Communications and Information Department instructed TV stations to save energy by halting late-night broadcasts, except for European football games, sparking criticism from some elements of society.
"If I could talk to President Yudhoyono, I'd tell him it's a bad idea to limit the TV time. It's our only entertainment at night," said Zainuddin, 44, an ojek (small taxi) driver in Jakarta.
Even less popular would be a decision to lift government subsidies of domestic fuel prices, although many economists believe this is now necessary.
"The government should just be honest and raise the fuel prices soon. The water is already at our nose, we are almost drowning," said Faisal Basri, an economist at the University of Indonesia.
Vice President Jusuf Kalla last month warned that with current consumption in Indonesia, the government would have to provide 110 trillion rupiah (US$11.3 billion) in subsidies to catch up with the increased price of crude oil.
Last year the government spent US$7.4 billion on fuel subsidies.
Fuel price subsidies are also still in place in Malaysia.
The Malaysian government has raised petrol and diesel prices three times since last October, but prices still remain low compared to neighboring nations.
Subsidies for petroleum cost Malaysia, a net oil exporter, US$4.8 billion ringgit (US$1.3 billion) last year, and could reach 8.9 billion ringgit this year if oil prices continue to rise.
The Philippines scrapped its subsidies on oil prices back in 1997, when the oil industry was deregulated.
With the current increases in prices, however, the government has persuaded oil firms to give public transport groups a one-peso (US$0.02) discount on diesel.
During the summer months of April and May, the government implemented a four-day work week as part of efforts to cut back on power and fuel consumption, saving 144 million pesos (US$2.57 million).
Government offices have been ordered to turn off air-conditioning systems during lunch hour, while the use of government vehicles has been placed under strict monitoring to avoid unofficial use.
Among the public, the government has encouraged people to take car pools, cut down on use of electronic devices and use energy-efficient light bulbs, among other measures, to save on energy consumption.
A suggestion for all shopping malls to close at least one day a week to save on electricity and fuel, however, was never implemented.
Comments will be moderated. Keep comments relevant to the article. Remarks containing abusive and obscene language, personal attacks of any kind or promotion will be removed and the user banned. Final decision will be at the discretion of the Taipei Times.