Interior designers renovate their own industry
In a business where tradition can squelch creative ways of doing things, it is often difficult to introduce fresh ideas, but the economy is encouraging experimentation.
Interior designers who say they are doing well in the recession are taking risks and changing what has been a very conservative business. And while luxury items and services are the first to go in hard times, these new approaches are benefiting customers who are finding design more accessible and less expensive.
In a recent survey, the American Society of Interior Designers reported that 65 percent of its members said they were taking smaller projects than they once had, compared with 50 percent who said that last year. Of course, there have always been designers, who offer relatively inexpensive services, but they haven't been those whose work is shown in shelter magazines or shops frequented by wealthy customers. Now designers of status are reaching out.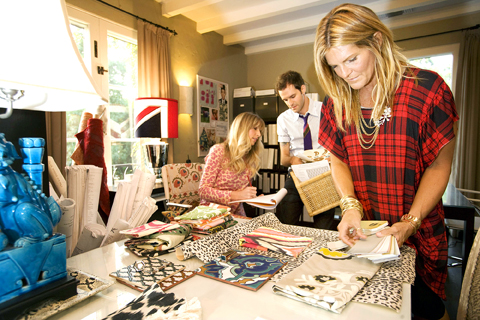 Interior designer Betsey Burnham, right, sorts through samples with colleagues in her Los Angeles, California, office on Wednesday. Some designers are accepting smaller jobs to adjust to the new economy.
PHOTO: NY TIMES NEWS SERVICE
Two years ago, Betsy Burnham, 47, a Los Angeles-based interior designer, added a service called Instant/Space (instantspacedesign.com). For a flat fee (a living room plan is about US$1,500), Burnham creates a master plan on line, including resources and unlimited phone advice. There are no budgets, fees and markups — just a creative design plan.
Burnham said she came up with the idea when she saw the economy trending down; it is an alternative to the traditional full-service designer who comes to your house, expects a large budget and spends the next few years with you. But when she started it, her colleagues sneered.
"Designers are a snobby group," she said. "I got a lot of funny looks and catty comments behind my back. Now, I have designers telling me they wish they had thought of it first."
Many designers are testing new concepts and taking risks they never thought they would take. Celerie Kemble, 36, a designer with offices in both New York and Palm Beach, said she recently worked on a project she never would have taken a few years ago. She decorated the lobby and other public spaces in a luxury condo building on the Upper West Side, and gave design services to the first 10 buyers, paid for by the developer.
"I really felt like it was risky because typically I don't design building lobbies, and I was being handed a clientele that really wasn't picking me — they were being handed to me," she said.
As it turned out, though, "I ended up meeting amazing people, gaining more clients from the project, and it has kept the jobs flowing through my office," she said.
Niche businesses like color consultation, art hanging and personal shopping for specific rooms are popping up across the country as designers try to gain an edge. Kimba Hills, 56, a designer and owner of the shop Rumba in Santa Monica, California, wanted to reach people who needed a second pair of eyes but not a costly long-term relationship with a decorator. She came up with Speed Design, a concept that is both educational for the client, and fast. She goes to a client's house, assesses what should be changed, offers advice and resources to change a room instantly, and typically finishes in less than a month. Her fastest turnaround so far has been three days.
"It's really more about teaching a client how they can reinvigorate a room by changing the placement of the furniture, maybe hanging the art on the wall differently, or simply have a few tired chairs reupholstered," she said.
Designer tag sales, pop-up stores, auctions and weekend events that mix shopping with picnics and cocktail parties are another way designers are reaching a different clientele. A recent Venice, California, designer tag sale attracted hundreds of people who paid US$10 at the door to rub elbows with design-world stars and buy discards and extras from local designers. Anjelica Huston stopped by, and the free designer consultation area was packed all day.
Nathan Turner, 36, a Los Angeles-based interior designer, hosted a Spring Bazaar in June with a number of designers selling their wares and offering advice.
"It was a way to bring a variety of people together to sell things at a lower price point, which is a real draw right now," he said.
He noted that openness to change is essential.
"If you're not flexible right now, you're simply being silly," he said.
Comments will be moderated. Keep comments relevant to the article. Remarks containing abusive and obscene language, personal attacks of any kind or promotion will be removed and the user banned. Final decision will be at the discretion of the Taipei Times.