For many hoteliers in Southeast Asia, going green is easier said than done
As climate change guilt among tourists grows, many hotels and resorts in emerging hotspots like Cambodia are touting their environmental credentials in an effort to cash in on the "eco" tag.
But some are finding that in a nation still pulling itself out of poverty and rebuilding after decades of civil war, it is not always easy being green.
The new minimalist 16-room riverfront Quay Hotel in the capital Phnom Penh boasts that it is one of the first businesses in Cambodia to completely offset its carbon emissions.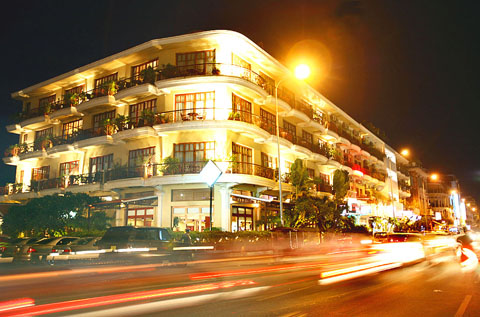 Motorists ride past a hotel in Phnom Penh, Cambodia, on June 25. As climate change guilt among tourists grows, many hotels and resorts are touting their environmental credentials in an effort to cash in on the ''eco'' tag.
PHOTO: AFP
But their all-natural soap is flown in from Thailand and there is nowhere to buy items such as chemical-free linen, said Michelle Duncan, operations manager for FCC, the group that owns the hotel.
"We're a hotel trying to do our bit to offset emissions in the country," Duncan said. "In London or Australia or wherever, it's a lot easier to recycle."
What exactly makes an "eco-resort" also remains to be defined, with no worldwide standards that hotels and resorts have to meet to claim the tag.
In Cambodia, tycoon Sok Kong recently said the environment was his "first concern," despite his plans to build two luxury golf courses in the country's Bokor Mountain protected area.
Yin Sorya, an eco-tourism adviser to the Cambodian government, said that local officials often do not understand what makes sustainable tourism.
"When they [Cambodian officials] talk about eco-tourism, they talk about golf courses or five-star hotels," Yin Sorya said. "Here in Southeast Asia, they want high-market mass tourism."
Many of the resorts marketing their green credentials in Cambodia and neighboring Laos are modest properties in pristine jungle settings.
They use locally sourced materials, some solar power and try and give back to poor local communities while causing as little impact as possible.
In Thailand, environmentally friendly policies are becoming more high-tech, with homemade biofuels, intelligent lighting and organically fertilized herb gardens all wooing tourists concerned about their carbon footprint.
"People are saying: 'If I want to travel, I'd better make it environmentally conscientious,'" said Juergen Seidel, a director for Six Senses, which has hotels and resorts in Thailand and Vietnam.
Six Senses plans to produce enough clean energy to power all of its operations as well as feed electricity into local grids by 2020, Seidel said.
"Every year there's a 10 or 20 percent increase of travelers in this niche market we're providing," he said.
A UN report last year found that tourism, in particular air travel, accounted for about 5 percent of global emissions of carbon dioxide.
However, as the travel industry adopts more sustainable practices, there are so many different "green" standards on the market right now that tourists are left scratching their heads.
Environmental activists hope that Cambodia will learn to make the most of its pristine forest, much of which was unintentionally preserved as decades of civil war stunted development and left the wilderness untouched.
But as tourist arrivals soar, jumping 20 percent from 2006 to last year alone and bringing much-needed money to this poor nation, a high-end hotel building boom sweeping the country is worrying some activists.
Yet Touch Nimith, an eco-tourism officer for Conservation International in Cambodia, holds out hope that the environmental tourism trend will help save protected areas.
"The eco-tourism we're thinking about is for conservation, not local economics," Touch Nimith said.
Comments will be moderated. Keep comments relevant to the article. Remarks containing abusive and obscene language, personal attacks of any kind or promotion will be removed and the user banned. Final decision will be at the discretion of the Taipei Times.