Travelers find new way to shop as airports step up competition
If you've done any traveling lately, you've likely noticed that many airports are looking more like malls.
"I was kind of surprised to see jewelry here," said Jackie Steven of Aberdeen, Scotland, while doing a little preflight shopping at Newark Liberty International Airport one recent afternoon. "You don't expect jewelry."
But jewelry is just one of the many new retail offerings popping up in US airports. Flyers are as likely to find a Brooks Brothers or Victoria's Secret as an overpriced doughnut cart. Weary road warriors can spend layovers in a spa as well as a bar. And if you forget something for the kids, your choices are no longer limited to a few racks of marked-up gift store knickknacks -- name-brand toy stores are cropping up in terminals nationwide.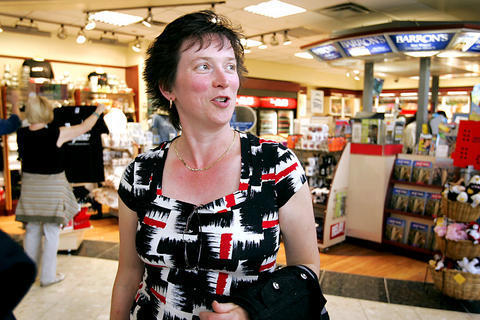 Jackie Steven of Aberdeen, Scotland, talks about shopping in an airport at Newark Liberty International Airport in Newark, New Jersey, on Sept. 20.
PHOTO: AP
Airports fund their basic operating costs and infrastructure improvements out of the money they charge airlines to land, passengers to fly and stores to lease space. In addition to paying for labor and construction, airports have had to improve security procedures and accommodate more travelers for longer periods of time since the Sept. 11 terrorist attacks.
Airports have responded by improving their retail and restaurant offerings to add revenue and meet the needs of passengers. Some airport operators believe their mix of shops and eateries gives them an edge over other airports.
Gone indeed are the days when air travelers' shopping and eating choices were few and overpriced. Many airports have gone so far as to implement "street pricing" policies.
"All of the sudden, any airport ... can be a retail opportunity," said Bob Mann, an airline consultant based in Port Washington, New York. "It really has turned into a very different environment than it was 10 or 20 years ago."
On its face, the idea of putting stores usually found in malls in airports is a no-brainer. Retailers like to locate stores in places where there are lots of people, and airports offer a constantly changing, captive audience. For instance, 107 million passengers are expected to visit the three New York area airports this year.
Airports need money to fund operations, and have big, spread-out buildings. Leasing out some of that space for retail is a revenue opportunity with little downside for airport operators.
"What's important about airport traffic is the volume of travelers," said Daniel Butler, vice president of merchandising and retail operations at the National Retail Federation. "It's ... new traffic every day."
The number and variety of airport retail offerings has been growing for years, experts say, part of a slow evolution in the way airports think about serving passengers, and raising revenue. But it really took off after Sept. 11; with travelers urged to arrive more than two hours before flights to clear security, the captive audience in the terminals shot up.
"It has really expanded with the [Transportation Safety Administration]-mandated early arrival at airports," Mann said.
Overall statistics on retail growth at airports are difficult to come by, but at just the three New York area airports operated by The Port Authority of New York and New Jersey, retail space grew by 7 percent between 2004 and last year to 40,134m2.
But are people who are about to board a crowded plane really willing to stop and buy things they then have to carry on with them?
"They're actually willing to do so more often than you'd think," said Brett McAllister, senior vice president of operations and chief financial officer at Airports Council International, a trade group.
Many airport retailers address shoppers' concerns about what to do with the stuff they buy by offering free shipping. Others find they sell more smaller items such as ties or jewelry that don't cause carry-on problems.
"If you look at what they're selling predominantly at those locations, it's the cash-and-carry items," Butler said. "They also do a lot of things that are giftable."
While many airports are expanding their retail offerings at existing terminals, others are incorporating more retail space into future plans. For instance, when Detroit Metro Airport opened its McNamara Terminal in 2002, the new building was designed to accommodate 11,613m2 of food and retail services.
"One of the goals was to really create a great concession space," said Brian Lassaline, a spokesman for Detroit Metropolitan Wayne County Airport.
Airports either lease their space directly to retailers or hire a property management firm. In either case, airports have a say in the mix of retailers they host and can veto leases.
Many of the operators seek a mix of national brands and local retailers and restaurants to give travelers a taste of the local fare. In addition to Brooks Brothers, for instance, Detroit Metro has a Henry Ford Museum store and a Motown Music Review shop.
While airports see stores as a revenue opportunity, travelers view them as a convenience.
Some airports feel their retail offerings actually give them a competitive advantage.
"I think we get ... people who choose to fly through Detroit because of those options," Lassaline said.
Comments will be moderated. Keep comments relevant to the article. Remarks containing abusive and obscene language, personal attacks of any kind or promotion will be removed and the user banned. Final decision will be at the discretion of the Taipei Times.