The dos and don'ts of personalizing your workspace
Is your job getting you down? Try sprucing up your office with some photos or a plant. If, that is, the boss says it's OK
Lynn Gaines is the office worker's answer to Martha Stewart.
In her 18 years as a designer and illustrator at American Greetings Corp in Cleveland, her cubicle has undergone several renovations: For a few years it was a garden, complete with an arch of fake ivy, pink silk roses and sparkly little lights. Last month she went retro, festooning the arch with rainbow-color fringe and light-reflecting colored plastic disks.
"It's an extension of who you are," Gaines said of her work space.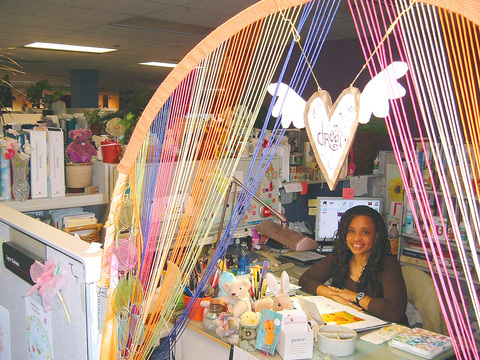 Lynn Gaines sits in her cubicle space at American Greetings in Cleveland, Ohio, on Wednesday. A recent survey found only 40 percent of companies encourage employees to personalize their workspace, down from 56 percent a decade earlier.
PHOTO: NY TIMES NEWS SERVICE
Her company, she said, advocates office personalizing for its 2,200 employees -- who include designers of greeting cards, gift wrapping and party favors -- to encourage creativity and increase productivity.
But American Greetings is apparently in the minority. A national telephone survey of 640 white-collar workers -- conducted by Steelcase, the office furniture maker, and Opinion Research and released in August -- found that only 40 percent of companies encourage employees to personalize their work space. That number fell from 56 percent a decade earlier.
Office workers are taking the hint: Only 59 percent said they personalize their work space, compared with 85 percent who did so in 1996.
Employees said they didn't want to bother co-workers with whom they share office space, didn't have enough space or a permanent space or wanted to avoid seeming unprofessional.
Sometimes, it isn't their choice. The Hearst Corp, the media giant that owns Cosmopolitan, Harper's Bazaar and Country Living, among other magazines, limits personal knickknacks and vacation photos in the shiny new Hearst Tower designed by Norman Foster in New York.
The policy, which was e-mailed to the 2,000 employees who relocated to the tower and has been posted on the company Intranet, specifies limiting "the amount of personal items, stacks of paper and other materials" kept in the blond-wood and gray-metal work spaces and bans carrying in "furniture or lighting without prior approval."
David Masello, the articles editor at Country Living, says his small new cubicle has less room for "things that give me comfort and inspiration."
"It's things like pictures, postcards and paintings," he said. "In my old office, I had a wall of them. Now, I have one-tenth of that."
At Calvin Klein, the company's minimalist aesthetic trumps employee style. In July 2004 executives decreed there could be no desktop displays of photographs, mementos, toys, awards, plants or flowers, other than white ones.
An e-mail directive sent to employees included, as a guide to decorating, a photograph of a black desk with a small number of appropriate, mostly black accouterments.
Malcolm Carfrae, the company's senior vice president for global communications, declined to confirm whether the policy was still in effect.
Written company directives about office decorating are unusual, said William Casey, a management consultant in Golden, Colorado.
"It's difficult to write clear policies on this issue without coming off as a bureaucratic nut," he said.
"The general rule is your self-expression ends at the point that you disrupt work," said Casey, the president of Executive Leadership Group.
"You can hardly write a policy that says, `Don't put up cartoons,'" said Wendi Peck, the chief executive of the company.
They had a client with an employee who plastered his cubicle with Dilbert cartoons.
The collage created such a "negative and depressing" atmosphere, Peck recalled, that the supervisor ordered them removed, though there was no ban.
Even personal photographs can be anathema. After her second child was born, Kelly Welter, who worked for a large accounting firm in Salem, Oregon, had to jettison her older child's baby picture in favor of an image of the children together, because her employer allowed only one personal picture to a desk.
"I was told that the office had to be extremely professional because clients came in," Welter, 34, said.
In a study, Jeffrey Sanchez-Burks, an assistant professor of management and organizations in the business school at the University of Michigan, found that once personal items exceeded 20 percent of a work space, managers began to question a worker's professionalism,
Sanchez-Burks said he had concluded from studies of the US workplace that there is an unwritten rule that workers separate their personal and work lives.
An antiseptic space, though, can sometimes raise employer suspicions.
"In a Denver insurance company, one exec did nothing to personalize his space at all," said Casey, who is also an organizational psychologist.
"It was completely sterile. His boss worried that he wasn't planning on staying," he said.
Comments will be moderated. Keep comments relevant to the article. Remarks containing abusive and obscene language, personal attacks of any kind or promotion will be removed and the user banned. Final decision will be at the discretion of the Taipei Times.