Most US firms optimistic about Taiwan's economy
REGULATORY CONCERN: About half of AmCham survey respondents said concerns over labor inflexibility are likely to affect their business expansion plans in Taiwan
Most US companies operating in Taiwan are optimistic about the nation's economy and their profit outlooks this year, but voiced grave concerns about energy sufficiency and strict labor rules, a survey released yesterday by the American Chamber of Commerce in Taipei (AmCham) found.
The annual poll of 198 member companies showed that 81 percent are optimistic about revenue growth this year, up from 56.1 percent last year, while 79 percent are upbeat about their three-year outlook.
"The views in this survey are important, because they come from business leaders with broad international experience and valuable expertise in sectors crucial to Taiwan's continued success," AmCham chairman Albert Chang (章錦華) told a news conference.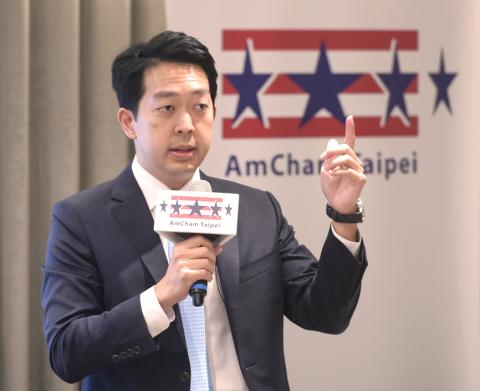 American Chamber of Commerce Taipei chairman Albert Chang yesterday discusses the results of the chamber's latest annual survey at a news conference in Taipei.
Photo: Chang Chia-ming, Taipei Times
The trade group of 1,000 members from more than 500 companies plans to create an industry council with the government to help increase foreign investment in Taiwan.
This year, it is to help attract 10 multinational corporations to make Taiwan their operation base in Asia, Chang said, adding that AmCham is working on the details and might provide more details at its annual Hsieh Nien Fan (謝年飯) banquet on March 21.
Ranking US diplomatic officials are also to join the event intended by the trade group to thank Taiwanese government officials for their cooperation with the foreign business community, he said.
US firms have expressed a keen interest in the Internet of Things (IoT), biotechnology and energy businesses, encouraged by the government's efforts to shore up the "5+2" innovative industries, Chang said.
"Executives feel a sense of urgency for innovation as the world grows more competitive. We hope to begin discussing concrete ways soon," he said.
However, the chamber raised doubts over the feasibility of Taiwan's aim to become nuclear free by 2025.
Power supply sufficiency, voltage stability and electricity costs are all vital concerns, with 84.46 percent of respondents worried whether electricity supply can meet demand, the survey found.
AmCham is to push for further revisions to the Labor Standards Act (勞動基準法), as its members feel that current regulations are not flexible enough to meet the needs of a knowledge-based economy, said Seraphim Ma (馬靜如), a senior partner at global law firm Baker McKenzie.
"We welcome the recent revisions, but an overwhelming majority of respondents support further revisions to exempt professional and managerial talent from the rigidities of existing regulations," Ma said.
About half of the respondents said that labor issues are likely to be a key factor in their decisions on future business expansion in Taiwan.
Member companies were also critical of US President Donald Trump's decision to withdraw from the Trans-Pacific Partnership, saying Washington's foreign policy and trade-related initiatives have put them at a competitive disadvantage in the Asia-Pacific region.
Comments will be moderated. Keep comments relevant to the article. Remarks containing abusive and obscene language, personal attacks of any kind or promotion will be removed and the user banned. Final decision will be at the discretion of the Taipei Times.