Red Cross launches 'humanitarian bonds'
A funding model launched by the Red Cross aims to attract private capital to conflict zones to help some of the world's neediest people, while giving investors a return on their money.
The Humanitarian Impact Bond set up by the International Committee of the Red Cross (ICRC) with a value of 26 million Swiss francs (US$27.5 million), has attracted capital from New Re, part of global reinsurer Munich Re Group, among other investors.
The money is to be used to build and run three rehabilitation centers for disabled people in Nigeria, Mali and the Democratic Republic of the Congo, complete with staff who are to be trained in physiotherapy and producing prosthetic limbs, the ICRC said.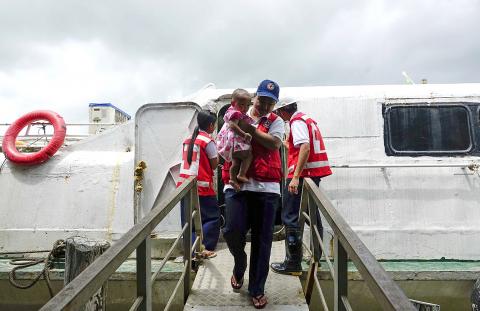 A Red Cross volunteer on Saturday carries a child as a ferry boat carrying displaced Rakhine people from Maungdaw Township arrives in Sittwe, Myanmar.
Photo: EPA
It is the first time the ICRC has used such a funding model — channeling private capital investments rather than relying only on government or philanthropic donations for humanitarian projects.
"If it works well, we will implement, scale up and use our expertise in other centers around the world," ICRC director-general Yves Daccord said.
The initial investment is to be repaid with an additional return by the Belgian, British, Italian and Swiss governments and the Spanish foundation la Caixa after five years if the centers outperform expectations.
However, if the scheme does badly, both the investors and the ICRC face the risk of losing money.
"We thought that for us and for everyone, it's good that we also have skin in the game," Daccord said.
In an era of more and more protracted humanitarian crises and where traditional funding sources are over-stretched, there is a need for new funding tools, Daccord said.
"We need to have new corporate investors willing to join us and take risks to invest in us," he added.
The construction of the disability centers was chosen for the scheme because of the ICRC's wide experience in the field.
Last year, the ICRC operated 139 projects in 34 countries, helping nearly 330,000 people with physiotherapy and providing wheelchairs, artificial limbs and braces, the Red Cross said.
"This funding instrument is a radical, innovative, but at the same time, logical step for the ICRC," ICRC president Peter Maurer said in a statement. "It is an opportunity not only to modernize the existing model for humanitarian action, but to test a new economic model designed to better support people in need."
Comments will be moderated. Keep comments relevant to the article. Remarks containing abusive and obscene language, personal attacks of any kind or promotion will be removed and the user banned. Final decision will be at the discretion of the Taipei Times.