TSMC still outpacing industry: Chang
ROBUST GROWTH: TSMC's chairman expects the company's revenue to continue growing by 5 to 10% annually, as the semiconductor industry continues to advance
Taiwan Semiconductor Manufacturing Co (TSMC, 台積電), the world's largest IC foundry service provider, yesterday dismissed concerns that its business might have entered a mature phase, saying it is on track to attain its five-year goal of increasing revenue by 5 to 10 percent annually through 2020.
Since the goal was set two years ago, TSMC has seen its revenue climb 12.4 percent year-on-year to NT$947.94 billion (US$31.49 billion) last year, driven primarily by smartphone chip demand.
"I think that is still our growth target," TSMC chairman Morris Chang (張忠謀) told shareholders during an annual meeting in Hsinchu.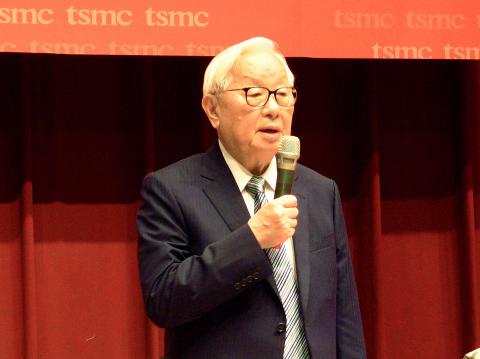 Taiwan Semiconductor Manufacturing Co chairman Morris Chang presides over the annual shareholders' meeting yesterday in Hsinchu.
Photo: CNA
With such robust growth prospects, "I do not think TSMC is mature. We have not entered that phase yet," Chang said in response to a shareholder's question.
Any mature industry will grow at a much slower pace than TSMC's compound annual growth of 5 to 10 percent, he said.
Based on the company's target, it would continue to outgrow the global semiconductor industry, which Chang forecast would expand by only 4 to 5 percent annually after 2000.
During the 1990s, the global industry expanded by 15 to 16 percent annually, while TSMC grew by 40 to 50 percent, Chang said.
During an annual technology symposium in Hsinchu last month, TSMC pinpointed four major growth segments: mobile, high-performance computing, automotive and Internet-of-Things platforms.
Chang yesterday said he was optimistic that the semiconductor industry would continue to progress, in spite of certain physical limitations ahead.
However, it would take eight to 10 years before semiconductor material and technology hit these physical limitations when it comes to two-dimension chip scaling, Chang said.
There is also three-dimension packaging by stacking chips up, which will enable Moore's Law to keep moving forward, for a longer period of time, he added.
"I do not think the semiconductor industry will hit such limits within the next few years," Chang said, in response to another shareholder's question.
Asked if TSMC has thought about seeking new growth areas beyond its foundry business, Chang said the company has been looking at other options.
The company considered making a bid for Toshiba Corp's semiconductor unit, but withdrew from the case half way due to limited strategic synergy, he added.
Chang did not answer questions about his retirement and succession plans.
Company spokesperson Elizabeth Sun (孫又文) told reporters that Chang has a dynamic plan and is keeping all his "options open."
Co-CEOs Mark Liu (劉德音) and C.C. Wei (魏哲家) are widely considered potential successors to Chang. The pair were yesterday elected as board directors.
Shareholders also approved a proposal to distribute cash dividends of NT$7 per common share, based on last year's net income of NT$334.25 billion, or earnings per share of NT$12.89. That represented a 21-year high and a payout ratio of 54 percent.
Comments will be moderated. Keep comments relevant to the article. Remarks containing abusive and obscene language, personal attacks of any kind or promotion will be removed and the user banned. Final decision will be at the discretion of the Taipei Times.