China announces world's largest amphibious plane
China has completed production of the world's largest amphibious aircraft, state media have said, the latest effort in the country's program to wean itself off dependence on foreign aviation firms.
The state-owned Aviation Industry Corp of China (AVIC, 中國航空工業) unveiled the first of the new planes, dubbed the AG600, on Saturday in the southern port city of Zhuhai, the official Xinhua news agency reported.
MARINE RESCUE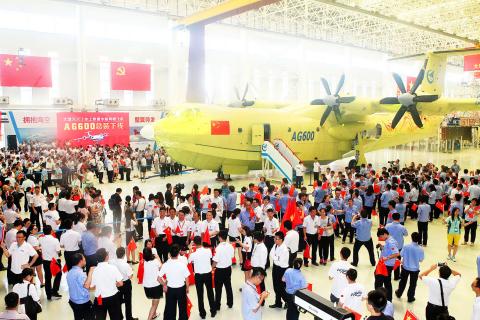 People gather at a ceremony on Saturday to unveil the AG600 amphibious plane in Zhuhai, in China's Guangdong Province.
Photo: AFP
The aircraft, which has a maximum range of 4,500km, is intended for fighting forest fires and performing marine rescues, it said.
At about the size of a Boeing 737, it is far larger than any other plane built for marine takeoff and landing, Xinhua quoted AVIC's deputy general manager Geng Ruguang (耿汝光) as saying.
SPRUCE GOOSE
However, its wingspan is considerably smaller than that of the H-4 Hercules, known as the Spruce Goose, which was designed in the 1940s to carry US-allied troops into battle.
It is regarded as by far the largest seaplane ever built although it only ever made one flight, in 1947.
The Chinese plane, which is targeted at the domestic market, will be "very useful in developing and exploiting marine resources," the article said, adding that it could be used for "environmental monitoring, resource detection and transportation."
MILITARY USE
Beijing is currently locked in disputes with several of its neighbors, including Taiwan, Japan, Vietnam and the Philippines, over the rights to develop economic resources in waters off its shores.
The AG600 could potentially extend China's ability to conduct a variety of operations in the South China Sea, where it has built a series of artificial islands featuring air strips, among other infrastructure with the potential for either civilian or military use.
Xinhua said Aviation Industry Corporation of China has received 17 orders for the plane so far.
AVIATION SECTOR
China is seeking to develop its own aviation sector to reduce dependence on and even challenge foreign giants, such as European consortium Airbus and Boeing of the US, though analysts said it could take years.
Despite a history of delays and problems, China's aviation industry has made rapid progress in the past year.
Last month, the Chinese-made ARJ21 — which stands for Advanced Regional Jet for the 21st century — made its first commercial flight, when Chengdu Airlines flew one from its home base to Shanghai, and the country's military began using its homegrown Y-20 heavy transport plane earlier this month.
It rolled out the C919, China's first domestically developed narrow-body passenger plane, in November last year.
Comments will be moderated. Keep comments relevant to the article. Remarks containing abusive and obscene language, personal attacks of any kind or promotion will be removed and the user banned. Final decision will be at the discretion of the Taipei Times.