Alleged theft of trade secrets probed
WIN SEMICONDUCTORS: Investigators say Chengdu Gastone offered bribes and jobs to former and current employees in exchange for key technology information
Win Semiconductors Corp (穩懋半導體) yesterday said investigators suspect some of its former and current engineers of involvement in the theft of corporate secrets, some of which were sent on to Chinese rival Chengdu Gastone Technology Co (成都嘉石).
The investigation is the latest in a slew of trade-secret thefts linked to the nation's technology companies, after employees of handset chipmaker MediaTek Inc (聯發科) pleaded guilty of stealing personnel information to be used in talent poaching last month.
Win Semi called on rivals to stop stealing trade secrets, poaching talent or employing any other unfair competition practices, the company said in a filing with the Taiwan Stock Exchange.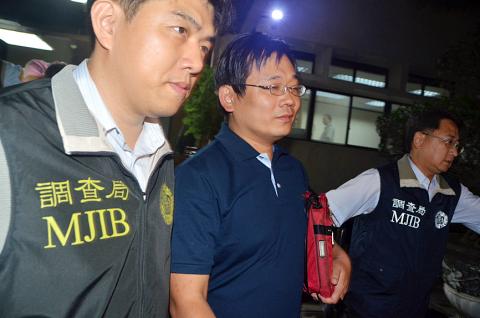 Yang Kuang-yu, center, is arrested by agents of the Ministry of Justice Investigation Bureau yesterday in Taoyuan on suspicion of stealing corporate secrets and personnel information to be used in talent poaching.
Photo: Cheng Shu-ting, Taipei Times
More than 50 investigators yesterday raided 12 locations, including the offices and homes of seven former and current employees of Win Semiconductors, and have seized important evidence, the Ministry of Justice Investigation Bureau said in a statement.
"Investigators found seven suspects, led by one surnamed Yang (楊), have passed information on key technologies developed by Win Semiconductors to its Chinese rival, Chengdu Gastone," an investigator said on the telephone.
Chengdu Gastone approached former Win Semiconductors employees and its equipment suppliers via headhunting agencies to obtain trade secrets and key technology information, said the investigator, who declined to be named.
The Chinese semiconductor company offered bribes and jobs in exchange for valuable technology information, the bureau said in the statement.
Yang and other suspects were offered positions at Chengdu Gastone and they were set to leave Taiwan for China on Monday, the bureau added.
Win Semiconductors is the world's largest foundry services provider of gallium arsenide components used in mobile phones. The Linkou (林口), Taoyuan-based firm has become a target of Chinese rivals as they aggressively expand their reach in the supply chain of the semiconductor industry, the statement said.
China plans to build new factories to produce gallium arsenide components in Beijing, Chengdu and Fuzhou, the bureau said, citing information it obtained.
Two months ago, Win Semiconductors told the Taoyuan District Court that it had found several employees had illegally duplicated and stored certain secret technology information. The company told the court at the time that it was highly concerned about possible leakage to rivals.
Win Semiconductors reported net income of NT$805 million (US$24.6 million) for last quarter, up 30 percent from a year earlier and 83 percent from the previous quarter, with earnings per share of NT$1.32. In the first three quarters, cumulative earnings per share reached NT$2.81, while revenue totaled NT$9.87 billion in the first 10 months of the year, up 20.11 percent from a year earlier.
The company yesterday said its operation would not be affected by the latest investigation.
Last month, management forecast revenue for this quarter to increase by high single digits from last quarter's NT$2.913 billion with a stable gross margin, saying that inventory correction would gradually come to an end, and citing emerging signs of stabilizing demand from wireless, cellular and infrastructure segments.
Win Semiconductors shares plunged 3.43 percent to NT$46.5 yesterday, under-performing the TAIEX, which declined 1.77 percent.
Comments will be moderated. Keep comments relevant to the article. Remarks containing abusive and obscene language, personal attacks of any kind or promotion will be removed and the user banned. Final decision will be at the discretion of the Taipei Times.