AIDC shows off prototype trainer jets in Taipei
MADE IN TAIWAN: Advanced trainer jets to replace an aging fleet are to be built locally even if a foreign bidder is successful in a procurement deal, Ma said
Aerospace Industrial Development Corp (AIDC, 漢翔航空工業), the nation's largest civilian and military aircraft manufacturer, yesterday demonstrated two new prototype trainer jets at a Taipei aerospace trade fair in a move to show its resolve in vying for the Republic of China Air Force's NT$69 billion (US$2.1 billion) project to upgrade its aging fleet of 66 trainer aircraft.
The two new advanced trainer jets — the XAT-5, a stripped-down variant of the F-CK1, and the AT-3MAX, an upgraded variant of the aging AT-3 featuring revamped radar systems and an improved engine — were on display at the biennial Taipei Aerospace and Defense Technology Exhibition, which began yesterday.
In response to rumors that the armed forces might be favoring the Italian-built M-346 trainer, AIDC chairman Anson Liao (廖榮鑫) said President Ma Ying-jeou (馬英九) had pledged that even if the procurement deal fell to a foreign bidder, the aircraft would still be built in Taiwan.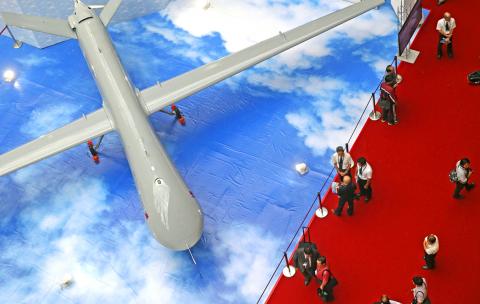 A prototype of the Taiwan-made MALE (medium-altitude long-endurance) uncrewed aircraft is displayed yesterday at the Taipei Aerospace and Defense Technology Exhibition in Taipei.
Photo: AP
AIDC is also facing competition from the South Korean-built T-50.
"Given AIDC's track record of building and designing the indigenously developed F-CK1s and AT-3 trainer jets, the company is the ideal choice to build the nation's next generation of trainer aircraft," said Liao, a former air force pilot.
The deal is crucial for AIDC, as it is expected to yield revenue of NT$200 billion for parts and maintenance over their service life spanning the next two decades, Liao said.
However, with delivery of the jets to begin in 2019, the armed forces has not indicated a clear timetable for AIDC, Liao said.
"Uncertainties remains in the Ministry of National Defense's final decision on combat specifications and budget, but AIDC is fully capable of overcoming all technical challenges," he said.
AIDC is pushing for at least 50 percent domestic production for the next-generation aircraft, although it is difficult to gauge what the air force's decision will be regarding the training aircraft, Liao said.
"If the goal is to train our pilots for the Lockheed Martin F-35, a certain type of trainer jet would be required, while other fighters require different training aircraft," he said.
Seperately, Yuanta Securities Investment Consulting Co (元大投顧) said AIDC would not be affected by Lockheed Martin's acquisition of Sikorsky, a major client of the Taiwanese firm with a 6 percent revenue contribution last year.
"In addition, the company has broken into the supply chain for the China-built C919, making company immune to competition between the Airbus A320 and the Boeing B737 short-to-medium range narrow-body airliner," Yuanta analyst Livia Wu (吳靚芙) said in a report on Wednesday, adding that she is positive over AIDC's commercial aircraft and general aviation businesses.
Last quarter, AIDC recorded net income of NT$444.6 million, or NT$0.49 per share, on sales of NT$6.9 billion. Net income in the first half came to NT$868 million, or NT$0.95 per share, on sales of NT$12.8 billion.
AIDC shares gained 0.27 percent to close at NT$37.65 in Taipei trading yesterday.
Comments will be moderated. Keep comments relevant to the article. Remarks containing abusive and obscene language, personal attacks of any kind or promotion will be removed and the user banned. Final decision will be at the discretion of the Taipei Times.