TAIEX plunges on Athens' debt woes
LITTLE IMPACT? FSC Chairman William Tseng sought to reassure investors by saying that local banks, insurers and mutual fund houses have little exposure to Greece
The TAIEX tumbled 2.39 percent, or 221.47 points, to 9,236.1 yesterday, as jitters over Greece's debt problem swept the local bourse, dragging down prices across the board.
The weighted index fell by the fastest pace this year to close below its annual moving average and could head further south after Athens imposed capital controls and called for a referendum on Sunday.
Turnover was active at NT$93.33 billion (US$2.99 billion), but remained below NT$100 billion, suggesting more selling pressure may have to be digested, analysts said.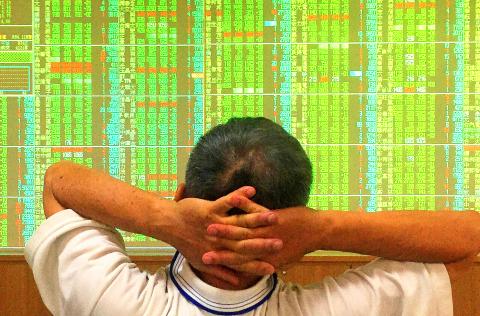 A man looks at a display showing stock prices in Taipei yesterday. Affected by news from Greece, the TAIEX plummeted 221.47 points to 9,236.1 yesterday.
Photo: CNA
Financial Supervisory Commission Chairman William Tseng (曾銘宗) sought to reassure investors, saying: "There is no magic fix for Greece's debt problem, but its impact on local shares may soon taper off."
Taiwanese financial institutions have a very low exposure to Greece because the debt problem is not a new issue, Tseng told reporters.
As of April, the nation's 37 lenders' combined exposure to Greece totaled NT$35 million, while local insurers and mutual fund houses do not hold positions in Greek securities, the commission said.
Some offshore funds have NT$3.2 billion in Greece-linked exposure, accounting for an insignificant 0.09 percent of overall offshore fund portfolios, the commission said.
Tseng said he did not see any significant foreign fund outflows because of Athens' debt problem, with net foreign fund inflows standing at US$202.6 billion so far.
Foreign institutional players reduced their local equity holdings by a net NT$7.11 billion, while mutual funds and proprietary dealers trimmed their holdings by a net NT$19 million and NT$1.51 billion respectively, according to Taiwan Stock Exchange tallies.
Taiwan Semiconductor Manufacturing Co's (TSMC, 台積電) dividend distribution yesterday also affected the index's performance, analysts said.
The world's largest contract chipmaker is the most heavily weighted stock on the local market. It closed 2.12 percent lower at NT$138.50 yesterday.
The Greek crisis disrupted expectations of a bullish market in the third quarter, when most listed companies are due to distribute cash and stock dividends, and as the high sales season for technology devices approaches, Fuh Hwa Securities Investment Trust (復華投信) said.
"Investors might turn cautious about taking part in dividend payouts, because of the uncertainty," Fuh Hwa said.
Greece is to hold a referendum on Sunday on whether to accept the tough terms offered by international creditors.
The TAIEX is likely to fall further until the Greek drama settles, Fuh Hwa said.
Nomura Asset Management Co agreed, saying volatility would accelerate across global financial markets this week.
However, Greece has grown increasingly insignificant in the global GDP makeup, the Japanese fund house said. Athens has been removed from the MSCI advanced market index and accounts for just 0.3 percent of the MSCI emerging market index, it said.
Comments will be moderated. Keep comments relevant to the article. Remarks containing abusive and obscene language, personal attacks of any kind or promotion will be removed and the user banned. Final decision will be at the discretion of the Taipei Times.