Lawsuit follows 6 million wine bottles poured away
Global drinks giant Treasury Wine Estates (TWE) was yesterday facing a class-action lawsuit from Australian shareholders after oversupply issues forced 6 million bottles of wine to be poured down the drain.
Law firm Maurice Blackburn and class action funder IMF Australia said they were preparing a shareholder lawsuit against Treasury, the wine business spun off from Australian beverages titan Foster's in 2011.
The glut-hit wine company, which owns major brands, including Penfolds, Rosemount Estate and Wolf Blass, shocked the market in July when it unveiled A$160 million (US$154 million) in writedowns related to oversupply problems in the US.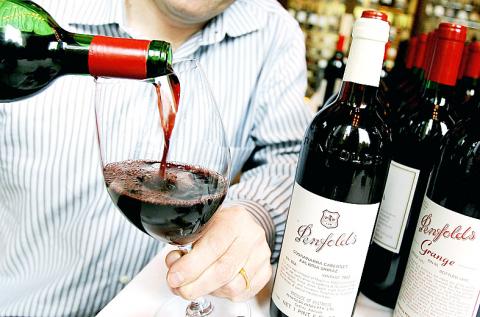 A man pours red wine from a Penfolds bottle at a special clinic in Sydney, Australia, on July 12, 2006. WARNING: Excessive alcohol consumption can damage your health.
Photo: AFP
DOWN THE DRAIN
"The impairment included a A$33 million provision to pour 6 million bottles of out-of-date wine down the drain," IMF said in a joint statement with Maurice Blackburn.
The class-action suit, which has yet to be formally filed, will allege that Treasury failed to keep shareholders adequately informed of the overstocking of its US distributors and the potential financial impact.
When the full extent of the problem of "old and aged" stock was unveiled in July, IMF said shareholders lost millions of dollars.
"We allege that the market was not told that the US distributor inventory levels of some brands were so high that Treasury Wines was at risk of having to destroy excess stock or give rebates or discounts to the distributors for excess, aged and deteriorating inventory," IMF investment manager Simon Dluzniak said.
IN THE DARK
"By not disclosing the possibility of a material write-down when we allege it should have, the company caused shareholders to suffer financial loss," he said.
As early as August last year, almost a full year before disclosing the writedowns to the market, Maurice Blackburn principal Ben Slade said Treasury "knew or should have known" that large losses were inevitable.
Instead, Treasury "projected earnings growth when it must have been able to work out that massive writedowns were on the horizon," Slade said.
Treasury issued a statement to the Australian Stock Exchange noting IMF's lawsuit announcement and that "no proceedings have been served against the company at this time."
"TWE strongly denies any allegations of wrongdoing and will defend any class action proceedings vigorously," it said.
Treasury was spun off from Foster's beer business after a production glut and the Australian dollar's historic run above parity against the greenback hit its export business.
Discussing the July writedown at this month's Treasury AGM, chief executive Warwick Every-Burns said particularly challenging conditions in the US had seen annual net profit slump 52.9 percent to A$42.3 million, despite earnings growth in every region except the Americas.
Comments will be moderated. Keep comments relevant to the article. Remarks containing abusive and obscene language, personal attacks of any kind or promotion will be removed and the user banned. Final decision will be at the discretion of the Taipei Times.