Google introduces 'Hummingbird' for its birthday
Google Inc has overhauled its search algorithm, the foundation of the Internet's dominant search engine, to better cope with the longer, more complex queries it has been getting from Web users.
Amit Singhal, senior vice president of search, told reporters on Thursday that the company launched its latest "Hummingbird" algorithm about a month ago and that it currently affects 90 percent of worldwide searches via Google.
Google is trying to keep pace with the evolution of Internet usage. As search queries get more complicated, traditional Boolean or keyword-based systems begin deteriorating because of the need to match concepts and meanings, in addition to words.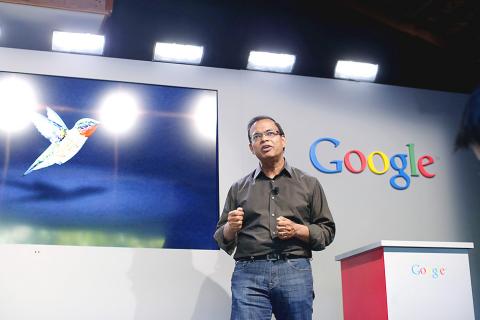 Amit Singhal, senior vice president of search at Google, introduces the new "Hummingbird" search algorithm at the garage where the company was founded on Google's 15th anniversary in Menlo Park, California, on Thursday.
Photo: Reuters
"Hummingbird" is the company's effort to match the meaning of queries with that of documents on the Internet, Singhal said from the Menlo Park garage where Google founders Larry Page and Sergey Brin conceived their now-ubiquitous search engine.
"Remember what it was like to search in 1998? You'd sit down and boot up your bulky computer, dial up on your squawky modem, type in some keywords, and get 10 blue links to Web sites that had those words," Singhal wrote in a separate blogpost.
"The world has changed so much since then: Billions of people have come online, the Web has grown exponentially, and now you can ask any question on the powerful little device in your pocket," he wrote.
Google celebrated its 15th birthday on Thursday with a trip down memory lane and an update to the search engine formula which helped spawn the tech giant.
The company took journalists on a tour of where it all started — Susan Wojcicki's garage in Menlo Park, California, where Larry Page and Sergey Brin began working on Google in 1998. Wojcicki is currently a Google vice president.
A Google+ page included a photo album of the original home search page and collected dozens of birthday wishes.
Comments will be moderated. Keep comments relevant to the article. Remarks containing abusive and obscene language, personal attacks of any kind or promotion will be removed and the user banned. Final decision will be at the discretion of the Taipei Times.