Manufacturing activity in China slows
DOOM AND GLOOM: Markets were spooked following the weak manufacturing data; Chinese shares suffered their worst daily loss in nearly a month yesterday
Manufacturing activity slowed in China this month as exports were hit by sluggish overseas demand, HSBC said yesterday, fueling concerns about the strength of the world's second-largest economy.
The preliminary figures come more than a week after China revealed growth in the January-March quarter had slowed from the previous three months and HSBC said Beijing would likely move to take measures to stoke economic activity.
Chinese shares suffered their worst daily loss in nearly a month yesterday after the weak preliminary survey of manufacturing activity stoked fears that economic growth would remain sluggish in the second quarter.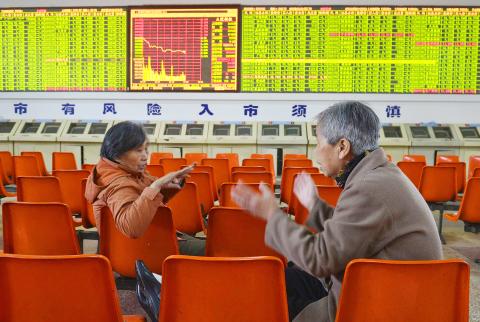 Investors talk in front of an electronic board showing stock information at a brokerage house in Taiyuan in China's Shanxi Province yesterday.
Photo: Reuters
The CSI300 of the leading Shanghai and Shenzhen A-share listings ended down 3.2 percent, while the Shanghai Composite Index skidded 2.6 percent to 2,184.5. For both, yesterday was their worst daily loss since March 28.
HSBC said its initial purchasing managers' index (PMI) fell to 50.5 this month from a final figure of 51.6 last month.
The index tracks manufacturing activity and is a closely watched barometer of the health of the economy. A reading above 50 indicates expansion while anything below points to contraction. The bank's final result are to be released on May 2.
"New export orders contracted after a temporary rebound in March, suggesting external demand for China's exporters remains weak," Qu Hongbin (屈宏斌), a Hong Kong-based economist with HSBC, said in a release. "Beijing is expected to respond strongly to sustain the economic recovery by increasing efforts to boost domestic investment and consumption in the coming months."
China's economic growth of 7.8 percent last year was its slowest in 13 years owing to weakness at home and in overseas markets.
Observers had hoped for a rebound this year that would drive a global recovery after the period from October to December last year saw expansion of 7.9 percent, snapping seven straight quarters of slowing growth.
However, the government last week said the first quarter of this year saw the economy grow just 7.7 percent, disappointing economists who had predicted 8.0 percent.
The IMF also last week lowered its forecast for China's growth this year to 8 percent, while Beijing last month kept its target for this year at 7.5 percent, unchanged from the previous year's.
China's industrial output, which is crucial to job creation, slowed in the first quarter to 9.5 percent, from 10 percent in October-December last year.
Xiao Chunquan (肖春泉), spokesman of the Chinese Ministry of Industry and Information Technology, said yesterday that downward pressure remains on industrial production growth this year.
"Insufficient effective demand has become a rather significant constraint on industrial development," he said at a press conference.
Xiao noted that both domestic retail sales and overseas markets were slack, while fixed-asset investment has been less efficient in driving industrial growth.
Zhang Zhiwei (張智威), an economist with Nomura International, said China's economic growth would further trend down through the rest of the year and could potentially come in at between 7 percent and 7.5 percent for the whole year.
"The effectiveness of policy easing has been diminished by aggressive stimulus measures taken over the past five years," he said in a research note.
Comments will be moderated. Keep comments relevant to the article. Remarks containing abusive and obscene language, personal attacks of any kind or promotion will be removed and the user banned. Final decision will be at the discretion of the Taipei Times.