TSMC breaks ground for new factory
OPTIMISM: Morris Chang says the downturn won't be as severe as in 2008-2009, forecasting a drop of only 3.27% this quarter and a growing share of the mobile market
Taiwan Semiconductor Manufacturing Co (TSMC, 台積電), the world's top contract chipmaker, yesterday broke ground for a new advanced factory, aimed at fueling future revenue growth by widening its leadership in technology and capacity.
TSMC expects the new factory, phase three of TSMC's NT$300 billion (US$9.92 billion) mega factory, dubbed Fab 15, to generate as much as US$3 billion in revenue a year once it enters volume production. TSMC said it planned to produce chips using 20-nanometer process technology, or more advanced technology, at the factory.
The chipmaker said it expected the phase-one factory to mass--produce 28-nanometer chips in the first quarter of next year, about one-and-half years after it began construction in July last year.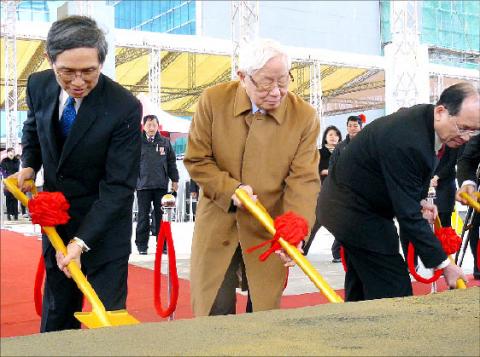 Morris Chang, center, chairman of Taiwan Semiconductor Manufacturing Co, takes part in the opening ceremony for phase three of TSMC's new factory, dubbed Fab 15, at the Central Taiwan Science Park in Greater Taichung yesterday.
Photo: CNA
The company's phase three expansion plan comes at a time when global economic weakness has taken its toll on the global semiconductor industry.
This year, the chip industry will see revenue grow by just 1 percent annually, TSMC chairman and chief executive Morris Chang (張忠謀) forecast in October.
However, Chang said yesterday this year's downturn would not be as severe as in 2008-2009.
"The situation is not bad in terms of revenue and profitability. The fourth quarter will not be far from the third quarter," he said.
The company projected in October its revenues would fall 3.27 percent at the most, to NT$103 billion this quarter, down from NT$106.48 billion last quarter.
Chang also said yesterday he had high hopes for the mobile sector and that he was excited about the company's market share gain in chips for smartphones and tablets because they were the areas with strong growth.
Every smartphone sold contributed more than US$7 to TSMC's revenues and tablets contributed another US$7 per unit sold, he said.
After between 40 and 50 percent annual growth over the past two years, smartphone revenues were expected to grow by about 30 percent next year from this year, which was still high, Chang said, citing TSMC's internal forecast.
The company makes chips for Broadcomm Inc and Qualcomm Inc, which supply chips to handset makers including Apple Inc, HTC Corp (宏達電) and Nokia Oyj.
TSMC has also started supplying a small volume of chips using a new 28-nanometer packaging technology to Xilinx Inc, a reliable source said.
TSMC did not expect substantial revenue contributions from the new packaging service before 2015, Chang said.
Separately, TSMC yesterday reported revenues of NT$35.86 billion for last month, down 4.7 percent from NT$37.61 billion in October. On an annual basis, it represented a 2.7 percent decrease from NT$36.85 billion last year.
"This result is slightly above our expectation for an 8 percent decrease from the high October base, and above historical post-bubble seasonality of falling 6.9 percent month-on-month for the same period," Credit Suisse semiconductor analyst Randy Abrams said in a report yesterday.
Abrams attributed early Lunar New Year restocking demand and increasing smartphone demand in China to the slightly better-than--expected revenues for last month.
TSMC is likely to achieve the top end of its revenue guidance of NT$105 billion for the current quarter, he said.
Comments will be moderated. Keep comments relevant to the article. Remarks containing abusive and obscene language, personal attacks of any kind or promotion will be removed and the user banned. Final decision will be at the discretion of the Taipei Times.