Intel, ITRI announce research project
LOOKING FORWARD: The company and research institute plan to develop faster and smaller memory chips using less power for ultra-mobile devices over the next five years
Intel Corp yesterday unveiled its latest partnership with Taiwanese research powerhouse Industrial Technology Research Institute (ITRI, 工研院), a US$15-million research program that would run over the next five years to develop new-generation memory technologies for smaller and "greener" chips for mobile devices and cloud-technology-based data centers.
Intel would inject US$5 million in funding and resources, while ITRI and the Ministry of Economic Affairs would channel US$10 million into the research project.
Instead of developing process technologies for chip manufacturing, the collaboration aimed at finding the optimized structure of memory chips that could provide better performance with lower power consumption, vice president and chief technology officer of Intel Justin Rattner told a media briefing in Taipei.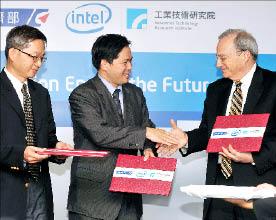 From left, Industrial Technology Research Institute Information and Communications Research Laboratories director-general Wu Cheng-wen, Ministry of Economic Affairs Department of Industrial Technology Director-General Wu Ming-Chi and Intel Corp vice president and chief technology officer Justin Rattner, attend a signing ceremony for a joint research project in Taipei yesterday.
Photo: CNA
"The partnership's initial project will focus on super-fast, but extremely energy-efficient memory technologies for future ultra-mobile devices, such as Ultrabooks, tablets and smartphones, as well as tomorrow's exascale and cloud mega-data centers," Rattner said.
The general director of ITRI's Information and Communications Research Laboratories, Wu Cheng-wen (吳誠文), said ITRI would focus on developing 3D IC technology to make memory chips work better with microprocessors, or to integrate memory chips with microprocessors.
"With the many patented technologies from Intel and ITRI's solid 3D IC research and development capabilities, this collaboration will enable the development of future memory technologies," Wu said.
"This project will also create a new field for local memory chip makers to produce chips [with more value] using their existing technologies, rather than scramble to invest massively on upgrading processing technologies," he added.
The 3D IC technology for memory chips could effectively reduce the space required by hardware, enable faster data transmission and expand capacity to cope with the uptake of sleek consumer electronic devices, ITRI said.
Wu expects ITRI's collaboration with Intel to bear fruit within three years, at the earliest. The research house would then transfer the memory technologies and patents to local companies interested in manufacturing new-generation memory chips.
The government-backed ITRI has long been playing a key role in developing cutting-edge technologies to support the development of Taiwan's industries, particularly the semiconductor industry.
ITRI is in talks with Taiwanese semiconductor companies and mostly memory-chip companies to join this project, Wu said, adding that chip designers, chip packagers and contract chip makers have also expressed interest in participating in this program. He declined to reveal the names of the companies ITRI had approached.
Wu expects local companies to participate in the ITRI-Intel program for one year after the launch.
Comments will be moderated. Keep comments relevant to the article. Remarks containing abusive and obscene language, personal attacks of any kind or promotion will be removed and the user banned. Final decision will be at the discretion of the Taipei Times.