Electric cars to take Taiwan by storm: Minister Shih
There will be a boom in the popularity of electric vehicles in Taiwan in five or six years, Minister of Economic Affairs Shih Yen-shiang (施顏祥) said on Tuesday while presiding over a ceremony to mark the launch of a government project aimed at encouraging people to buy electric vehicles.
Shih said he arrived at the venue, the National Taiwan Science Education Center in Taipei, in an electric vehicle.
"It's really cozy," he said.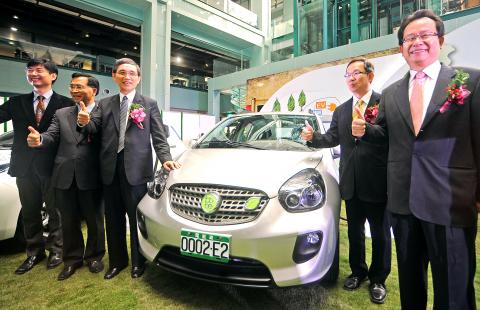 Minister of Economic Affairs Shih Yen-shiang, third from left, stands next to an electric car he drove to the National Taiwan Science Education Center yesterday to attend a press conference marking the launch of a government project to encourage people to buy electric cars.
Photo: Liu Hsin-de, Taipei Times
Although such vehicles are not cheap, the Smart Electric Cars Pilot Project initiated by the Ministry of Economic Affairs has been set up to help people buy or lease such vehicles.
FUNDING
Under the three-year project, which has central-government funding of NT$2.2 billion (US$72.79 million), local governments will begin to build the basic infrastructure required for electric vehicles, including battery-charging stations, Shih said.
Once the market and relevant systems have expanded in five or six years, the electric vehicle industry will "rise up," he said.
Under the ministry's project, the Greater Taipei area and Greater Taichung would be the first regions in the country to implement low-carbon transportation options.
CHARGING STATIONS
In the capital, Yulon Motor Co (裕隆汽車) will make available 40 of its Luxgen multipurpose vehicles and 60 of its Tobe-brand M'Car compact cars for short-term leasing, while the governments of Taipei City and New Taipei City (新北市) will have the option of setting up 100 electric car charging stations around the greater Taipei region in the coming years, according to the Taipei Metropolis Low-Carbon Travel Program.
Greater Taichung has plans to build 161 charging stations and has purchased 64 electric vehicles for public use.
Shih said he expected Greater Tainan and Greater Kaohsiung would quickly catch up with the two pioneer regions in the promotion of low-carbon transport.
Comments will be moderated. Keep comments relevant to the article. Remarks containing abusive and obscene language, personal attacks of any kind or promotion will be removed and the user banned. Final decision will be at the discretion of the Taipei Times.