Ultrabook's price tag set to rise
GRAND PROMISE: Although Intel's goal was to launch the slim, tablet-like computers for under US$1,000, the company said that this might not be possible initially
Intel Corp yesterday said the price of the first Ultrabooks could be higher than US$1,000 when they make their formal debut on the market by December, but added that there would be models selling for less than that in the fourth quarter.
The US chip giant expected the first series of Ultrabooks to sell for more than US$1,000, which contradicted the "less than US$1,000 price tag" it had claimed at the Computex Taipei trade fair in June.
With shipments expected to ramp up next year, which would drive down component costs, price tags would gradually drop over time, Erik Reid, Intel's general manager of its mobile client platform division, said in Taipei.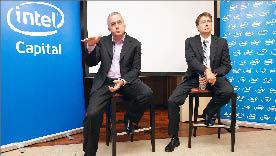 Intel's Erik Reid, left, and Intel Capital's David Flanagan attend a press conference in Taipei yesterday to discuss Intel Capital's venture capital fund.
Photo: Chen Ping-hung, Taipei Times
PC makers such as Asustek Computer Inc (華碩), Lenovo Group Ltd (聯想), Acer Inc (宏碁) and Hewlett-Packard Co have committed to the rollout of notebooks using the Ultrabook platform.
Ultrabooks, deemed competitors of Apple Inc's super-slim MacBook Air, aim to marry the performance of a laptop with tablet-like features.
They will be thin, light and powerful, less than 21mm thick and sell at "mainstream" prices, according to Intel's statement.
The chipmaker is optimistic that more than 40 percent of all consumer notebooks next year will use the Ultrabook platform.
However, Reid said that to achieve that penetration rate "there is a lot of work for Intel."
Analysts are less convinced that the Ultrabook will gain as high a penetration as Intel claims.
"If Ultrabooks sell for over US$1,000, consumers could opt for better machines within that budget," said Ryan Lee (李易聰), an analyst with Topology Research Institute (拓墣產業研究所). "Ultrabooks with [the more powerful] Intel Core i5 and i7 chips would have to sell above US$1,300 and that will deter consumers."
Asustek, which is expected to take the lead by launching the market's first Ultrabooks next month, said last month that its Ultrabooks would sell for more than US$1,000 unless they use the less expensive, less powerful i3 chip.
The combined cost of the chips, Microsoft Corp's operating system and solid-state-drive storage already make up half of the Ultrabook's cost, making it hard to drive down the average selling price, Asustek said.
To give the Ultrabook project a boost, Intel yesterday announced the activation of a US$300 million venture capital fund dedicated to its research and development.
"We expect Asia to take up a big portion of the fund, given it has a pool of original equipment and design manufacturers and this is where many innovations are coming from," said David Flanagan, managing director of mobile communications and infrastructure at Intel Capital.
The fund will be invested over a span of three to four years in companies building hardware and software technologies for Ultrabook, he said.
Comments will be moderated. Keep comments relevant to the article. Remarks containing abusive and obscene language, personal attacks of any kind or promotion will be removed and the user banned. Final decision will be at the discretion of the Taipei Times.