Siew backs local biotech industry
ALL-SEEING EYE: The main theme of this year's biotech industry event was electroretinography, which hopes to become a viable answer to vision loss in the future
The value of the biotech industry's annual output may start accelerating from this year after the government approved plans to invest in the Taiwan Medtech Fund (TMF) last month and it plans to launch a promotion office for the industry's incubation center in November, Vice President Vincent Siew (蕭萬長) said yesterday.
These efforts may help boost the output value of the biotech industry — one of the nation's six key emerging industries — to NT$260 billion (US$9 billion) next year and up to more than NT$1 trillion in 10 years, according to data on the Cabinet's Web site.
"The government-run 'Taiwan Biotech Take-off Diamond Action Plan' made a breakthrough this year, which may drive the industry toward a more systematic platform for developing related technologies," Siew said at the opening of the four-day BioTaiwan event at Hall 1 of the Taipei World Trade Center.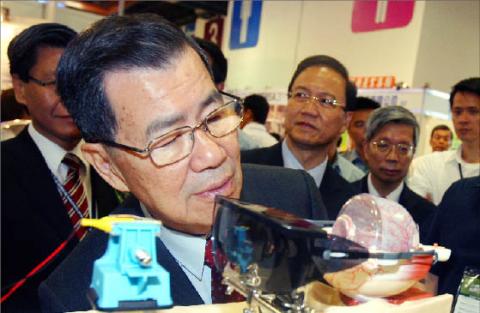 Vice President Vincent Siew inspects an exhibit at this year's BioTaiwan event in Hall 1 of the Taipei World Trade Center in Taipei yesterday. The event started yesterday and will run through Sunday.
Photo: CNA
Siew said one of the main developments of the plan — which was launched more than two years ago — would be the opening of a promotion office in November with a target to launch the biotech industry's supra--incubator center.
"The office should create a platform for local biotech companies, offering them integrated services, including legal, marketing and intellectual property rights," he said.
Besides, the industry might have more funding for research and development available in the near future, Siew said, as the government approved investment in the TMF — a fund aimed at supporting biotech companies — while also approving a National Development Fund investment.
This may further encourage other venture capitalists interested in the local biotech industry, he added.
A total of 485 companies — including larger and listed biotech firms — occupy 950 booths at this year's BioTaiwan event, the -highest number in history, the Taiwan Bio Industry Organization said yesterday.
The organization said the technology of artificial electronic retinal chips would be the main theme of this year's event, developed by a research team led by former National Chiao Tung University president Peter Wu (吳重雨).
The latest breakthrough is a combined effort of biotechnology, medical science, electrical engineering and optical engineering, the organization said.
A preliminary study showed successful electroretinography signals were produced after the retinal chips were implanted in animals, indicating that the method is workable and might become an alternative approach to dealing with vision loss in the future, it added.
Comments will be moderated. Keep comments relevant to the article. Remarks containing abusive and obscene language, personal attacks of any kind or promotion will be removed and the user banned. Final decision will be at the discretion of the Taipei Times.