Creepy problem leads to Mazda 6 recall
Mazda Motor Corp has a creepy problem — a common spider species seems to have developed a hankering for making nests and weaving webs inside the engines of its sporty Mazda 6 sedan.
The Japanese automaker said on Thursday it would be recalling 65,000 vehicles in the US, Canada and Mexico to outfit them with special screens to keep the spiders out.
"There doesn't seem to be any particular reason why he's chosen the Mazda 6," spokesman Jeremy Barnes said.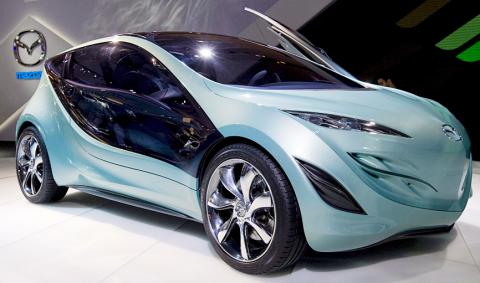 Mazda Motor Corp's Mazda 6 is displayed on the second day of the Mondial de l'Automobile motor show at Porte de Versailles in Paris on Oct. 3, 2008. Japanese automaker Mazda has announced it is recalling 65,000 cars in North and Central America because of concerns over spiders in the fuel system.
Photo: EPA
"It apparently likes to go zoom-zoom from the best we can tell," he said with a laugh, in reference to Mazda's advertising tag-line.
While the spider problem sounds silly, Barnes said it could be dangerous. The webs and nests can block air flow in the fuel tank's vent and this could cause the tank to leak or even catch fire. So far there have been no accidents or fires, but Madza isn't taking any chances.
Since the problem wasn't restricted to a particular geographic region, Mazda thought it best to recall all its affected vehicles in areas where the yellow sac spider lives, Barnes said.
The problem was first discovered in October 2009 when a dealer found a spider web in a canister vent line when a customer brought their Mazda 6 in for repairs after it started leaking fuel.
The dealer investigated further and it was determined that the web blocked up the vent and caused "excessive vacuum" in the fuel tank, which "eventually resulted in a crack in the fuel tank through repetitive negative pressure stress," Mazda said in filings with safety regulators.
Nineteen other spider nests have been discovered in Mazda 6 vehicles across the US, but only in the four-cylinder versions, so maybe it isn't that sporty after all. Dealers will inspect all the vehicles for cracks, clean out the vents, install a "spring to prohibit spider intrusion" and reprogram the powertrain control module to avoid a build up of pressure in the tank.
In the latest defect recall to hit Japanese automakers, Honda Motor Co Ltd said on Thursday it was recalling almost 37,000 Civic Hybrids in the US.
Honda said a faulty converter in the hybrid control system could lead to the engine stalling and malfunction of the headlights.
No injuries or accidents have been reported in relation to the problem, which affects 2006 and 2007 models.
Chrysler Group is also recall nearly 250,000 vehicles in the US to fix an ignition key unit defect that can cause the engine to stall or shut off while driving, safety regulators reported on Thursday.
The defect affects last year's models of the Chrysler Town & Country and Dodge Grand Caravan minivans, and Dodge Journey sport utility vehicles.
Comments will be moderated. Keep comments relevant to the article. Remarks containing abusive and obscene language, personal attacks of any kind or promotion will be removed and the user banned. Final decision will be at the discretion of the Taipei Times.