Sequels star at videogame fair
HOT TREND: Videogames once designed to be solo experiences are using the Web to link players and let them work together as either allies or enemies
Videogame makers at the Electronic Entertainment Expo (E3) this week shrugged off the dismal economy, debuting supercharged sequels to blockbuster titles and play that is increasingly social and active.
"All three publishers showed strong," said Scott Steinberg of videogame and gadget Web site Digital Trends, referring to E3 line-ups touted by competing console makers Microsoft, Nintendo and Sony.
"The gamers are probably the ones that are going to win in the end," he said.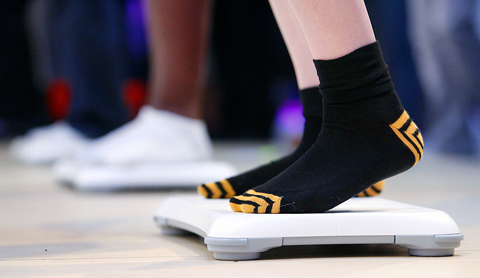 Visitors step on Nintendo Wii Balance Boards as they play the new Wii Fit Plus game at the E3 videogame fair in Los Angeles on Tuesday.
PHOTO: REUTERS
Publishers of hit videogame titles such as Assassin's Creed, Mass Effect and God of War offered sequels with intriguing story lines, stunning graphics and game play tuned with feedback from fans.
A second installment in 2K Games' BioShock set in a fictional undersea world called "Rapture" spins off the original gripping tale and adds online multi-player features that were among E3 trends.
Videogames once designed as solo experiences are increasingly using Internet connections to link players and immerse them together in virtual worlds where multiple players can be allies or enemies.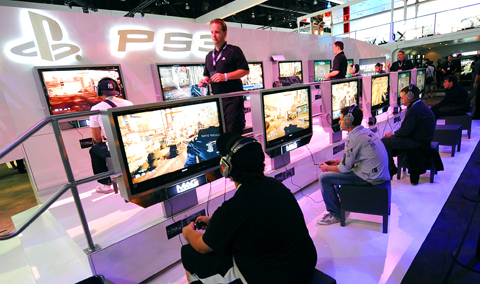 Gamers try out Sony PS3 consoles at the E3 fair in Los Angeles, California, on Tuesday. The three-day event is North America's premier computer and videogame trade show and introduces new products for computers, videogame consoles, handheld systems and the Internet.
PHOTO: AFP
BioShock 2 multi-player features let people customize the abilities of characters and then battle in modes including "survival of the fittest" and team civil war, 2K senior producer Melissa Miller said.
"Imagine going into a match where someone can be just as creative as you are, and how that changes your game play," Miller said after demonstrating the title. "That is what we think is truly special about the multi-player component."
A MAG war videogame poised for release will let as many as 256 online players, divided into units, battle against each other simultaneously.
"We are seeing games become more of a group exercise with a lot more chances to experience games with friends and social networking," Steinberg said. "Games are actually bringing people together instead of splitting them apart"
Videogame makers continue to court girls and women, seniors and others considered "casual gamers" — players other than young men fanatic about action and shooter titles.
Titles geared toward girls include fashion, cheerleading and charm.
A Bayonetta action videogame features a fierce heroine pitted against a formidable villainess.
Sony is working with entertainment giant Disney to pair a Hannah Montana videogame with a lilac PSP handheld playing device.
Girls are prime buyers of Nintendo DS handheld videogame devices, and Ubisoft's line of Imagine titles for the gadgets have been hot sellers with that demographic.
E3 abounded with exercise, sports and dance videogames that people play by moving their bodies instead of just their thumbs.
Nintendo pioneered the revolution with the release in 2006 of Wii consoles with motion-sensing controllers.
Traditional controllers on consoles such as Microsoft's Xbox 360 and Sony's PlayStation 3 feature toggles and buttons that players manipulate to dictate the actions of videogame characters.
Nintendo rivals Microsoft and Sony said at E3 they were working on motion-sensing controllers for their videogame consoles, signaling the trend toward active game play is likely to intensify.
A Project Natal prototype for Xbox 360 combines cameras and face and voice recognition software to let players control game play with natural body movements.
"For every two people now playing there is one more just waiting to jump into the game," Nintendo global president Satoru Iwata said, citing a study of done by the Japanese firm.
Videogame hardware and software sales boomed last year despite a global financial crisis but have fallen in recent months.
Industry insiders at E3 remained optimistic.
"Over the past year, our industry has done well in this uncertain economic climate," Xbox vice president John Schappert said, "perhaps because now, more than ever before, people want to have fun and they want to connect with each other, all from the comfort of their living rooms."
Comments will be moderated. Keep comments relevant to the article. Remarks containing abusive and obscene language, personal attacks of any kind or promotion will be removed and the user banned. Final decision will be at the discretion of the Taipei Times.