Brown to ask Gulf states for funds
British Prime Minister Gordon Brown was scheduled to begin a tour of oil-rich Gulf states yesterday, hoping to persuade them to give extra funds to help countries hit by the world economic turmoil.
Brown will spend four days in the region holding talks with leaders as he pursues his efforts to help coordinate the global response to the world economy's dramatic plunge.
Earlier this week, he said he wanted the IMF's US$250 billion bailout fund for countries hit by the financial crisis to be extended to prevent "contagion" spreading to other nations.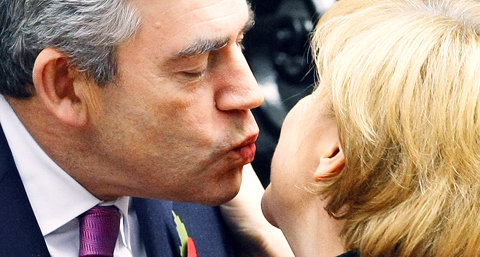 British Prime Minister Gordon Brown, left, kisses German Chancellor Angela Merkel as he greets her outside 10 Downing Street in London, England, on Thursday.
PHOTO: AP
The former finance minister said that he wanted Gulf states and China to be among the biggest donors to an expanded scheme.
"It's the countries that have got substantial reserves, the oil-rich countries and others who are going to be the biggest contributors to this fund," he said on Tuesday. "I am going to the Gulf at the weekend and it is one of the items that will be in the discussions with all the international leaders."
The trip comes ahead of a meeting of G20 leaders in Washington including Saudi Arabia's King Abdullah on Nov. 15 that will discuss a restructuring of the world financial system, including the IMF.
Brown said he has discussed the plan with IMF chief Dominique Strauss-Kahn, as well as French President Nicolas Sarkozy and German Chancellor Angela Merkel.
The IMF is set to bail out Hungary, Ukraine and Iceland, while Pakistan is reportedly poised to apply for IMF assistance over its balance of payments crisis.
But Brown could face a struggle to persuade the Gulf states, despite strong historic and trade links with Britain.
The states, whose main economic driver is oil, have been hit by its price dropping below US$60 a barrel this week from record highs of nearly US$150 in July on fears of falling demand because of the slowdown.
And Brown clashed with leading oil producing countries last week over its emergency cut in production.
OPEC, says it sees no reason why it should bail out a crisis that originated in the US.
OPEC's Secretary-General Abdalla Salem El-Badri said on Tuesday it was "surprising" that OPEC countries, which produce around 40 percent of the world's crude, were being asked to help by keeping prices down.
Comments will be moderated. Keep comments relevant to the article. Remarks containing abusive and obscene language, personal attacks of any kind or promotion will be removed and the user banned. Final decision will be at the discretion of the Taipei Times.