China Airlines reports revenue up, cost pressures
China Airlines Ltd (CAL, 中華航空) reported a 5 percent increase in revenue year-on-year, with the first 11 months of the year coming in at NT$115.94 billion (US$3.59 billion), a company press release said on Saturday.
The state-run airline said it expects to see a 3.5 percent growth in annual revenue next year, down 8.7 percent from last year's 12.2 percent.
Ringo Chao (趙國帥), chairman and president of the airline, said that increasing fuel costs amid rising crude oil prices -- from US$50 per barrel last year to more than US$90 per barrel this year -- had the biggest impact on the firm's profitability.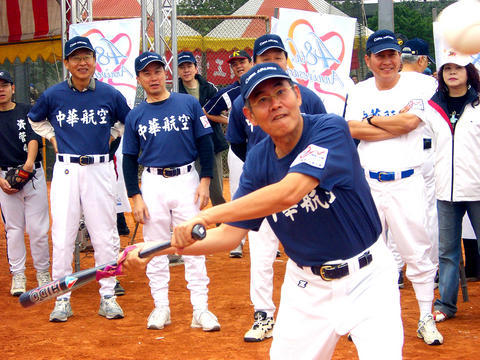 Minister of Transportation and Communications Tsai Duei, who is also chairman of the China Aviation Development Foundation, takes aim at a ball during a softball game at China Airlines' 48th anniversary celebrations in Taipei on Saturday.
PHOTO: CNA
"With every US$1 increase in the oil price, CAL's annual operating costs increase by about NT$600 million," Chao told reporters at the company's 48th anniversary celebration on Saturday, where the firm made a NT$300,000 donation to local youth baseball teams.
However, despite increased fuel costs, Chao said CAL was confident it could achieve its revenue target this year.
CAL inked a Letter of Intent with European aircraft manufacturer Airbus for the purchase of 20 A350-900s on Dec. 11, which included 14 firm orders and 6 options, at a total cost of US$4.2 billion.
The new medium-capacity long-haul jetliners, which will be introduced from 2015 to 2020, will replace the A340-300 fleet and help expand the airline's mid-haul and long-haul services.
"There is no timetable set for signing the actual contract with Airbus," Chao said, adding that CAL did not have any new purchasing plans next year.
Chao was appointed chairman of CAL on Oct. 2 in a bid to mend the airline's tarnished image following a fire on board one of its aircraft at Naha Airport in Okinawa, Japan, on Aug. 20.
Responding to media speculation that the aircraft deal was politically motivated, CAL spokesman Bruce Chen (陳鵬宇) said: "CAL's decision to purchase Airbus aircraft was based on price, payment conditions and seating capacity."
CAL was ranked eighth in the "Airline of the Year" rankings this year, results released by Skytrax, the world's top surveyor of airline service quality, showed.
CAL shares fell NT$0.15, or 1.1 percent, to close at NT$13.85 on Friday.
Comments will be moderated. Keep comments relevant to the article. Remarks containing abusive and obscene language, personal attacks of any kind or promotion will be removed and the user banned. Final decision will be at the discretion of the Taipei Times.