FEATURE: Farglory ditches keys for phones
As cellphones have become a virtual necessity for most people, their functions and applications have constantly expanded. Mobile phones have gone from providing basic real-time communication and text message capability to allowing digital photography, music functions and Internet surfing. In the latest development, mobile phones can even replace your house keys.
The Farglory Group (遠雄企業團), a leading property developer in Taiwan, announced last week that the residents of its four new complexes in Taipei County will be the first in the world to open their doors with their cellphones.
"Instead of flipping through a big bundle of clinking keys, our residents just have to flash their mobile phones in front of a sensor to enter their homes," Farglory chairman Chao Teng-hsiung (趙藤雄) said.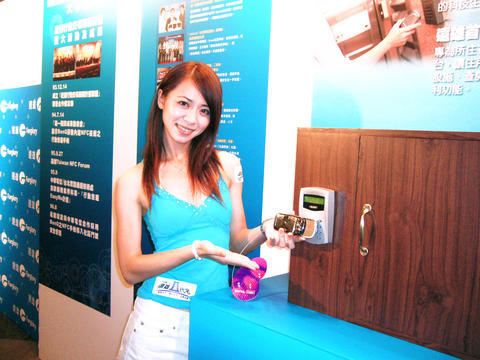 A model demonstrates a cellphone used for a security system introduced by the Farglory Group.
PHOTO: JESSIE HO, TAIPEI TIMES
The constructor will allot two BenQ T80 handsets -- the first near field communication (NFC)-enabled phone made by a Taiwanese maker -- to each of the 5,990 apartments, which are expected to be completed next year.
Family members who do not have one of the two cellphones can enter the houses using a fingerprint identification system.
The handset security access control system will be applied to all of Farglory's future housing projects as well, Chao said.
"As cellphones are a must-carry accessory nowadays, we want to make them as useful as possible and make daily life convenient," Chao said.
Chao, 63, started his career as a construction worker and strove to rise in the construction industry. Farglory's business later extended into insurance, recreation parks, hotels and logistics.
In the meantime, Farglory has become a trustworthy constructor in terms of reliability and comfort. Properties developed by the company are sold soon after hitting the market.
Inspired by Microsoft Corp chairman Bill Gates' house, which incorporates technology in new ways, Farglory became a pioneering constructor in integrating technology into housing in Taiwan.
Residents of Farglory apartment will also be able to use their mobile phones as an EasyCard to take the MRT system and buses and to pay for parking fees. It can also be used as a credit card.
Chao's envisions "second-generation" and "future" homes with cellphones as a remote control for home electronics, lighting and curtains when residents are away.
In addition, Farglory residents can receive community announcements and reserve entertainment facilities and conference rooms with their phones.
To meet the growing demand for high-speed Internet access, the apartments will include much faster fiber optics.
Chao's vision of the ideal home does not stop there.
As conserving energy becomes more important, Chao plans to build environmentally friendly housing complexes.
The "green" buildings would use solar cells on the roof for electricity and incorporate wastewater recycling, Chao said.
"In this way we would be able to contribute to environmental protection while adding value to the homes," Chao said.
Although the environmentally friendly features would cost more, Chao believes that homebuyers are willing to pay for these options as part of their lifestyles.
The trend is growing rapidly in Japan, South Korea and the US, and will soon hit Taiwan, he said.
Farglory will make its debut on the Taiwan Stock Exchange from the over-the-counter GRETAI Securities Market today. The shift to a bigger capital market means greater challenges ahead for the company, Chao said.
"We hope to compete not only with local rivals, but also with international developers to improve our competitiveness," Chao said.
Comments will be moderated. Keep comments relevant to the article. Remarks containing abusive and obscene language, personal attacks of any kind or promotion will be removed and the user banned. Final decision will be at the discretion of the Taipei Times.