Taipei fair reflects strong outlook for leisure market
ENJOYING LIFE An ever growing segment of the nation's work force is willing to pour its hard earned money into a little luxury during leisure time
Mrs Hsu was among the visitors drawn yesterday to the Taiwan Sports Recreation and Leisure Show at the Taipei World Trade Center.
But unlike others, Hsu was shopping for a motor home.
"When I retire in five years' time, my husband and I would like to travel around the island camping and enjoying our golden years," she told the Taipei Times.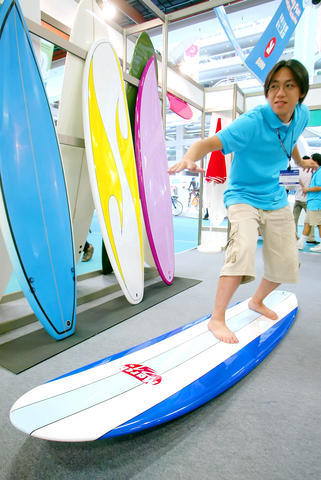 An exhibitor yesterday pretends to surf at the start of the four-day Taiwan Sports Recreation and Leisure Show at the Taipei World Trade Center.
PHOTO: CNA
The couple has already converted the back seats of their current vehicle into a fold-out bed for trips to scenic spots.
But a motor home would make their trips even more enjoyable and convenient, as it would allow them to cook light meals and take showers in the comfort of their own vehicle, said Hsu, who works at an export company.
An increasing number of the nation's work force are willing to pour their hard earned money into a little bit of luxury for their leisure time. Camping and sports equipment are attracting new customers and raising the prospects for the companies that produce them.
Chanson Sport Goods Co (強生運動科技), for one, is hoping that more families will catch "workout fever."
"A lot of people are becoming more health conscious," said Jonathan Tsai (蔡天瑞), who is president of the local fitness equipment manufacturer.
But there is plenty of room for the nation's exercise culture to develop, he said, adding that most Taiwanese do not exercise although they are aware of the health benefits.
Fitness chains, including Alexander Health Club (亞力山大俱樂部) and California Fitness, have had difficulties attracting members partly as a result of sluggish economic sentiment.
But this spells opportunity for Chanson, as many families are more interested in home fitness equipment that will allow them to enjoy privacy during their workout sessions and save costly gym fees.
To offer a wider selection to potential customers, the company announced a partnership with US-based Spirit Fitness yesterday at the show. Chanson will sell the latter's ellipticals, treadmills and exercise bikes in Taiwan.
"We want to promote the Spirit brand in Taiwan and hope to gain more exposure and increase our sales through this partnership," Spirit vice president Brian Murray said.
Meanwhile, SunQ RV Group Co (升魁) is hoping its motor homes will attract a wider group of admirers like Hsu.
The company is showcasing a NT$1.5 million (US$45,500) camper at the Taipei exposition.
The Kia model touts features such as a carbon dioxide detector and solar-powered internal light fixtures.
SunQ president Ben Chuang (莊建和) said: "These trucks are gaining momentum and some families will want to own them as their second vehicle."
The recreation and leisure fair will continue running until Sunday at Taipei World Trade Center Exhibition Hall I.
Comments will be moderated. Keep comments relevant to the article. Remarks containing abusive and obscene language, personal attacks of any kind or promotion will be removed and the user banned. Final decision will be at the discretion of the Taipei Times.