Citigroup tells investors to head north
`OVERWEIGHT' A Citigroup report advised investors to switch out of Singapore into Taiwan as stock valuations had dropped to levels only seen during crisis periods
Citigroup Global Markets Inc revised upward its rating on Taiwan's stock market yesterday, when the red-hot benchmark index rallied to a new seven-year high, fueled by a continued robust buying spree.
"Taiwan, our biggest underweight, becomes an overweight, finally -- the contrast could not be starker," Markus Rosgen, Citigroup Global Markets Inc's chief Asian strategist, said in a research note yesterday.
Relative to the region, valuations in Taiwan's market have dropped to levels only seen in crisis periods, Rosgen said.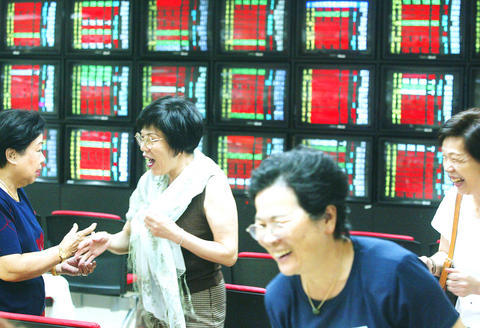 Investors cheer in front of stock monitors at a local securities trading house in Taipei yesterday. The TAIEX surged 126.28 points to close at 8,939.19, a new seven-year high.
PHOTO: CNA
"This is a value, not momentum, play," he wrote.
The TAIEX peaked at 15 points shy of the 9,000 level in intraday trading before closing at 8,939.19 -- the highest since June 2000.
The index rose 1.43 percent, or 126.28 points amid heavy turnover of NT$184.33 billion (US$5.6 billion), Taiwan Stock Exchange's data showed.
Foreign investors bought a net NT$14.57 billion in stocks yesterday, bringing their net purchases to NT$170.67 billion since the beginning of the month, the stock exchange's data showed.
Citigroup Global Markets Inc suggested investors "head north" by switching out of Singapore into Taiwan and South Korea, although the call might go against market consensus, it said.
"The north is a play on an improving global economy, higher inflation, large caps over mid/small caps, and value over momentum," Rosgen said.
Earlier this month, Peter Kurz, head of Citigroup's Taiwan equity research, raised his forecast for the TAIEX to 9,550 points, saying the government typically gave the market a boost in the runup to a major election and this time would be no different.
Taiwan is holding a presidential election next March.
Holding a similar view, Yin Nai-yun (尹乃芸), a vice president at Prudential Financial Securities Investment Trust Enterprise, said he was bullish on the local equity market's prospects.
"Taiwan has sound industrial fundamentals but lacks capital momentum," Yin, who manages funds of more than NT$6.2 billion, told the Taipei Times on the sidelines of a media briefing yesterday.
Prudential Financial expects foreign investors to allocate funds to Taiwan and cash in on the local market's cheap valuations.
The company likes high-tech stocks and expects the handset, flat panel and integrated circuit (IC) design industry to bottom out and rebound in the next quarter.
The investment firm forecast a 10 percent growth in global handset shipments, an end to inventory adjustment in the previous quarter, stronger flat-panel sales as it enters its high season and better IC design sales as the Vista effect boosts replacement demand, the company said.
Investors betting on longer-term returns can consider China-concept stocks that could benefit from the nation's rising domestic consumption, which is estimated to double in the next four years to 12 trillion yuan in 2010, the company said.
These include food manufacturers that have set up footholds in China, such as Uni-President Enterprise Corp (統一企業) and Dachan Great Wall Group (大成集團), and tourism stocks, it said.
Comments will be moderated. Keep comments relevant to the article. Remarks containing abusive and obscene language, personal attacks of any kind or promotion will be removed and the user banned. Final decision will be at the discretion of the Taipei Times.