Rebar admits notification delay
BUSINESS AS USUAL Idee, part of China Rebar, said that it did not expect any negative impact from insolvency and even stood to benefit from the change
China Rebar Co (中國力霸) yesterday admitted a delay in notifying the Taiwan Stock Exchange Corp of its insolvency claim, in response to a NT$50,000 fine imposed by the stock regulator amid speculation that the company had withheld critical information from its investors.
Both China Rebar and Chia Hsin Food & Synthetic Fiber Co (嘉新食品化纖) under the parent Rebar Asia Pacific Group (力霸亞太企業集團) were approved for insolvency protection by the Taipei District Court on Thursday to pave the way for future corporate restructuring.
"There was a two day delay as a result of our own negligence and three New Year holidays over the weekend," the company said in a filing to the stock exchange.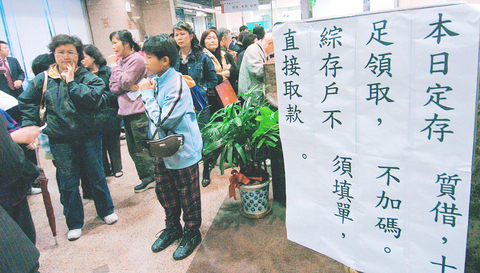 Clients yesterday swarm into the Taipei headquarters of The Chinese Bank to close their accounts after firms China Rebar Co and Chia Hsin Food & Synthetic Fiber Co filed for insolvency protection. All three companies are part of the Rebar Asia Pacific Group.
PHOTO: CHANG CHIA-MING, TAIPEI TIMES
After convening a board meeting last Friday at noon, China Rebar later decided to file for insolvency protection with the Taipei District Court at 4:30pm on the same day.
The weekends and the public holiday on Monday, however, meant that the stock regulator was not informed until Thursday morning, the company said.
The district court said on Thursday that it had approved the two companies' requests for asset protection, which will grant them a 90-day stopgap period during which their assets may not be seized by creditors.
In the meantime, the Taiwan Stock Exchange Corp also announced that shares of the two companies would be suspended from trading, taking effect immediately yesterday.
China Rebar yesterday responded to investors concerns as to why the company had bought 8.2 million shares of Asia Pacific Broadband Telecom Co (亞太固網) through its seven affiliates during a period of financial difficulty in September.
The deal amounted to NT$73.4 million (US$2.3 million).
The company said that the shares it had purchased were meant to be pledged as collateral for loans.
The Rebar group has a wide variety of businesses that range from department stores, to the textile industry and construction operations.
But because of its poor corporate governance, the group has been facing financial problems for years.
Affected by the insolvency filed unexpectedly by Rebar group's subsidiaries, ProMOS Technologies Inc (茂德科技) -- Taiwan's third-largest computer memory chipmaker -- said yesterday that it would sustain losses, but did not specify the amount of losses it expected.
ProMOS owns a combined NT$9.5 billion (US$291 million) worth of corporate bonds in Chia Hsin and China Rebar, the chipmaker said in a statement filed to the Taiwan Stock Exchange.
ProMOS said it could not calculate specific losses from the investments until the court approved the companies' restructuring plans, the chipmaker said in a filing to the Taiwan Stock Exchange.
ProMOS shares declined 3.85 percent to NT$13.75 on the nation's over-the-counter GRETAI Securities Market yesterday after the statement was submitted in early trading hours.
Meanwhile, Idee Department Store (衣蝶百貨), part of the Rebar Group, assured its shoppers yesterday that it would maintain normal operations and that the corporate restructuring of its parent company would actually benefit Idee.
"Our business today is normal and our retail partners have been very supportive," said Sunny Liu (劉懿慧), Idee's senior manager.
But Idee's capital flow encountered problems in November last year and December 2005, triggering speculation that the department store might close its doors or that the management of some of its branches might change hands.
The company attributed its financial difficulties at that time to the difficulties experienced by its parent company.
As a result of China Rebar filing for insolvency protection, Idee's employee salaries and payments to retailers would be guaranteed, she said.
Idee's five branches nationwide booked sales of NT$9.63 billion (US$295 million) last year, declining by 10 percent from the previous year, but still pulling in profits.
The Rebar Group's other money-making subsidiary, Rebar Crowne Plaza Taipei, would not be affected either, public relations official Karen Lin (林淑娟) said.
The hotel declined to disclose revenue figures as it is not a listed company.
Mega Financial Holding Co (兆豐金控) is China Rebar and Chia Hsin's biggest creditor bank and faces possible losses of NT$5.4 billion, the Chinese-language Economic Daily News reported yesterday.
Other creditor banks include Taiwan Cooperative Bank (合作金庫銀行), Chang Hwa Commercial Bank (彰化銀行), Hua Nan Financial Holdings Co (華南銀行) and First Financial Holding Co (第一金控), the report said.
China Rebar and Chia Hsin have a total liability of NT$40.6 billion, according to the two companies.
"Corporate collapses can inflict damage to creditor banks," said Tracy Chen, who helps manage about US$2.3 billion at PC Securities Investment Trust Co in Taipei.
Shares of Mega Financial closed down 3.31 percent at NT$23.40. Taiwan Cooperative lost 2.6 percent to NT$24.50, Hua Nan went down 2.2 percent to NT$24.30, First inancial fell 1.2 percent to NT$24.95, and Chang Hwa slipped 0.9 percent to NT$23.
Additional reporting by Bloomberg
Comments will be moderated. Keep comments relevant to the article. Remarks containing abusive and obscene language, personal attacks of any kind or promotion will be removed and the user banned. Final decision will be at the discretion of the Taipei Times.