Taiwan falling hard for French Beaujolais wines
GROWING ATTRACTION The nation's retailers are pushing more varieties of the seasonal Beaujolais Nouveau red wines, which hit stores this Thursday
The nation's love for Beaujolais Nouveau is growing quickly, making Taiwan Asia's second largest importer of the fruity French wine after Japan, retailers said.P>
Imports of Beaujolais wines are expected to top 800,000 bottles this year, up from 650,000 last year, and include affordable products available in convenience stores and supermarkets.
"It has become a fad in Taiwan, so wine lovers here have been expecting its arrival and are keen to savor the latest batch of Beaujolais," said Margery Ho (何默真), public relations official of the hypermarket chain RT-Mart (大潤發).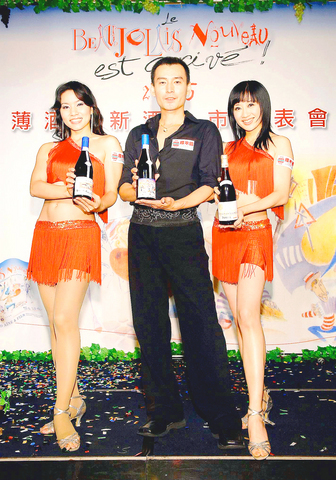 Dancers promote this year's Beaujolais Nouveau on Thursday during a press conference held by Wines & Spirits Co, the nation's biggest wine seller. The famous wine hits the market each year on the third Thursday of November. Taiwan is expected to import more than 800,000 bottles of Beaujolais this year.
PHOTO: WANG MENG-LUN, TAIPEI TIMES
In keeping with the annual tradition, the wines will be uncorked in three days -- the third Thursday of November.
Although the harvest slumped by 50 percent, the quality of this year's wine, which hails from the Beaujolais wine-growing region south of Burgundy, is said to be comparable to that in 1929, 1947 and 1976, according to the Landis Taipei Hotel.
"It could be the best in the past century," the hotel said in a press release to promote its Beaujolais meal specials.
RT-Mart, which aims to grab a bigger share of the market, plans to present more high-quality Beaujolais this year, while maintaining its overall number of imports at about 150,000, the same as last year.
In addition to the three categories of wine -- Beaujolais, Beaujolais Villages and Beaujolais Crus -- RT-Mart is also offering limited-edition exquisite wines by the French firm Grand Vin Selles, Ho said.
This is aimed at tapping into another niche market, while continuing to promise the lowest prices in Taiwan for Beaujolais wines, she added.
Carrefour SA, the world's second-largest hypermarket operator, also entrusted the winery Georges Duboeuf -- dubbed the "King of Beaujolais" -- to produce the retailer's own-brand Beaujolais wines, which will be available in its outlets worldwide at much cheaper prices, said Dream Lin (林夢紹), public relations manager of Carrefour Taiwan.
Carrefour Taiwan expects to import 60,000 bottles of Beaujolais wines this year, up 30 percent from last year, including vintages from the famous wine-maker Henry Fessy.
Due to cut-throat competition, the retailers are keeping their selling prices top secret, waiting until the last minute to reveal them.
"I don't think the price will go under NT$200 [US$6] a bottle, which happened last year," Lin said, explaining that rising transportation charges this year should keep the prices at a higher level.
Comments will be moderated. Keep comments relevant to the article. Remarks containing abusive and obscene language, personal attacks of any kind or promotion will be removed and the user banned. Final decision will be at the discretion of the Taipei Times.