Disney's Hong Kong workers learning to `have a magical day'
Before starting work at the Hong Kong theme park later this year, a group of Hong Kong natives are attending courses in Florida to absorb the Disney culture's bubbling effervescence
Five hundred visitors from Hong Kong have debarked in Orlando, Florida to learn about a foreign culture with a vocabulary and manners much different from the one they know.
The culture isn't American. It's Disney.
The Hong Kong natives, who will work at Hong Kong Disneyland when it opens later this year, will first get a crash course on Disney at the company's Florida theme parks, absorbing company facts and lore and adopting the Disney demeanor -- including a cheerful "have a magical day!" as they greet every park visitor.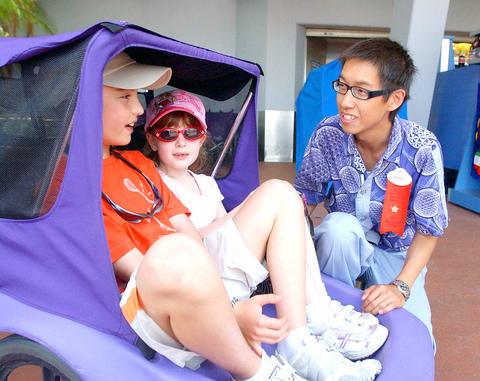 Daniel Lai of Hong Kong, right, chats with Oscar Leigh, 11, left, and his sister Briony, 6, of Essex at the stroller rental area at Walt Disney World's Epcot park at Lake Buena Vista, Florida, on Monday. Lai is one of 500 Hong Kong workers who are being trained at Disney World for the opening of the Disney park in Hong Kong.
PHOTO: AP
International employees routinely work at Disney World, many as cultural representatives at the Epcot theme park, and managers and other leaders were brought to the US Disney parks for training before opening Tokyo Disneyland and Disneyland Paris. But Disney has never invited so many international trainees for schooling at one time.
"It's critical," said Danni Mikler, manager of operations for Walt Disney World, where the 500 workers are being trained at the resort's four theme parks and 22 hotels. "When they go back, they're going to basically have to instill the culture in people who haven't had the opportunity to come here for training."
The trainees, who were selected from 5,000 applicants, arrived in January and will leave next month. They're staying in Disney-owned apartments that house workers in the college intern program and other international students.
In addition to a regular schedule of working in the parks, the Hong Kong workers are taking seminars on customer service, marketing, leadership and the history and philosophy behind Disney's entertainment empire. They're also learning the minutiae of greeting guests and keeping the parks clean.
"You greet a guest, and when they wear their mouse ears, you say `Oh Mickey, how are you today?'" said Jenny Yip, 24, who previously worked for Hong Kong's tourism board and is being trained as a front desk clerk at a hotel. "Or when they dress like a princess, you say `Oh princess, how was your day?'"
Among the Hong Kong workers' tasks is learning the language of Disney. Workers are called "cast members," and visitors are referred to as "guests." Special encounters at the theme parks are "magical moments." Disney workers don't go to work, they "put on a show." When workers are out in the park, they're "on stage."
Virginia Li Yuk Wing, 24, a college graduate in marketing who is working as a custodian at Disney-MGM Studios before moving to the Hong Kong park, learned the euphemism for the mess created by queasy visitors after an intense ride: protein spill.
"I just love that concept," Li said of Disney's proprietary language.
The workers are also getting grounded in Disney's characters. Most Hong Kong denizens know of Mickey Mouse and Winnie the Pooh, but they haven't heard of lesser-known characters such as Stitch or Pocahontas. In a class, they were asked to write down as many Disney characters as they could remember.
Wynnie Poon, 29, who is being trained as a greeter at the Epcot park, said she didn't know Mulan, who in the 1998 Disney animated movie of that name is a Chinese maiden forced to disguise herself as a soldier to save her father from being conscripted in the army.
"We don't know all the Disney characters, so this is a way we get familiar with them," Poon said.
The trainees are finding that the Disney way of doing things can be very different from what they're used to.
"Chinese culture is more conservative and they're not that expressive about feelings," said Poon, imagining the response she'll get back home when she tells Disney visitors, "have a magical day!"
"People will say `Oh you're insane! You're crazy!'"
Li also finds it a challenge to adopt the Disney culture's bubbling effervescence in front of visitors.
"We don't often take a proactive role in talking to people who we're not familiar with," Li said. "But here, you say `hi' to everyone. It doesn't matter who the person is."
But Mikler, the operations manager, said Hong Kong Disneyland visitors will come to accept the effusiveness if the Hong Kong workers are trained properly on Disney's traditions. Past experience at Disneyland Paris and Tokyo Disneyland showed that to be true.
"Those [visitors] who tend to be a little bit more reserved and not really engaged in the Disney fashion come into our parks and tend to lose those inhibitions," she said.
Comments will be moderated. Keep comments relevant to the article. Remarks containing abusive and obscene language, personal attacks of any kind or promotion will be removed and the user banned. Final decision will be at the discretion of the Taipei Times.