Chinese premier seeks to ease tensions
NOT BUDGING Wen Jiabao was speaking in the US before a congressional panel was to vote on legislation that would punish China for alleged currency manipulation
China's premier sought to ease tensions with the US ahead of a speech yesterday in which he is expected to defend the Asian giant's currency policy, as US lawmakers prepare to vote on punishing Beijing.
Chinese Premier Wen Jiabao (溫家寶) is expected to rule out drastic appreciation of the yuan in his address, but ahead of his speech and a meeting with US President Barack Obama at the UN General Assembly, he stressed that the world's two largest economies had more common interests than they had differences.
US lawmakers, meanwhile, prepared to vote on whether to punish China for allegedly manipulating its currency and distorting trade.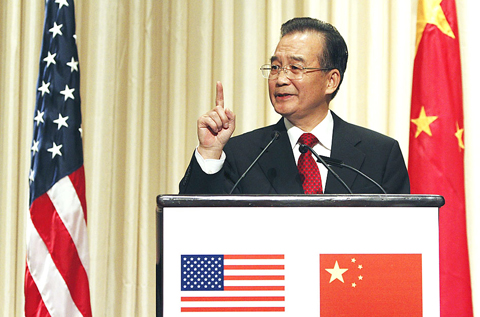 Chinese Premier Wen Jiabao speaks during a dinner hosted by the National Committee on US-China Relations and the US-China Business Council at the Waldorf Astoria in New York on Wednesday.
PHOTO: REUTERS
"There is no basis for a drastic appreciation of the renminbi [yuan]," Wen said on Wednesday in a speech to the US-China Business Committee in New York. "If the renminbi [yuan] appreciates by 20 to 40 percent according to the requests of the US government, we do not know how many Chinese companies will go bankrupt, how many Chinese workers will be laid off, how many rural workers will go back to their homes and there will be major turbulence in Chinese society," he said, according to a translation of his speech.
Washington has been toughening its rhetoric over China's currency handling in recent weeks, accusing Beijing of keeping its currency artificially low against the US dollar to make its exports more competitive.
Members of a key US congressional panel are scheduled to cast a vote today on legislation that would call on the US Commerce Department to punish China for alleged currency manipulation.
Obama warned earlier this week that the yuan "is valued lower than market conditions would say it should be" and he called on the Chinese to do more to promote "fair" trading conditions.
Wen, however, insisted on Wednesday that China has "kept the renminbi [yuan] exchange rate basically stable at an adaptive level since the outbreak of the financial crisis," as other countries depreciated their currencies by a wide margin.
"Our effort has greatly contributed to global economic and financial stability, and the recovery of the world economy," he said.
In June, China allowed its currency to appreciate against the US dollar following international pressure. The yuan has appreciated about 1.6 percent against the greenback, but for Washington, that is too little.
The US and China — the world's top two economies — should "positively carry out large-scale economic and trade cooperation," Wen said, while warning that mutual trust was the precondition for such a move.
A "sound and stable Sino-US economic and trade relationship is in line with the fundamental interests of both countries," he added, in comments carried by Xinhua news agency.
The "structure of Sino-US investment and trade" was to blame for the massive US trade deficit, not the value of the Chinese currency, the Chinese leader said.
Obama earlier this week said Washington had told Beijing: "You're getting wealthier, you're exporting a lot, there should be an adjustment there based on market conditions."
"They have said 'yes' in theory, but in fact they have not done everything that needs to be done," Obama said during a town hall-style meeting broadcast on CNBC television.
He has come under increasing pressure from Congress to take action against China as critical mid-term elections near.
US Treasury Secretary Timothy Geithner complained last week that it was "past time for China to move" on the yuan and lift trade barriers.
Despite June's "important" pledge by Beijing, Geithner said the Chinese currency's value was "essentially" unchanged in the past two years because of "very substantial" intervention by the authorities.
Tensions were further heightened after Washington last week asked the WTO to investigate allegedly unfair Chinese treatment of US steel and electronic payment providers.
Last year, the two countries shared US$366 billion in trade volume.
Comments will be moderated. Keep comments relevant to the article. Remarks containing abusive and obscene language, personal attacks of any kind or promotion will be removed and the user banned. Final decision will be at the discretion of the Taipei Times.