FEATURE: Chocolate makers push new innovations
CARTIER, CHOCOLATE AND CHANEL The average Swiss consumes more than 11.3kg of chocolate per year, but chocolatiers still don't think the market is saturated
When the cold winter wind blows off Lake Zurich, the people who live around one sprawling factory, a 10-minute ride from the center of town, can smell the chocolate in the air.
It is especially pungent this time of the year, when the factories are humming to meet holiday demand, the chocolate-maker's bonanza.
"Some people who live around a factory mind the odor," said Sara Bouachir, an official of Lindt & Spruengli, the US$2.1 billion-a-year Swiss chocolate giant that runs the factory. "But not here."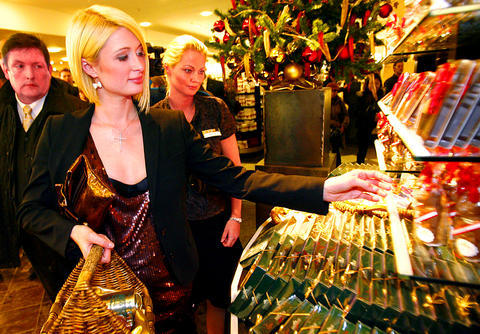 US socialite Paris Hilton takes a chocolate bar off the shelf as she makes a Christmas shopping tour at the KaDeWe department store in Berlin on Dec. 12.
PHOTO: AFP
But factories like this face a challenge. The Swiss already consume an average of more than 11.3kg of chocolate a year, placing them second only to the British, so how do you get them to eat more?
This is driving the chocolate-makers of Zurich to new heights of innovation, with dark chocolates flavored like hot chili peppers, grappa or saffron.
It is also making Swiss chocolate a case study in globalization. Swiss chocolatiers, having long ago conquered markets in Europe and North America, are now aiming at the vast expanses of Russia, India and China.
Zurich itself remains a haven for chocolate-lovers, with cozy chocolate shops nestled in among the big Swiss banks, like UBS and Credit Suisse, along the noble Bahnhofstrasse.
Stores like Teuscher and Spruengli stand next to luxury shops like Cartier and Chanel.
"People are more and more sensitive about quality -- they buy less but higher quality," said Bouachir. "People do tastings, as with wine, and they want to know the background of their chocolate."
The people of Zurich are the beneficiaries of a process that they, who still refuse to join the EU, fear in other areas -- the free movement of goods across national borders.
In just the past 10 years, Lindt & Spruengli has opened a global chain of Lindt Boutiques, with more than 100 in the US alone. Now, Bouachir said, visitors from India and Thailand are coming to see how it is done.
Peter Bauer, 41, a pastry chef in a small shop a five-minute walk from the Lindt factory, has been leading the search for new kinds of chocolates.
He is the moving force behind the emergence of dark, single-variety chocolates, concocted of beans from a single region.
"Eighty-eight percent of people would say it's too bitter, but I say it's great," he said, as he kneaded a ball of pastry dough, laced with pistachios.
He loves munching dark chocolate in front of the television, he said. "But take any five Swiss people, and three will say they prefer milk chocolate."
This preference for the tried and true is a major issue for the big chocolatiers of Zurich, like Barry Callebaut, a US$3.5 billion global chocolate bean merchant whose offices fill several floors of an office building in a shabby corporate park on the edge of Zurich.
From here, Barry Callebaut's pinstriped-suit global sourcing experts, huddling in conference rooms named for chocolate-producing places like Ecuador and Sao Tome, buy cocoa beans, sugar, powdered milk and other ingredients for making chocolate in industrial quantities.
One floor below is a chocolate academy, where the company trains pastry chefs and bakers to use chocolate.
Barry Callebaut runs seven huge chocolate factories, including two in Switzerland, from which it supplies industrial chocolate to the likes of Hershey, Nestle and Cadbury Schweppes. It also has its own consumer brands, like Van Houten and Van Leer.
Listed on the Zurich stock exchange, its shares have soared more than 50 percent this year.
The strategy Barry Callebaut employs to lure the Swiss into eating more chocolate is essentially the one it uses to seduce consumers globally: emphasizing chocolate's contribution to good health (some studies have found that dark chocolate may be good for the heart); pitching it as a taste experience; and making it as conveniently available -- in stores or vending machines -- as food or drink.
"Clearly there's a trend toward dark chocolate, and single-origin chocolate," said Gaby Tschofen, of the company's management board. "But consumers also want chocolate they're used to. Chocolate is your little luxury."
Some say the Swiss are fully saturated.
"You could give chocolate away, not for free, but for much cheaper," said Franz Urs Schmid, director of Chocosuisse, the chocolate-makers association. "But it wouldn't increase the quantity the Swiss consume."
Then, too, in coming months the Swiss may have to pay more for their chocolate, Tschofen said. The price of powdered milk, a prime ingredient, has doubled over the past year.
Chocolate even got caught up in the credit squeeze that has afflicted financial markets this year.
Hedge funds, on the lookout for lucrative investments, had gone into cocoa beans, driving the price up, she said, but had to sell their stocks when the financial crisis hit, causing the price of beans to drop again.
Walk along Bahnhofstrasse, and the trend to single-source chocolate is evident everywhere, in chocolate made of beans exclusively from one country, be it the Dominican Republic, Sao Tome or Ecuador. Many are spiced exotically.
Stepping out of Teuscher, one of the leading chocolate shops, Raico Pschichholz, 29, a health care worker on a holiday weekend from Berlin, said he had just purchased two bars of chocolate, one filled with pralines and another delicately seasoned with rose pepper.
"I recently found one in Berlin with grape and goat cheese," he said proudly.
Barry Callebaut is not waiting for the Swiss to start eating more chocolate. This year, it opened a new factory near Moscow, and in January will inaugurate another near Shanghai.
"In North America, it's the eight weeks prior to Christmas," Tschofen said, listing the world's chocolate-eating seasons. "In Germany it's still Christmas, in Russia it's New Year's, and in Japan it's St. Valentine's Day."
For Sergio Braunschweiler, 31, a Swiss banker, it is any time of the year.
When he buys chocolate, he said, stepping out of Spruengli, "then the darker the better."
Comments will be moderated. Keep comments relevant to the article. Remarks containing abusive and obscene language, personal attacks of any kind or promotion will be removed and the user banned. Final decision will be at the discretion of the Taipei Times.