Perfume ruling raises stink in Netherlands
SMELLY DECISION A Dutch company that makes knockoff scents says it will appeal the verdict granting Lancome a copyright to `Tresor'
Like a rose, a perfume by any other name would smell as sweet. But actually selling a cheap knockoff under another name is a copyright violation, a Dutch court says.
The decision by the appeals court in Den Bosch granting France-based Lancome a copyright on its "Tresor" perfume could reverberate throughout the cosmetics industry and beyond.
The Dutch maker of cheap perfumes that lost the case, Kecofa BV, vowed on Thursday to appeal the decision to the Dutch Supreme Court and European courts.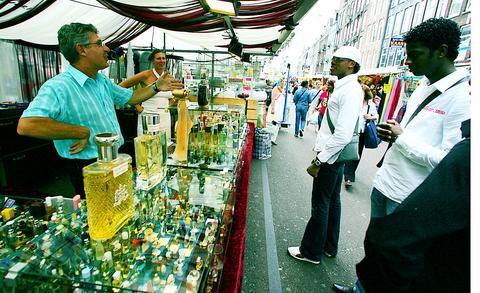 A vendor talks to customers at his perfume stand in downtown Amsterdam on Thursday. Courts worldwide have held that odor itself is something that belongs to nature, not to any person or company, and not copyrightable. But the appeals court in Den Bosch, the Netherlands, said Lancome's Tresor perfume was a distinct combination of ingredients.
PHOTO: AP
Lancome's actions are "the equivalent of someone introducing a fancy strawberry jam and then trying to prevent anybody else from selling a cheaper version," Kecofa spokesman Leon Meels said.
Until now, perfume makers have fought cheaper copycats by keeping their formulas secret or occasionally by patenting their chemical composition as an "invention."
Courts worldwide have held that the odor itself is something that belongs to nature -- not to any person or company -- and is not copyrightable.
But in a decision June 21, the court said Tresor was a distinct combination of ingredients "not only measurable by the senses but also, in the court's judgment, concrete and stable enough to be considered an 'authored work' as intended in copyright law."
In other words, the perfume is more like a painting than a product.
Lawyers for Lancome, which won the right to block imitators from marketing cheap knockoff versions in the Netherlands, called the ruling "revolutionary."
Some competitors and experts dismissed it as a mistake that could have grave consequences in an industry that racked up US$208 million in retail sales in the Netherlands last year, according to the Dutch cosmetics industry group NCV.
Charles Gielen of the law firm NautaDutilh, which represents Lancome, said it was right that perfume should be considered a creative work, despite relying on commonly known ingredients.
"Paintings also are made of a mixture of colors, which are known components, and poems are made up of normal words," he said. "It's the combination that's artistic."
The court ruled that Kecofa, which makes a perfume called "Female Treasure," had infringed Lancome's copyright and must hand over all profits it has made on the perfume since 1995.
Female Treasure is sold at Dutch shops and markets for around US$5 to US$7 for a 100mm bottle -- at a tenth of the cost of Tresor.
Thomas Field Jr, a professor at Franklin Pierce Law Center in New Hampshire and a former chemist, said the Dutch ruling could be "bad, bad, bad, from a public policy standpoint."
"Where does it stop? Will new wines, or blends of spices and other condiments be copyrightable? If the law of the case stands, lawyers will be mining its golden ambiguity for many years," he said.
A patent would be a more appropriate way for perfume makers to protect their product, he said.
Patents grant exclusive manufacturing rights for 20 years, rather than the 100 years or more given by a copyright.
The Dutch court relied heavily on the testimony of experts hired by Lancome whose chemical analysis showed that Female Treasure contained 24 out of 26 chemical elements in common with Tresor -- swapping only musk for a cheaper substitute.
Kecofa had 70 employees and sales of US$12.3 million in 2002. Lancome is owned by France's L'Oreal, with 50,000 employees and sales of more than US$17.2 billion last year.
Meels said Lancome's chemical analysis was misleading, since most perfumes contain similar
ingredients.
"We should have presented our own experts, but we didn't have a lot of time to prepare and to be honest, we underestimated how seriously the court would take their arguments," Meels said.
Meels said that the company's profit margins are so small that the cost of paying an extra accountant to figure out its past earnings from Female Treasure would likely be greater than the actual earnings themselves.
The court also ruled that Kecofa should also pay around court fees and other costs.
Gielen said Lancome will now attempt to enforce copyrights on its other fragrances and against other knockoffs.
Comments will be moderated. Keep comments relevant to the article. Remarks containing abusive and obscene language, personal attacks of any kind or promotion will be removed and the user banned. Final decision will be at the discretion of the Taipei Times.