Trump says it was his decision to stick with election claims
'RIGGED': The former US president said that he relied heavily on his own 'instincts' and dismissed his lawyers' advice, as he 'didn't respect them'
Former US president Donald Trump said he dismissed the views of his own lawyers in continuing to challenge his 2020 defeat because he did not respect them, saying in an interview aired on Sunday that he had made up his own mind that the election had been "rigged" — a false claim that he continues to make.
Trump, the front-runner for the Republican nomination to take on Democratic US President Joe Biden in next year's election, is now facing four concurrent criminal prosecutions, including two involving his attempts to overturn his 2020 loss to Biden.
"It was my decision," Trump told NBC's Meet the Press program, that the election was "rigged" against him, adding that he relied heavily upon his own "instincts" in coming to that conclusion.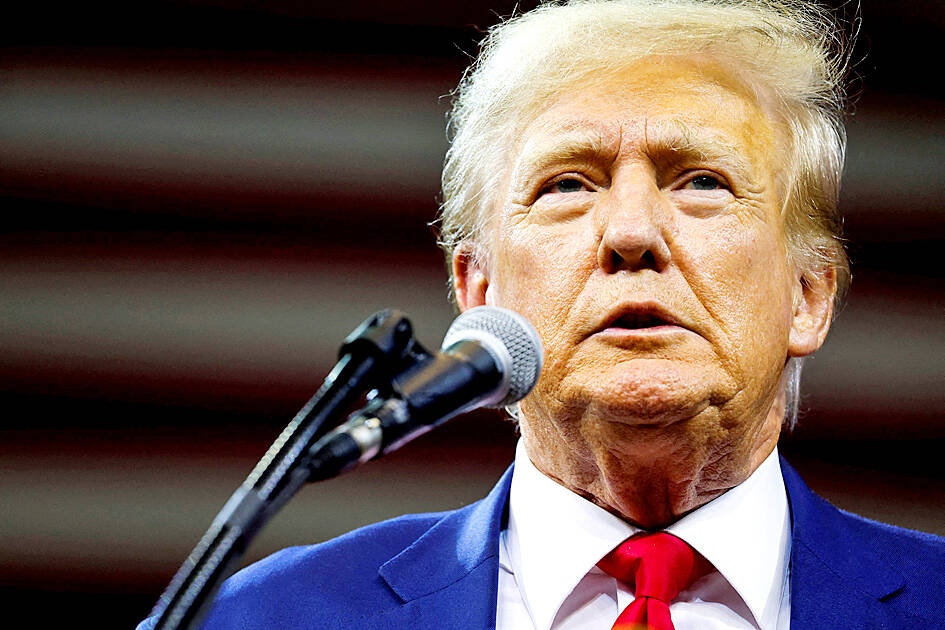 Former U.S. President and Republican presidential candidate Donald Trump speaks at a South Dakota Republican party rally in Rapid City, South Dakota, U.S. September 8, 2023.
Photo: Reuters
Trump has continued to make false claims that the election was stolen from him through widespread voting fraud.
Asked why he dismissed the views of lawyers in the White House and his campaign that he had lost the election, Trump said: "Because I didn't respect them."
Trump singled out former US attorney general William Barr, who told him that he had lost the election, as one of the lawyers whose advice he did not follow.
"I listened to some people," Trump said. "Guys like Bill Barr, who was a stiff, but he wasn't there at the time. But he didn't do his job, because he was afraid."
Trump has pleaded not guilty in all four criminal cases, including a federal prosecution in Washington and a Georgia state indictment that involve to his attempts to recruit a slate of phony electors for congressional certification of the 2020 election results.
His comments on Sunday could undermine one of his possible legal defenses — that he relied on the advice of his lawyers in continuing to challenge his defeat.
US courts threw out dozens of legal challenges from Trump's campaign and allies following the November 2020 election.
Comments will be moderated. Keep comments relevant to the article. Remarks containing abusive and obscene language, personal attacks of any kind or promotion will be removed and the user banned. Final decision will be at the discretion of the Taipei Times.