Thailand hunts for ancient site's missing treasures
Under the scorching sun, Thai archeologist Tanachaya Tiandee clambers through ruined pagodas in the ancient town of Si Thep, trying to unlock their mysteries — a task made harder because parts of the puzzle are missing thanks to decades of looting.
Thailand has a rich collection of historical sites, but foreign looting has stripped many of them, leaving the country scrambling to repatriate its stolen cultural wealth.
"The big picture like the building was discovered, but the artifacts which tell little details are missing, making a lot of stories untold about Si Thep," Tanachaya said.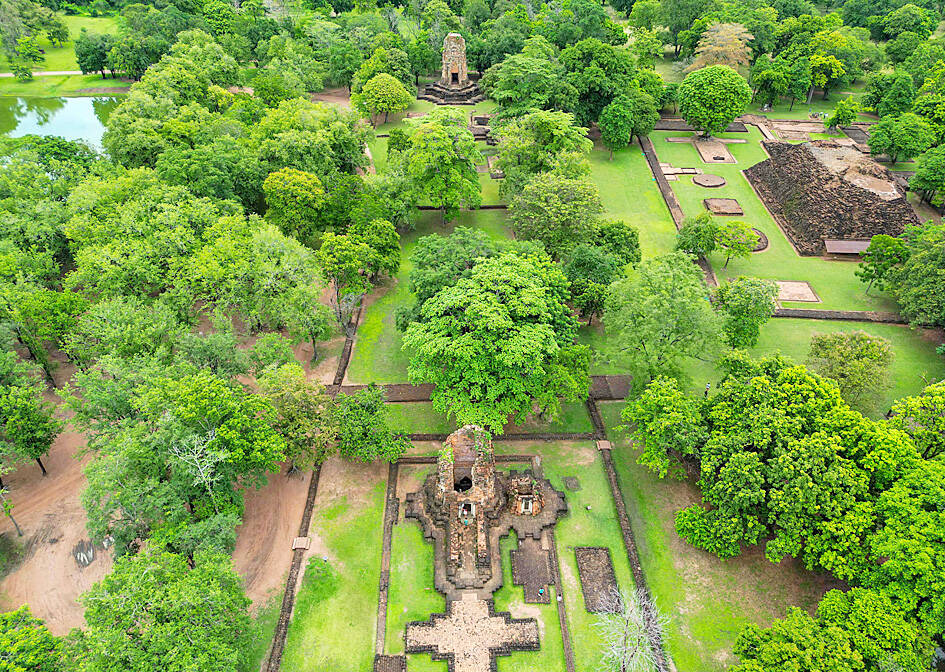 A photograph taken on Thursday shows an aerial view of the Si Thep historical site in Thailand's Phetchabun Province.
Photo: AFP
"It's like a piece of puzzle was missing," she said.
The 400-hectare complex, which archeologists date back to between 1,500 and 1,700 years ago, might be inscribed in UNESCO's cultural world heritage list this week — Thailand's first addition since 1992.
As 33-year-old Tanachaya carefully excavates the ancient stone constructions, she faces a difficult task piecing together the stories of Si Thep, which lies about 200km north of Bangkok.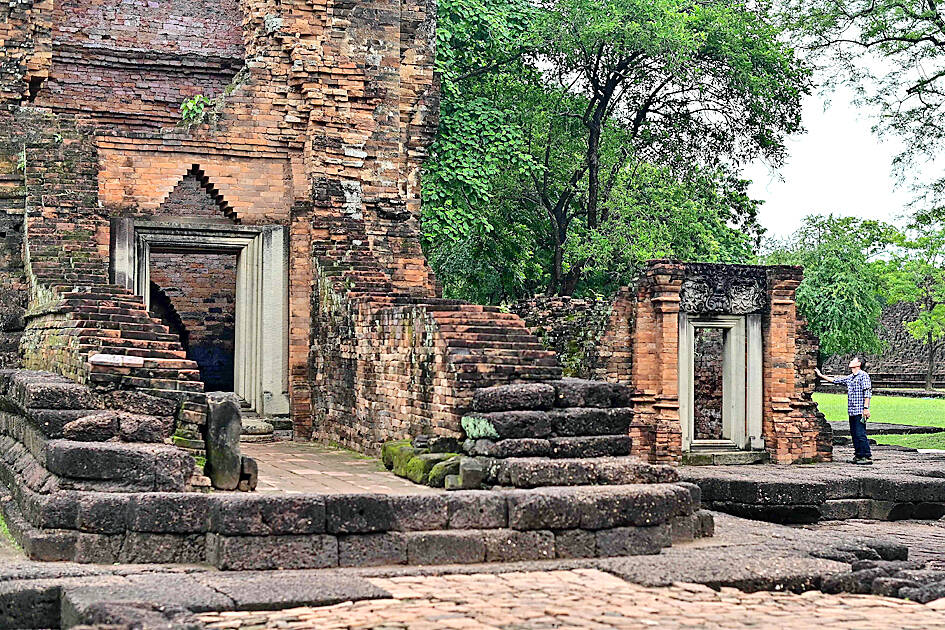 A tourist visits the Si Thep historical site in Thailand's Phetchabun province on Thursday.
Photo: AFP
It is believed that over the years, at least 20 objects have been stolen from the site, with experts identifying 11 in museums in the US.
The real number of looted objects is suspected to be far higher, thanks to a lack of documentation.
Now Tanachaya — who decided when she was young that she wanted to become a Thai version of movie character Indiana Jones — and her colleagues face their own quest. Can they bring their culture's treasures home?
The Thai government, led at the time by the military, established the Committee to Monitor Thai Antiquities Abroad in 2017.
About 340 objects have been voluntarily repatriated to Thailand since then, according to the latest report by the committee.
However, the process is slow, partly because government officials are wary of jeopardizing diplomatic relations with important allies like the US.
Instead, Thai authorities have pursued a "discreet" diplomatic route, Thailand's Department of Fine Arts Director-General Phnombootra Chandrachoti said.
"We won't accelerate anything," he said.
The Norton Simon Museum in California holds nine Thai artifacts, according to a recent statement from the committee — including one item an independent expert says is from Si Thep park. The items were among 32 scattered in museums across the US, the committee said.
The Norton Simon is only one of a number of US institutions — including New York's Metropolitan and San Francisco's Asian Art Museum — that have been named in the growing scandal around art that investigators claim was illegally removed from its country of origin.
The museum told Agence France-Presse it had not heard from the Thai government, but would cooperate with authorities if contacted, and defended holding the items.
The works, which it claimed were legally purchased, "have been carefully preserved and displayed," said Leslie Denk, vice president of external affairs at the institution.
Thai historians face another dilemma: Si Thep's bid to become a UNESCO site could boost the local economy — but it could also put the fragile ancient site under strain.
Presently, only 1 percent of visitors to Phetchabun — the province that is home to Si Thep — are foreigners, according to official 2019 data.
The Thai government hopes a UNESCO designation would help boost the kingdom's tourism sector, which accounts for almost 20 percent of the country's GDP. However, there are concerns about conservation.
The site is already "almost reaching its fullest capacity" of about 2,000 tourists a day, said Si Thep Historical Park head Sittichai Pooddee.
"We will try to balance things. We will try to not over-promote," he said.
Missing items mean gaps in the record, which makes it harder to satisfy the curiosity of tourists visiting the site, Thai historian Tanongsak Hanwong said.
"Artifacts dignify Thailand's past civilization, and when some of the parts are missing, we get stuck and we can't tell important pieces of the story to the world," he said.
At Si Thep's peaceful complex, domestic visitors gaze at a carefully carved pagoda wall.
"It's the heritage that belongs to Thai people, and that we are proud of. It would be a pity not to get it back," said Chaowarat Munprom, a 66-year-old retiree.
"It once belonged here," he said.
Comments will be moderated. Keep comments relevant to the article. Remarks containing abusive and obscene language, personal attacks of any kind or promotion will be removed and the user banned. Final decision will be at the discretion of the Taipei Times.