Wang Yi heads to Russia after US talks
SECURITY: Wang met with the US national security adviser in Malta over the weekend, with the US side noting the importance of peace and stability across the Taiwan Strait
Chinese Minister of Foreign Affairs Wang Yi (王毅) yesterday headed to Russia for security talks after two days of meetings with US National Security Adviser Jake Sullivan over the weekend in Malta.
China's top foreign policy official will be in Russia until Thursday for a round of China-Russia strategic security consultations, the Chinese Ministry of Foreign Affairs said in a brief statement.
The US and China are at odds over Russia's invasion of Ukraine. China has refrained from taking sides in the war, saying that while a country's territory must be respected, the West needs to consider Russia's security concerns about NATO's expansion. It has accused the US of prolonging the fighting by providing arms to Ukraine, weaponry that the US says is needed to defend against Russian aggression.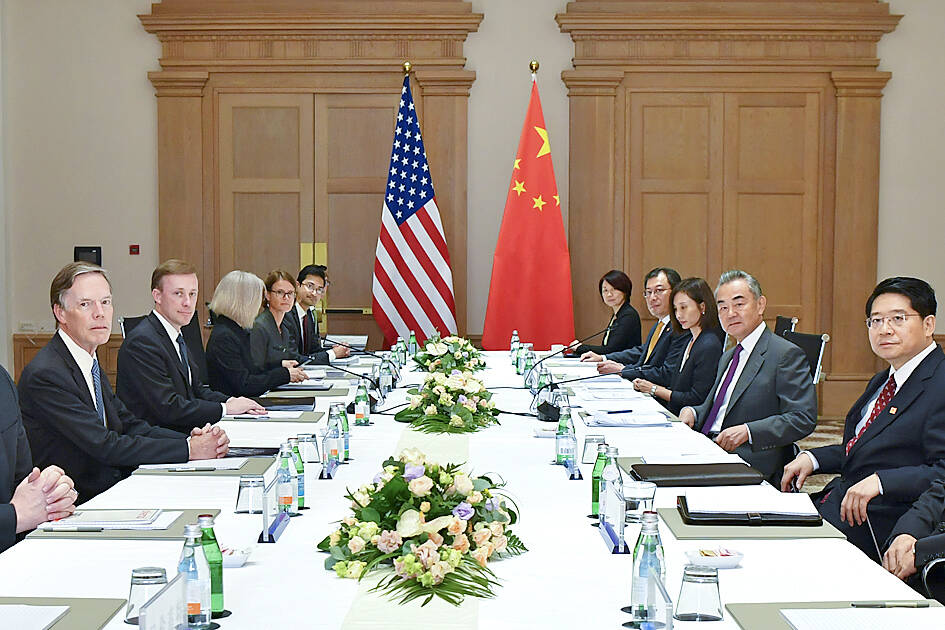 In this photo released by Xinhua News Agency, Chinese Foreign Minister Wang Yi, second right, attends a bilateral meeting with U.S. National Security Advisor Jake Sullivan, second left, in Malta on Sept. 16, 2023. China's top foreign policy official is heading to Russia for security talks after two days of meetings with U.S. President Joe Biden's national security advisor over the weekend in Malta.
Photo: AP
China and Russia have grown closer in recent years as relations with the West have deteriorated for both.
Chinese ministry spokeswoman Mao Ning (毛寧) called Wang's visit to Russia a routine one to hold in-depth talks on major strategic security interests.
Sullivan and Wang discussed a possible meeting of their leaders and communication channels between the world's biggest economies during two days of talks that ended on Sunday.
They discussed high-level engagements and committed to consultations on political and security developments in the Asia-Pacific region, as well as maritime and arms-control issues and a policy planning consultation. The discussions are to take place in the coming months, a senior US administration official said. A Chinese foreign ministry statement gave a similar readout.
Wang reiterated that China considers Taiwan a red line in the relationship, according to the statement.
The two sides appeared to have made their usual points on Taiwan, although Sullivan emphasized that the provision of arms or foreign military assistance to Taipei does not mean the US supports Taiwanese independence or views it as a sovereign nation, the administration official said.
"This meeting was part of ongoing efforts to maintain open lines of communication and responsibly manage the relationship," the White House said in a statement. "The United States noted the importance of peace and stability across the Taiwan Strait."
Sullivan and Wang last met in May for two days of talks in Vienna. They discussed regional issues as well as Russia's war against Ukraine and matters relating to the Taiwan Strait, which have been a persistent flashpoint in the relationship.
During the weekend meetings, Sullivan raised longstanding US concerns with China's support for Russia's war and about Wang's trip to Moscow, the official said.
The US hopes those concerns will make an impression before Wang lands in Moscow, the official added.
Comments will be moderated. Keep comments relevant to the article. Remarks containing abusive and obscene language, personal attacks of any kind or promotion will be removed and the user banned. Final decision will be at the discretion of the Taipei Times.